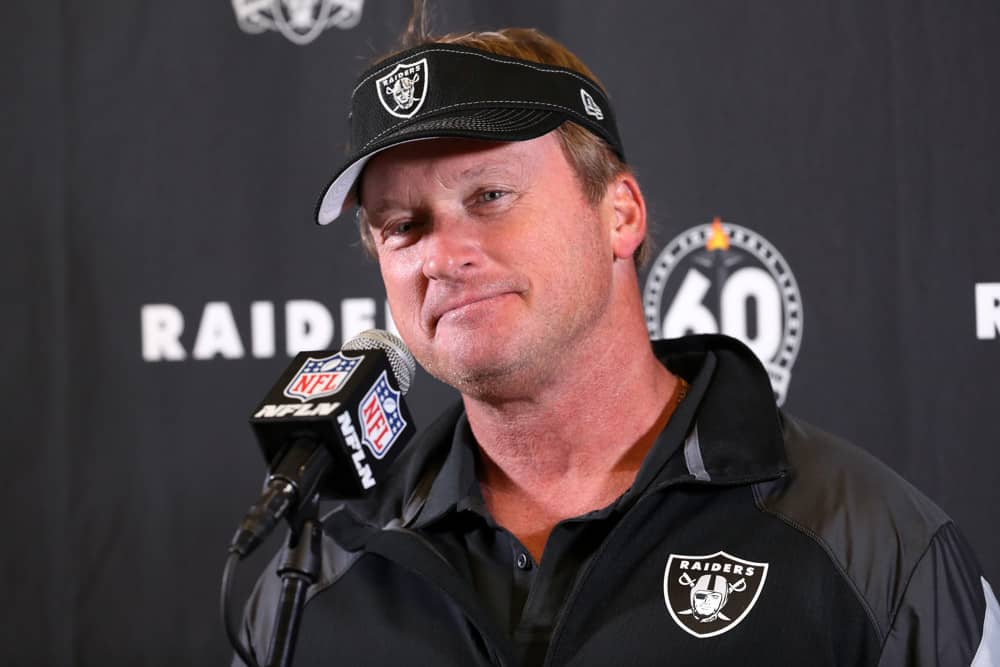 Las Vegas Raiders Head Coach Jon Gruden likes playing with and against the best.
So it's no surprise he had high praise for Myles Garrett who has more sacks than the entire Raiders defense so far in 2020.
And Coach Gruden went so far as to wish he was a Raider.
#Raiders coach Jon Gruden on Myles Garrett: "He's got a factor about him. I wish we had Garrett"

— Mary Kay Cabot (@MaryKayCabot) October 28, 2020
Gruden on Garrett
Coach Gruden elaborated on the Myles Garrett factor:
"We have a thing we call it a 'factor grade,' not just the sacks.  Everybody counts sacks. That is like the only thing they count anymore is sacks. This guy forces fumbles. He causes other sacks for other people. He is good against the run. He bats passes down. His arms are up in the air. He forces inaccurate balls. He has a factor about him. His presence is felt a lot. He can play left end, right end or they can push him inside, and he is a factor wherever he plays."
Myles Garrett Has Been Fantastic in 2020
MYLES GARRETT IS UNSTOPPABLE 😤

A sack in six straight games 🔥

(via @thecheckdown)pic.twitter.com/6YTy3mFM1m

— SportsCenter (@SportsCenter) October 25, 2020
Garrett is leading the league with 9 sacks.
He also leads the league with 4 forced fumbles.
Opposing offenses have to worry about where Garrett is all the time.
If he continues this stellar performance, Garrett will certainly be a contender for Defensive Player of the Year.
Any way you measure it, Garrett has been awesome.
That's pretty, pretty good https://t.co/zXkuGOS8TP

— Nathan Zegura (@NathanZegura) October 28, 2020
Injury Concern
The one thing that could hamper Garrett is injury.
He is currently dealing with an ankle issue.
Coach Stefanski said he was kept out of Wednesday's practice as a precaution.
#Browns coach Kevin Stefanski said the team is holding out DE Myles Garrett (ankle) today to be cautious

— Nate Ulrich (@ByNateUlrich) October 28, 2020
Because it is raining today (Thursday), Coach Stefanski also said Garrett will not be practicing with the team.
Stefanski did not elaborate on the injury, he called it a "tweak" to his ankle that happened during the Bengals game last Sunday.
The plan is for Garrett to work out indoors on his own Thursday and return to full practice on Friday.
While Stefanski is optimistic about Garrett being in the lineup on Sunday, defensive coordinator Joe Woods is more measured with his words.
#Browns DC Joe Woods on Myles Garrett (ankle) being able to play vs. #Raiders: "That's what I'm hoping for"

— Mary Kay Cabot (@MaryKayCabot) October 29, 2020
It's hard to fathom how the Browns would fare without Garrett in the lineup, and Joe Woods knows it.
He is the leader of the defense and the major reason for its success this year.
It's no wonder Jon Gruden wishes he was a Raider.