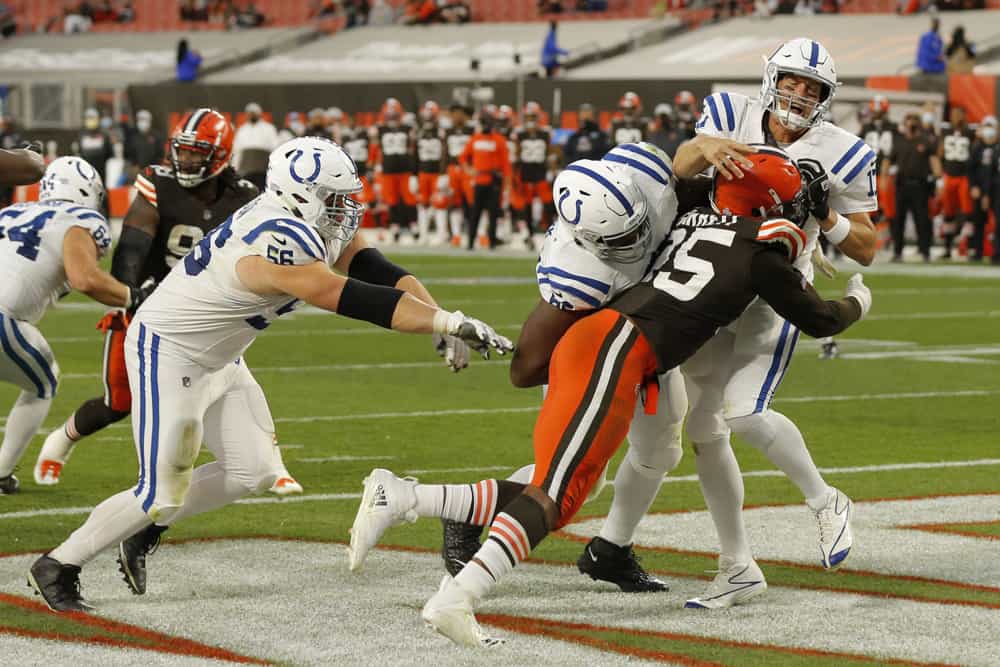 Myles Garrett was the Week 4 AFC Defensive Player of the Week and continued to dominate against the Colts in week 5.
Garrett is well on his way to another Pro Bowl season, as he leads the NFL with seven sacks and three forced fumbles.
The Browns could win double-digit games this season, and Garrett could get a First-Team All-Pro selection for the first time in his four-year career.
Here we take a look at how Garrett has been beating opposing offensive lines en route to what could be a Defensive Player of the Year Award.
Week 2: First Sack and Forced Fumble of His Season
Garrett hit Lamar Jackson once in Week 1's loss but did not record any sacks.
However, let us jump to Week 2 where Garrett saw his most snaps of the season thus far.
He played 84 snaps, which accounted for 91 percent of the total defensive snaps in the contest.
In the 35-30 victory over the Cincinnati Bengals, Garrett exhibited tremendous footwork:
Learned from my boy @luka7doncic https://t.co/s0scgmbxG3

— Myles Garrett ⚡️ (@MylesLGarrett) September 20, 2020
He praised Dallas Mavericks young phenom Luka Doncic.
Garrett should be dominating the NFL and Doncic should be doing the same in the NBA for many years.
Maybe the two of them can continue to help each other with different ways to improve in their respective sports.
Week 3: Two More Sacks for Garrett
The following week was the largest win of the season for the Browns.
Cleveland hosted the Washington Football Team and won 34-20.
Garrett had arguably the best game of the early part of the season.
He had two sacks, two quarterback hits, a forced fumble, and a fumble recovery.
First, let us take a peek at his impressive sack of Dwayne Haskins Jr.:
Myles Garrett was getting this sack by any means necessary 😂

(via @Browns) pic.twitter.com/jLMD8bxlT4

— ESPN (@espn) September 27, 2020
Garrett got around the edge in a very impressive fashion with this sack.
He also got to the quarterback later in the game.
In the fourth quarter, Garrett had a clutch strip sack of Haskins:
Dwayne Haskins has had a shocking day, and has hurt #WashingtonFootball chance to win.

This strip-sack fumble came from Geron Christian getting absolutely beaten by Myles Garrett, however. pic.twitter.com/giMBtDM6Hu

— Chad Ryan (@ChadwikoRCC) September 27, 2020
Garrett was a very important part of the Week 3 victory, and he was in Week 4 as well.
Week 4: Another Two-Sack Performance
The Browns were an underdog heading into Dallas for Week 4, but they did not play like they were.
Garrett made a statement early in the game with a superb spin move:
#DallasCowboys All-22 Thread from #Browns vs Cowboys #CLEvsDAL

Second play for scrimmage:

Protection is called for the left side of the line but still leaves Terence Steele one-on-one with MYLES GARRETT! The result an 11 yard sack of Dak Prescott…#CowboysNation pic.twitter.com/nadAmHHR9z

— Kevin Gray Jr. (@KevinGraySports) October 5, 2020
He went from complimenting a Dallas basketball player earlier in the season to traveling to Dallas and sacking Dak Prescott twice.
With five sacks thus far in 2020, Garrett continues to show everyone that he is in for a career year.
In the Browns' 49-38 win, he forced his third fumble of the season and had his second tackle for loss this season.
He also has a strip sack in each of the last three games.
Looking forward, Garrett has his first career game against the Colts in Week 5 and then a revenge match against the Steelers in Week 6.
Week 5: Another Dominating Game for Garrett
Garrett finished with one sack and four quarterback hits, and had his imprint all over the game.
Assuming the Browns win this, all four wins have come from a direct esult of Myles Garrett drastically changing the game with one play.

Three strip sacks and this play today.

Love him or hate him, he's the best defender in the NFL right now. pic.twitter.com/wxiYifErKX

— Anthony Jaskulski (@AnthonyJazz) October 11, 2020
Garrett constantly forced quarterback Philip Rivers into making poor decisions the entire game.
Myles Garrett has been insane this year. 7 sacks and 7 forced turnovers off pressures already this year. Having a historic year.

— Jay Russ ❄️ (@Jay_Russs) October 11, 2020