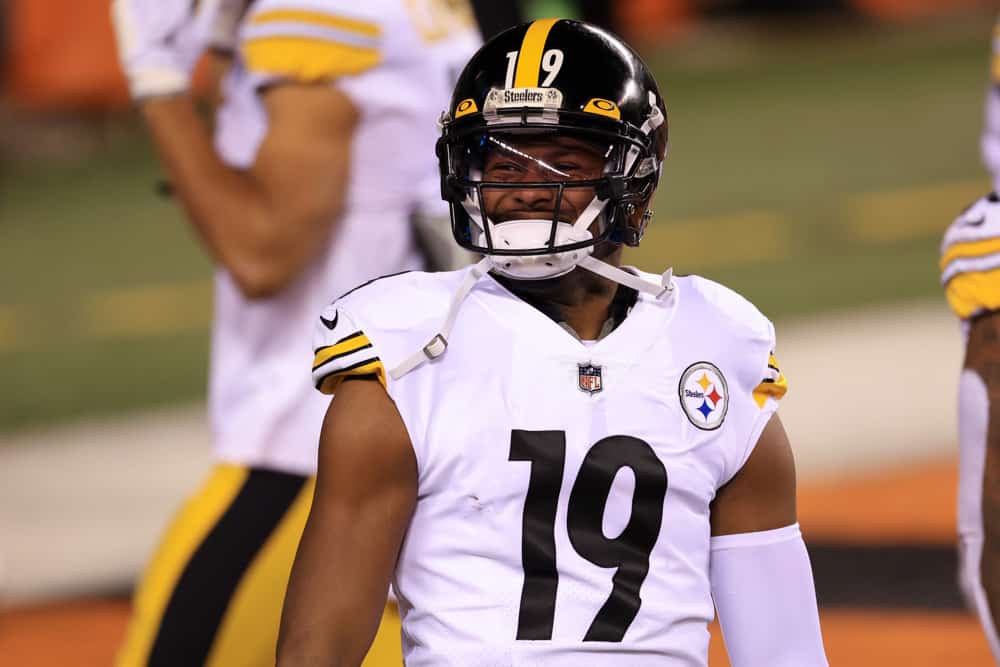 The Cleveland Browns received a lot of late season motivation from Steelers WR JuJu Smith-Schuster.
No one will forget the bulletin board material he served up to the Browns before the AFC wildcard playoff game between the two teams.
The video evidence. "They're a good team, but…" #Browns https://t.co/578KevTDyb pic.twitter.com/E1NPe9EKjl

— Jake Trotter (@Jake_Trotter) January 8, 2021
One thing led to another, and the Browns walloped the Steelers in the ensuing wildcard game which led to this memorable moment last season.
My boy @bakermayfield said it best! "The Browns is the Browns"‼️ pic.twitter.com/Am4HhijPQb

— Armani Taylor-prioleau (Alex) (@Tall_inc) January 11, 2021
4 Months Later
Now Smith-Schuster appears to have a change of heart about the rhetoric he started and how it fueled the Browns.
"Probably a lot, honestly. I'm not going to lie to you. It got to a point where the Cleveland Browns had a billboard up in Cleveland that said, 'The Browns is the Browns.' I think by me saying that, it says that a lot of people care about what I say. . . . At the end of the day, I said what I said. I don't take anything back. They did come out there, they did whoop our ass. It is what it is. We lost that game. We lost early in that game in the first five, 10 minutes."
Though he says he would not take it back, he certainly seems to be more reflective about how those words lifted a team and a city to an unexpected playoff victory.
One thing is for sure, Browns fans are happy that Smith-Schuster got this going.
It will likely be a rallying cry again in 2021.
JuJu Smith-Schuster
Perhaps the 24-year-old is maturing.
In addition to reflecting on his words, he also opted to take less money to stay in Pittsburgh.
JuJu Smith-Schuster is staying in Pittsburgh, having agreed to re-sign with the Steelers on a 1-year, $8 million contract (via @RapSheet).

Here's what @TampaBayTre thinks about JuJu staying in the Steel City. ⬇️#FrontOffice33 | #NFLFreeAgency | #Steelers pic.twitter.com/hfDie1snuK

— The Draft Network (@TheDraftNetwork) March 19, 2021
No one would have blamed him for seeking a higher paycheck elsewhere given how the Steelers season ended.
With Ben Roethlisberger firmly in place as the starting quarterback in 2021, JuJu Smith-Schuster must believe they can return to their winning ways.
Or he thinks a good season in Pittsburgh could give him an even bigger payout in 2022.
Pittsburgh vs. Cleveland
When the NFL releases the 32 teams' game schedules on May 12, everyone in both cities will be circling the dates of the Steelers-Browns games.
After the Browns beat the Steelers in Week 17 and in the wildcard playoff, the Browns have the momentum and now know the winning formula for shutting down the Steelers.