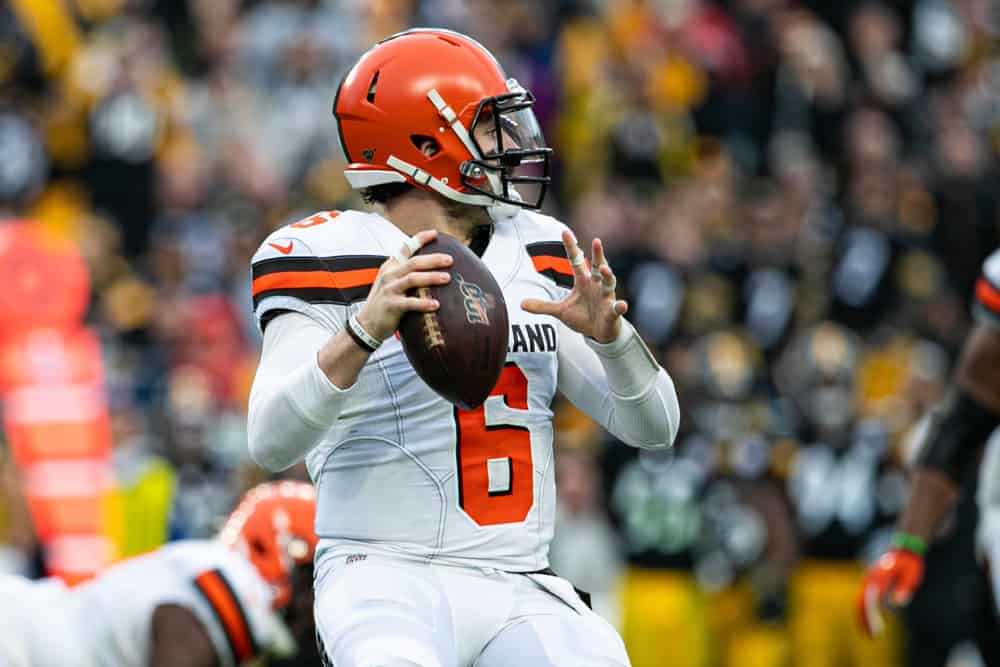 After their founding in 1944, the Cleveland Browns were blessed to be led by quarterback Otto Graham when the team began play two years later.
Graham set the tone for the position as he led the Browns to the league championship game every year he played.
His seven championship victories are equal only to Tom Brady of the Buccaneers.
After Graham retired, the Browns struggled to find someone who could replace his magic.
Milt Plum carried the mantle for a few years, followed by Frank Ryan who helped the franchise win their last championship in 1964.
Then, there was Bill Nelsen, Mike Phipps, Brain Sipe, and Bernie Kosar.
As talented as those men were, none of them brought championship glory back to Cleveland.
Since the organization's re-birth in 1999, the Browns have drafted, signed, and discarded quarterbacks like clockwork.
Pouring through the past 20+ seasons, Cleveland has had at least 30 signal callers line up behind center.
At various times in the past two decades, the organization has trotted out 'saviors' who were supposed to get the team to the promised land.
Pick a legendary quarterback to start your franchise. pic.twitter.com/dIal087HKG

— Sunday Night Football on NBC (@SNFonNBC) December 26, 2020
The names read like a who's who of has been's and failed projects: Tim Couch, Jeff Garcia, Trent Dilfer, Derek Anderson, Brady Quinn, Brandon Weeden, Jason Campbell, Johnny Manziel, DeShone Kizer, and Robert Griffin III.
In 2018, Cleveland drafted University of Oklahoma's Baker Mayfield with the first pick of the draft.
The early returns on Mayfield are promising.
After a horrific sophomore season in 2019, the much maligned quarterback helped the Browns to a winning season and the playoffs this past year for the first time since 2002.
His play in 2020 encouraged the team to pick up Mayfield's fifth year option for 2022.
What happens after the '22 season ends, however?
Will Baker be in the Brown's long term plans?
Will he have shown enough promise that the team invests a large contract in him for the foreseeable future?
In other words, is Baker Mayfield a true franchise quarterback?
Before answering that question, let's look at the factors that make a franchise quarterback and begin with what a franchise quarterback consists of.
With a similar size to Russell Wilson, Baker Mayfield has NFL scouts wondering if he can be a franchise QB https://t.co/L12u31QWBI pic.twitter.com/fVUyOp2wUh

— Bleacher Report (@BleacherReport) October 20, 2017
What is a 'Franchise Quarterback?'  Doesn't every team already have a franchise QB?
A fair number of football people past and present have attempted to define this particular anomaly.
As NFL history has shown us, actual 'franchise QBs' are few and far between.
Fans and organizations would love to have a quarterback that defines their team.
Unfortunately, the QB that can carry a franchise is as rare as the California condor, not quite extinct but close.
Each franchise has a quarterback, of course, but not every QB is considered "the franchise."
In other words, does the organization have a 'franchise quarterback,' or is he simply the franchise's quarterback?
To muddy the picture even more, there are different tiers of quarterbacks as well.
The franchise makers are at the top, followed by the 'nearly there's,' and the 'place holders' on the bottom.
The top tier is obvious.
The 'nearly there' crowd is pretty consistent in talent, but can't quite get their team to the top (Matthew Stafford is a good example).
The 'place holders' are the group that struggle to stay in the starting lineup and are just a step away from being replaced (Teddy Bridgewater in 2020).
This is my Quarterback, it's sad that the franchise i love so much is just now starting to put the competent pieces around him (15-present) but will they complete the process? I'm optimistic #inquinnwetrust #DetroitvsEverybody #KeepTheFaith #OnePride pic.twitter.com/8UZkMMttU9

— Damone Hardy (@DamoneHardy) February 21, 2019
I have written down my own notes based on observations of NFL quarterbacks for the past 40+ years.
I have also read opinions from countless NFL scouts, general managers, personnel directors, coaches, and owners.
Based on what I have read, as well as my own observations, franchise quarterbacks through the years have the following traits in common.  Included in this list is a short analysis of how Mayfield compares to past franchise QBs.
Consistent winners– they may have a down year or two, but it is not a regular occurrence.  Mayfield had not won consistently until 2020 when he helped lead the Browns to a playoff victory over the Steelers and a near upset of the Chiefs.  However, how much of that lack of success was attributable to previous coaching staffs?
Success in playoffs and/or Super Bowl– not every quarterback considered a franchise QB has won a Super Bowl, but it is generally assumed they have played in at least one title game.  In his first playoff game, Baker passed for 263 yards and three touchdowns in the win over Pittsburgh.  He threw for 204 yards, a touchdown, and an interception in the loss to K.C.  Cleveland lost to the defending champs by five points.
Makes the best of the people around them– it really doesn't matter who the team places at the line, running back, and receiver, this guy will make them look good.  Does Mayfield make the best of Odell Beckham Jr., Jarvis Landry, and Nick Chubb or is it vice versa?  Maybe it doesn't matter.  Even with all-stars at the skill positions, the quarterback still has to get them the ball.
Longevity/avoids injury– even this is not a given, some franchise quarterbacks have been knocked out to the point of missing all or most of an entire season.  However, you can usually count on them being in the game.  The number of games Baker has started in three years is 45.  The number of games he has missed due to injury is exactly zero
Leader– this should be a given, especially if one factors in all the above characteristics.  Without this guy, the team immediately struggles on and off the field.  Whether he actually says it or shows it on the field, Mayfield is one of the leaders of the Browns football team.  His moxie comes through in everything he does, good or bad.
Name is synonymous with an organization– name a franchise QB and you automatically associate him with a specific team.  Again, whether it's for a silly comment or his game play, when one thinks of the Browns, people know who the quarterback is.
Starter– this should be obvious, but it needs to be stated.  If a QB is constantly fighting for playing time with a backup, he is likely NOT a franchise QB.  As already mentioned, Mayfield has started 45 games so far in his career.  Consider this box checked.
Very good skill set– among other factors, this includes arm strength, accuracy with the deep ball, creates plays with his feet, efficient in his movement.  Regarding Mayfield, this trait is a bit tricky.  Baker can be agonizingly inconsistent, he can struggle against an active pass rush while in the pocket, and he stays locked on certain receivers for too long.  However, this past season under Kevin Stefanski was telling.  Mayfield improved during the year and some of his negative traits decreased significantly or disappeared all together.  For now, he may not have a 'very good' skill set, but he could be there in a year or two.
Marketability– This guy is not only the face of the franchise but one of the top dogs of the entire National Football League.  He brings the league (and, therefore, his team) notoriety and recognition.  Even people who don't really follow pro football know who the guy is.  Mayfield's Progressive commercials have been generally well received the past few years.  People not familiar with him (or the Browns) that watch the commercials may find themselves asking, "Who is this Baker Mayfield fellow?"  It can also be argued that Mayfield is one of the reasons why more Browns games have become nationally televised contests in 2020 and 2021.  Mayfield is good theatre for not only Cleveland but the league itself.
There have been a number of franchise quarterbacks since the NFL was founded over 100 years ago.
However, just reflecting on the past four decades, examples (in no particular order) of the signal callers that were/are the alpha males of their teams and that possessed these traits include: Joe Montana, Steve Young, Troy Aikman, Brett Favre, Aaron Rodgers, Tom Brady, Peyton Manning, Eli Manning, Dan Marino, Ben Roethlisberger, Drew Brees, Russell Wilson, Phil Simms, Joe Theismann, Jim Kelly, John Elway.
This is in no way an exhaustive list, but these names bring to mind all the intangible pieces needed for a quarterback to succeed and thrive.

OTHER FACTORS TO CONSIDER:
The above traits are a good place to start when analyzing Baker as a true franchise QB.
However, there are other factors to consider when assessing whether or not a team (like Cleveland) has a franchise quarterback or the potential to develop one.

Take a good look at the quarterback you have now
As the draft approaches each year, pundits look long and hard at who that draft's potential franchise quarterback, or quarterbacks, are.
Every year we are told that player X looks like a franchise quarterback.
Three years later, that player is marginal at best.
Recent examples (among many) include Sam Darnold and Josh Rosen.
Rosen has yet to start an entire regular season and is on his fourth team since being taken 10th overall in 2018.
Darnold, the 3rd overall pick in 2018, was just dealt to the Panthers after three unsuccessful years in New York.
"Do you think you can be that franchise-type quarterback?"@Josh3Rosen is introduced by the @MiamiDolphins 🐬 pic.twitter.com/5KgVWzTrFP

— NFL (@NFL) April 29, 2019
In other words, no one person is certain.
The history of the NFL is full of 'sure fire' franchise QBs who turn out to be duds.
So, when the fan base begins grumbling about replacing their quarterback, they should also be asking themselves, "Who will be taking his place?" and, "Do we already have a viable quarterback?"
Case in point, only two years ago, Raiders fans began an open "dialogue" about replacing Derek Carr.
Many in the sports media quickly countered, "With whom?"
After being drafted by the team in 2014, Carr improved as the Raiders improved and, in 2016, Oakland went 12-4 and lost in the playoffs to the Texans.
Since 2016, the team has struggled and finished 8-8 last year, their first in Las Vegas.
Before last season, a number of league insiders openly questioned Carr's long term status with the Raiders.
He had great upside his first three years in the league.
Then, he appeared to 'regress' for the next few years.
The Raiders then went the route of so many others, bringing in a veteran to possibly replace the incumbent.
So, before 2020, Oakland signed Marcus Mariotta to back up Carr and challenge him for playing time.
Mariotta himself is a former number two overall "franchise" pick from the 2015 draft who fizzled out with Tennessee.
He only played in one game last season.
Mariotta did not challenge Carr at all.
Is Marcus Mariota a franchise quarterback? pic.twitter.com/R5v5qtSAvS

— beerion! (@griffmccloskey) August 14, 2015
What Vegas should be considering is, if the team tries to replace Carr, who will take his place?
Furthermore, will the person who takes his place at least play to Carr's level or better?
If not, the team has actually taken a step back.
It should be pointed out that Carr (a current member of the 'nearly there' club) has passed for over 4,000 yards the past three seasons.
He has also thrown more touchdown passes than interceptions every year he has played.
During the past two years, Carr's QB rating has been over 100.
He may not be flashy, but does Vegas really want to start over with someone else?
Even if he isn't necessarily a franchise QB, the team should be wary of who comes next.
Since 2019, only three QBs have multiple seasons of 4,000+ Pass Yards, 20+ Pass TD, and 10 or fewer INT:

– Patrick Mahomes
– Aaron Rodgers
– DEREK CARR pic.twitter.com/QodAdjLZ91

— NFLonCBS (@NFLonCBS) April 26, 2021
As already stated, a new draft pick is no guarantee.
It's not like the organization can just grab their new toy, throw him in the fray, and that shiny toy will be the savior.
Absolutely nothing is guaranteed.
Fans need to be careful about what they wish for.
The "next guy" may not be any better than the current guy.
In fact, he may be much worse.

Solid core around them
Here's something else to think about when examining whether a team has an actual franchise QB.
Who has the team assembled around him?
As good as any signal caller is, he cannot perform well if his line can't block, his receivers can't catch, and his backs can't run.
For a franchise QB to succeed, the organization must invest in the people around him.
The Browns know a little something about this.
When they drafted Couch number one overall in the 1999 draft they believed they were getting a franchise QB.
Couch was a record setting quarterback at the University of Kentucky and Cleveland hoped he would help resurrect a team that was returning from a three year absence.
Unfortunately, the organization was rebuilding from scratch as an expansion team.
All the pieces around Couch were either rookies themselves or discarded veterans from teams looking to shed contracts.
The lack of a consistent line, solid options at receiver, and a decent running back took their toll on Couch.
In his rookie year, Couch was sacked 56 times (no, that's not a misprint).
Over the course of his second and third seasons, Couch was sacked 61 more times.
By the end of his fifth, and final, year in the NFL, Couch had been slammed to the turf no less than 166 times.
Understandably, he missed a significant number of games due to injury during his career in Cleveland.
A once promising future was derailed by bad teams and bad drafting.

Inconsistency in the organization/Franchise health
That brings me to my next point.
If any organization is serious about contending for a championship, it must systematically plan to put people in place that will consistently perform well.
That sounds obvious, but why can't more teams do it?
Would Couch have prospered if the front office and coaching staff were on the same page?
Could the Browns have improved on their 2002 success if they had been more devoted to Couch?
High expectations from the front office and impatience from fans can lead teams to pull the plug early on their short term goals.
In an effort to put butts in seats and appease the money train, front offices will make hasty decisions that look good on paper but cost them in the win column.
Instead, the organization needs strong, patient leaders who understand risk and not flinch if something goes wrong.
In fact, just about the worst thing a team can do is turn over their coaching staff every few years.
It screams of instability, disorganization, and lack of strategic leadership.
Owners and front office personnel must stay strong, trust the process, and let their people do their thing.
The health of the franchise, as well as the quarterback, depends on it.
Great QBs save jobs. Bad QBs get people fired. So why can't NFL teams consistently identify the best in the #NFLDraft? Thoughtful insight from @RandyMueller_, @gregcosell, @JohnMiddlekauff, @PFF_Steve & NFL sources on the challenging hunt for the Star QB: https://t.co/ExMutX8hgD pic.twitter.com/ezkGCXGcyP

— Pat Leonard (@PLeonardNYDN) April 27, 2021
Quarterback Teacher
Speaking of your people, who exactly are your people?
Who has the organization hired to help mold the young quarterback?
Has the team drafted the quarterback to fit the style of the offensive coaches?
Specifically, will the head coach's offensive philosophy mesh with the quarterback's skill set?
A common issue in the NFL is the offensive game plan and the quarterback's skill set not being on the same page.
This leads to poor play, turnover in coaching staff, and the organization ultimately going in "a different direction."
If the quarterback and his coaches don't see eye to eye, both the QB and organization are doomed.
One of my earliest memories of the NFL was Super Bowl XVI.
The San Francisco 49ers defeated the Cincinnati Bengals that day 26-21.
The quarterback for the Niners at the time was Joe Montana.
The head coach was Bill Walsh.
Montana was a less-than-heralded quarterback from Notre Dame that played over the course of five years in South Bend.
Walsh was an offensive mastermind who helped develop the "West Coast Offense."
Both men arrived in San Francisco the same year, 1979.
The newly hired Walsh and the Niners front office didn't select Montana until the end of the third round of the '79 draft.
Many coaches and scouts were down on Montana's arm strength before the draft.
A number of other prospects were rated higher than Montana, but Walsh and his coaches saw something in him.
After only a handful of starts in his first two years, Montana quickly became one of the best quarterbacks in the game.
By the end of his sixth season, he had already won two Super Bowls.
When Montana departed San Francisco in 1993, he had won four Super Bowls.
Throughout his time with the Niners, especially early in his career, Montana learned the nuances of the West Coast Offense.
Eventually, Walsh trusted Montana to tweak his calls and make plays on his own.
Essentially, the teacher and his pupil relied on each other and helped each other improve.
Walsh did not force Montana out of his comfort zone.
He knew what Montana was best at and tailored the game plan to him.
The short, quick timing of passes needed in Walsh's offense fit Montana's skill set and the organization thrived.
What made Peyton Manning, 2-time Super Bowl champion quarterback and 5-time NFL MVP, a good football player? TEAMWORK, FAMILY, and GREAT MENTORS. Inspirational words from @procoretech's keynote speaker at Groundbreak today. #GBK18 #Teamwork #football #Construction #PeytonManning pic.twitter.com/yod1CWqdds

— Shaw-Lundquist Construction (@ShawLundquist) November 13, 2018
What happens when a young quarterback doesn't have a good teacher and/or patient coaching staff?
Well, look no further than the Browns' own history.
When Mike Phipps was drafted in 1970 to eventually take Bill Nelsen's spot, he arrived in Cleveland with fanfare.
Phipps had been an exciting QB at Purdue between 1967-1969 and finished second in the Heisman vote after the '69 season.
The Browns drafted him with the third overall pick of the 1970 draft.
Phipps was stuck behind Nelsen his first two years, started and played well during his third year, then fizzled out.
By his last year in Cleveland, 1976, Phipps was mainly a backup to Brian Sipe.
The two head coaches during Phipps' time as a Brown were Nick Skorich and Forrest Gregg.
Both coaches were fair offensive minds, but neither could get Phipps to play consistently well and help him improve.
Gregg had all but moved on from Phipps during his second (and last) season as the Browns coach and started Sipe in 14 of 16 games.
The same issue happened with Couch.
As talented as he was, his injuries and the impatience of the coaching staff did not help Couch.
He started all 16 games in 2001 and started 14 games in 2002.
Couch was injured in the last game of the '02 season and missed the Browns playoff game against the Steelers.
Backup Kelly Holcomb played well in Couch's absence and, in 2003, head coach Butch Davis chose to start Holcomb rather than Couch.
Both men traded starts during the season and by the end of '03, Couch was finished as an NFL quarterback.
Browns fans can look back now and play the 'what if' game.
What if the Browns had been more patient with Couch and Phipps?
What if the coaching staff worked at building a better game plan to suit the talents of Couch and address the deficiencies in the Cleveland offense?
What if Davis had stuck with Couch as his starter in 2003?
Unfortunately, we'll never know.

Development/Football IQ
No matter the round they are selected in, or how many years they wait to start, franchise QBs will continually improve and their football acumen will eventually find its way to the field.
Their development will show positive returns early and the reason the team drafted him will become evident.
However, even the most talent-ready QB will not develop properly if he is tested too early and is not ready to start.
Look, again, to Couch.
For all intents and purposes he had a good football IQ and instincts coming out of Kentucky.
Initially, the Browns coaching staff were going to develop those instincts and sit Couch for a year behind veteran Ty Detmer.
The idea was to have Couch learn from Detmer and ease him into the pro game.
That idea lasted all of two games, then Detmer was pulled and Couch had to learn on the job.
We know what happened next.
Looking back through the decades, one can find a long list of good quarterback prospects who might have had a solid career and even developed into a franchise QB.
However, those careers were derailed by the impatience of ownership and the 'win now' mentality of the organization.
As difficult as it is, some teams may just have to be patient, ignore the naysayers, and take the time to hone the football intelligence of their quarterback.
Montana wasn't a full time starter until his third year.
Rodgers waited for three years before he finally got his shot (although that was feasible for the Packers since they already had Favre).
Brees was a second-round selection in 2001 who sat his rookie season behind Doug Flutie.
Even though Montana, Rodgers, and Brees rarely played at the beginning of their careers, their coaching staffs were fairly confident about what they could do.
They could see their ability on the practice field and knew they had a potential star in the making.
Football IQ at its finest. #NFL @Saints #DrewBrees@drewbrees pic.twitter.com/tsz3Elstdz

— Tom (@jaxboog) December 14, 2018
No matter the quarterback, the coaching staff and organization will do well to develop their ace and allow his football IQ to translate to the pro game.

Mental Makeup/Leadership
One more thing to consider when looking for a franchise quarterback is their mental makeup.
To become a franchise QB, the player must already have or be willing to: have a strong work ethic, absorb large amounts of data, recall said data at a moment's notice, be subject to intense scrutiny, answer mind numbing questions from the media, carry the burden of the organization's success on their shoulders, answer criticism with deference, put bad plays and games behind them quickly, and be a leader on and off the field.
Unfortunately, there have been plenty of signal-callers in the NFL who may have had a good game, but were not mentally ready to be professionals.
Ryan Leaf comes to mind as does his frequent barrages aimed at members of the media, teammates, and Chargers coaches and front office personnel.
JaMarcus Russell seemed to have limitless ability, but he was not mentally prepared to be a starting pro quarterback.
The Biggest NFL Quarterback Busts in NFL History
Ryan Leaf LA Chargers
Jamarcus Russell Las Vegas Raiders
Ryan Leaf was immature and irresponsible as a quarterback
Jamarcus Russell didn't care and he wanted people to do things for him
These Guys didn't succeed cause of EGOS pic.twitter.com/pfpGJZl0Bs

— Tre 🤟🏼🤘🏽🤟🏼🤘🏽 (@TreSports4Life) April 25, 2021
Browns fans can recall the promise of Johnny Manziel when he was drafted 22nd overall by the team in 2014.
Manziel was an electrifying player at Texas A&M who was more than confident in his ability to lead a team.
The only problem was, he liked to party.
And drink.  And not prepare.  And blame other people for his issues.
After only two years, Manziel was gone from Cleveland and the NFL.
Essentially, an aspiring franchise quarterback must be prepared not only physically but mentally for the rigors of the pro game.
All the talent in the world will not help if the prospect's internal demons come belching forth into his professional life.
Ownership, coaches, teammates, and fans have no patience for such things.
The cost is the organization starting over, looking for the next sure thing.

Analysis
Okay, enough with the history lessons and examination of all things quarterback.
I started this article with the question of whether or not Baker Mayfield is a franchise QB.
Then I looked at how Mayfield compares in true Franchise Quarterback traits.
Regarding the other factors I mentioned, the early returns are encouraging.
Except for Mike Tannenbaum and Colin Cowherd, not a lot of people believe the Browns should be moving on from Mayfield.
The team does have a solid backup in Case Keenum, but even the author of the "Minneapolis Miracle" will not supplant Baker anytime soon.
There have been the occasional articles from writers who have suggested that Russell Wilson or Deshaun Watson come to Cleveland in exchange for Mayfield.
Of course, we know that won't happen (and with Watson's current legal troubles, who would even consider touching him?).
Thankfully, with a front office focused on a mix of analytics and football knowledge, the Browns have one of the best offenses in the league.
Their line is crazy good, the receiving core is heart stopping, and Nick Chubb and Kareem Hunt are a great one-two punch.
With Baker at the helm, the team should only get better in 2021.
This also addresses the health of the organization.
Only two years ago it looked like the same old Browns.
Another coaching staff, disarray on the sidelines, poor play on the field.
Suddenly, the Haslams' hire a quality coach and the team looks like title contenders.
Now, ownership just needs to let the front office work and allow Stefanski and crew to continue developing their team and the Browns will actually grow into a juggernaut.
Speaking of Stefanski, can we just acknowledge the work he, Alex Van Pelt, and Chad O'Shea have done with Baker?
In 2019, Mayfield was beaten down as he scrambled for his life and endured 40 sacks.
He threw 21 picks and his total QB rating was 54.4.
This past season, he was dropped 26 times, he only had eight interceptions (a career low) and his total QBR was 72.1 (a career high by almost 20 points).
What a difference a good teacher (or group of teachers) makes.
The #Browns have their franchise QB in Baker Mayfield‼️

Baker holds the most wins for a Browns QB in the new team era (23).

Mayfield was 8th among QBs with an Overall Grade of 𝟠𝟝.𝟞, per @PFF. 🔥

Among #NFL QBs, he ranked 10th in QBR (72.1) and 28th in INT% (1.6). pic.twitter.com/2dmBeQ0320

— The Hottest Take Sports Podcast (@Hottest_TakePod) January 24, 2021
As far as development and mental makeup, I think most people are pleasantly surprised.
Mayfield was thrown to the wolves in Week 3 of 2018 when starter Tyrod Taylor was injured.
At that moment, most of Cleveland may have been holding their breath.
It was very possible the fans were going to witness a second coming of Couch.
However, Mayfield responded and helped the Browns win the game against the Jets and end their winless streak.
He has not stopped since then.
After leading the team to seven victories in '18 (the most wins at that time since 2014) Baker and friends endured a disappointing six win season at the hands of Freddie Kitchens.
This past season, the team rocketed to 11 wins and the playoffs.
Mayfield did struggle at times with the maturity aspect of the pro game.
He didn't always act like a professional during the lean moments.
However, Baker owned this and said as much during the offseason last year.
Letting his play do most of the talking in 2020, the team exceeded expectations.
Basically, Mayfield is on track to becoming a bona fide franchise quarterback.
The Browns picked up his fifth year option, but we know that teams can quickly sour on a player and get rid of him.
It doesn't matter the contract length or how much money is owed.
If a team wants to part ways with a player (or vice versa) they will do so.
That makes this next year crucial for both Baker and the Browns.
Despite how well he has done in his career, 2021 must be similar to 2020 or better.
Mayfield has to show that he can at least take Cleveland back to the playoffs in order for the front office to have faith in him beyond 2021 and 2022.
With the Haslams' track record, should Baker falter significantly in '21, I wouldn't be surprised if they target a quarterback in the '22 draft.
However, since his rookie year I, for one, have believed in Baker Mayfield.
Due to his small body of work and little playoff experience, I place him in the 'nearly there' tier of NFL quarterbacks.
Yes, Mayfield is currently the franchise's quarterback but he is on the cusp of becoming a true franchise QB.
Baker Mayfield is the best Browns QB in franchise history through 3 seasons.

Browns rank 1st 3 seasons*
75 pass TD 1st
11,115 pass yds 1st
89.1 pass rating 2nd
61.9 comp% 2nd
23 wins 2nd

*Min. 300 pass att pic.twitter.com/ISY7bQiBpB

— CBS Sports HQ (@CBSSportsHQ) January 29, 2021