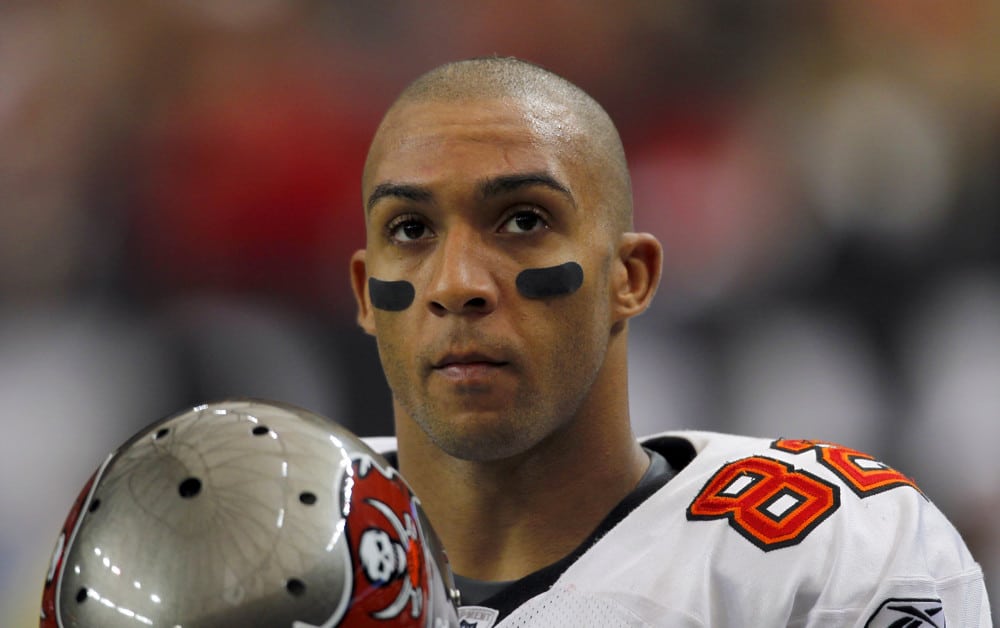 Seated at a table, flanked by people on all sides of him, Kellen Winslow Jr. sat waiting for his name to be called.
Dressed in a navy blue suit jacket, white collared shirt, and dark, red, speckled tie, Winslow wore a solemn expression on his face.
Then, a side door opened and in walked the judge, ready to begin Winslow's court case.
For the next few hours, those in the courtroom listened as the accusations of rape and sexual battery were leveled at the former NFL Pro Bowler.
In short order, Winslow made a plea deal in an attempt to reduce his sentence.
What transpired that day for Winslow in November of 2019 was a far cry from the heady days of his youth.
Back then, life was good and the road ahead was surely paved with gold.
Winslow's Play in High School Attracts College Recruiters
Winslow Jr.'s father is NFL Hall of Famer Kellen Winslow Sr.
Kellen Winslow sr. 6'5 256 1979 draft

4.60 in 40. Bench press over 400,

Started after the 78 rule changes and set records. pic.twitter.com/sPfoJ7OnXi

— Martin Brian Ansah (@DaAnsahonSports) December 24, 2019

When Winslow Jr. was born in 1983, Winslow Sr. was in the middle of his career as an All-Pro tight end for the San Diego Chargers.
Winslow Jr. was four when his father retired after nine NFL seasons.
Even with Winslow Sr. retired, football would still be relatively prevalent in the Winslow household.
As Winslow Jr. grew up, Winslow Sr. made it a point to have his son play other sports including basketball and engage in various hobbies.
Winslow Sr. eventually permitted his son to play football in high school.
After attending Patrick Henry High School in San Diego for his freshman and sophomore years, Winslow Jr. transferred to Scripps Ranch High School for his junior and senior years.
It was during his time at Scripps Ranch that his profile began to expand.
Winslow Jr. grew in size and strength and, with the tutelage he received from his father, became a load to defend against.
High school opponents couldn't keep up and college recruiters took notice.
Of course, it didn't hurt that Winslow Jr. had a famous father who had also played the position.
It was obvious by the time Winslow Jr. was a high school senior that his skill set was on par with Winslow Sr.
The Winslow family started receiving recruiting letters from coaches all over the country.
Winslow Jr. took his NCAA permissible recruiting trips and immediately took a shine to the University of Washington, University of Miami, and Michigan State.
After mulling over his college choice during the fall of his senior year, Winslow eventually decided on Washington.
He liked the coaches and the atmosphere in Seattle.
Winslow had scheduled an appearance on Fox Sports Net to make his choice on National Signing Day in 2001.
However, the night before the announcement, father and son had a long debate on whether Washington was the right fit.
Father and Son Disagree on College Choice
When Winslow Sr. was being inducted into the Pro Football Hall of Fame in 1995 he made an impassioned speech regarding race and sports.
Speaking to the gathered crowd in Canton, Ohio that day, Winslow Sr. challenged the NFL on its lack of minority hirings.
When it came time for his son to choose a college, Winslow Sr. was intent on Winslow Jr. going to a program rich with minorities.
When he looked at the University of Washington coaching staff, Winslow Sr. saw a program bereft of minorities.
This did not sit well with him and he let his son know it.
Over the course of a few weeks, right up until the night before signing day, the two argued.
Winslow Jr. didn't see the problem with going to Washington and Winslow Sr. was dead set against his son attending the school.
On Signing Day, the two were still going at it.
Winslow Sr. finally got his point across by telling his son he wouldn't sign off on Winslow Jr.'s letter of intent.
Embarrassed, Winslow Jr. told the assembled audience that they needed more time to make their decision.
With Washington off the table, Winslow Sr. told his son he should attend Michigan State.
However, Miami had secretly been Winslow Jr.'s second favorite choice after having visited the school earlier in the year.
Winslow Sr. pointed out the racial disparity between the three schools.
Information from an ESPN article at the time showed the following information from the 2000 season: For the University of Washington, two of 10 assistant coaches were black. For the University of Miami, two of 11 assistant coaches were black (although a third black assistant coach was added in 2001). For Michigan State, head coach Bobby Williams and two of his assistants were black. It was important for Winslow Sr. that his son went to a program represented by minorities.
"What type of father would I be, to know what I know, to go what I've gone through and not discuss these things with my child?" he said. "I'd be the worst father in the world. Race is an important issue in this country and you're almost burying your head in the sand if you don't talk to your children about it. It's denial."
Winslow Jr. told his father about his preference to Miami.
Winslow Sr. admitted he liked who would be his son's position coach at Miami, former tight ends coach Charles Johnson, who is black.
To make a long story short, Winslow Sr., acquiesced and the rest, as they say, is history.
In the end, both father and son realized they had made the right choice on Miami.
Winslow Jr. even admitted his father was correct about him not going to Washington.
"I dodged a bullet," Winslow Jr. said shortly after his spring visit to Coral Gables. "I'm sure I would have been happy (at Washington or Michigan State), but not as happy as I am now."
Winslow in College
It didn't take long for Winslow Jr. to dominate college defenses.
In the course of his time with the Hurricanes, he won a national championship, the Mackey Award for the nation's best tight end, and was a unanimous First-team All-Big East and All-American.
At 6'4" and 240 pounds, he was a load for any defender and he gave opposing defensive coordinators fits.
Kellen Winslow Jr was a problem pic.twitter.com/r0f2GAzeUq

— La-Sey Daniels (@SeyDaniels) March 29, 2020

During a game against the Tennessee Volunteers in the 2003 season, Winslow led the way on a sweep play.
As the play unfolded, Winslow ended up taking out two opponents while blocking.
After the game, Winslow was asked about the play and he responded by saying he was, "a soldier," even though he had never served in the armed forces.
He immediately received backlash for the comment for which he later apologized.
This was not enough to dissuade NFL teams from eyeing him in the 2004 draft when he declared with a year of eligibility left.
Draft Day, 2004
Seated at a table, surrounded on all sides by family, friends, and colleagues, Kellen Winslow Jr. sat waiting for his name to be called.
He was decked out in dapper attire that included a dark brown suit coat and matching vest, white collared shirt, and a mustard yellow, speckled tie.
Winslow tried to remain calm in anticipation and kept his expressions to a minimum.
After a few minutes, in walked then NFL Commissioner Paul Tagliabue to announce the next selection of the draft.
With the number six overall pick, the Cleveland Browns officially selected Winslow.
As he strode onto the stage, Winslow wore the look of a man ready to begin his journey as a professional athlete.
Having donned a Browns hat, he turned toward a row of cameras and held up a Browns jersey with the number '1' on it.
Apr 24, 2004: Browns traded up one spot to pick Kellen Winslow Jr.

No comment at this time. pic.twitter.com/iX4b8Fwky5

— Sad CLE Sports (@SadCleveland) April 24, 2019
Winslow looked to be a lock to follow in his father's footsteps.
He had all the tools necessary to be a top-flight tight end in the NFL and carve his own path to the Hall of Fame.
Unfortunately for Winslow II, that path would take a few years to begin.
Injuries, Good Fortune, and Questionable Behavior
Winslow Jr. was only two games into his pro career when a leg injury cost him the remainder of the 2004 season.
Then, in May of 2005, he was sidelined for the entire '05 season after crashing his motorcycle and tearing the anterior cruciate ligament in his right knee.
Finally healed, Winslow declared himself ready for the 2006 season by boldly proclaiming, "I hate to be brash, but I think my 90 percent (of being fully healed) is still better than every tight end out there."
For the next three seasons, Winslow backed up his statement by showing up on the field.
From 2006-2008, he caught 214 passes for 2,409 yards and 11 touchdowns.
Winslow's 2008 season was cut short after being hospitalized with a staph infection.
In February 2009, he was traded to Tampa Bay where he spent the next three seasons.
Even better for Winslow, he played in every game during his time in Tampa.
In the spring of 2012, Winslow was traded to the Seahawks and then released a few months later when he wouldn't agree to a reduction of his salary.
He then signed with New England, played in one game, and asked for his release.
The Patriots granted his wish and he remained out of football for the rest of the season.
In 2013, the New York Jets were the next team to take a chance on Winslow.
He saw action in 12 games but also sat four games after being suspended by the NFL for violating the league's policy on performance-enhancing substances.
Once the '13 season concluded, Winslow never again wore the uniform of an NFL team.
Erratic Behavior and Legal Troubles
Winslow's legal troubles began soon after he left the NFL.
In January of 2014, he was charged with drug possession and received a conditional charge without a guilty verdict.
Then, on June 7, 2018, Winslow was arrested after running from a mobile home park in California.
He was charged with felony first-degree burglary and held on a $50,000 bond.
Only a week later, Winslow was charged with kidnapping and rape.
Not long after that, he was ordered to trial in the kidnapping and raping of two more women.
While this case was being tried, Winslow was tried in yet another case for raping an unconscious 17-year-old girl in 2003.
Former NFL Star Kellen Winslow jr. Speaks out against the charges that he sexually assaulted 2 homeless women and an unconscious 17 year old when he was 19. #nfl #seahawks #browns #buccaneers #patriots #jets #sandiego #fox5sandiego pic.twitter.com/jjHji3HAM1

— Jaime Chambers (@jaimechambers) October 30, 2018

In March of 2019, Winslow was jailed for two new counts of lewd conduct in addition to one count of battery on an elder and one count of willful cruelty to an elder.
On June 10, 2019, he was convicted of rape, a lewd conduct in public charge as well as indecent exposure.
Winslow was also acquitted on another lewd conduct charge.
The judge in the case instructed the jury to discuss verdicts on the remaining charges.
A mistrial was declared and it was decided that Winslow would be re-tried on the remaining charges at a later date.
This past November, Winslow was re-tried and pled guilty to the rape of an unconscious teen and sexual battery on a hitchhiker as part of a plea deal.
As part of the plea agreement, Winslow was sentenced to 12-18 years in prison in addition to waiving his right to appeal any verdict or conviction from the trials in the future.
Former NFL star Kellen Winslow II plead guilty to rape and sexual battery charges that could land him in prison for 12 to 18 years. https://t.co/6bW7ndMaAk pic.twitter.com/4nIXeoq3sU

— USA TODAY (@USATODAY) November 5, 2019

Official rulings for the case were set to be heard last month, but the sentencing hearing was postponed indefinitely due to the coronavirus threat.
Currently, Winslow is being held in jail without bond and will continue to remain in custody.
What Happened?
Winslow's conduct since retiring from the NFL has baffled his friends, family, and fans alike.
How could someone with so much promise and enough wealth to last multiple lifetimes succumb to such appalling behavior?
At first glance, it looks like Winslow took the role of a former star athlete who suddenly lost his purpose in life after retiring and resorted to questionable decision making.
However, Winslow's objectionable behavior goes back a long time and includes incidents that happened during his NFL career.
For example, the 2003 incident he was tried for in 2018 happened while he was a junior in college.
As a member of the Browns, Bucs, and Jets, numerous teammates came forward and accused Winslow of acting in a way that made them uncomfortable.
In fact, a large number of players specifically requested not to be roomed with Winslow on the road or to be placed in a seat next to him on the team plane.
In public settings, Winslow could act in a somewhat professional manner, but act inappropriately with teammates in private.
Winslow's behavior cannot be attributed to poor upbringing.
For all intents and purposes, Winslow's relationship with his parents has never been an issue.
Winslow's parents split up when he was three and Winslow Sr. and Jr. did have the disagreement about which college to go to.
But there is little else to suggest Winslow Jr.'s upbringing caused his descent.
In fact, Winslow Sr., has been in the courtroom for many of his son's trials.
Basically, many first-hand observers of his behavior wonder if his issues stem from a shocking lack of maturity that he never grew out of.
Others wonder if he has a medical condition that has not been diagnosed yet.
Sports Illustrated interviewed Dr. Neil Malamuth, a social scientist and professor of psychology at UCLA, about Winslow's behavior in a June 2019 article.
Dr. Malamuth's response was that Winslow's fame and wealth may be responsible for his actions.
"You would think he'd have access to any number of women," Malamuth says, "but our research indicates that sexual arousal to power over women, arousal to being able to subdue women, hostility towards women, are parts of an entitled, narcissistic personality. These are the primary risk factors [for a man becoming a rapist]. Men of privilege are often the greatest at risk."
During his November 2019 trial, Winslow's defense attorney openly questioned whether Winslow's behavior was part of a larger issue.
Specifically, an issue based on taking repeated blows to the head from a career as a football player.
Winslow's attorney went so far as to say that Winslow suffered from frontal lobe damage and may have issues attributed to CTE (chronic traumatic encephalopathy).
CTE has been found in the brains of many former NFL athletes who have donated their brains for scientific research after they have died.
Some of those same athletes were reported to have extremely erratic behavior before passing away.
However, Dr. Robert Cantu, a professor of neurology and neurosurgery at Boston University had this to say about the Winslow CTE claim in the same Sports Illustrated article:
"The way I view CTE is: Just like any debilitating brain disorder, it will bring out genetic problems and make them worse. If you were genetically programmed to have a problem with, for instance, aberrant sexual behavior, put CTE on top of it and it's just like pouring kerosene on a fire. However, you have to balance that with this: The overwhelming majority of people who commit the kind of acts that Kellen Winslow is alleged to have committed didn't play football in the NFL, didn't have repetitive head trauma, and, clearly, CTE wasn't why they did what they did."
In Conclusion…
For now, the jury is literally out until Winslow's sentencing hearing can continue sometime after the coronavirus threat has abated.
Even when the jury decides his sentence, the public could still be in the dark concerning why Winslow did what he did.
The CTE theory cannot be used as a defense in the trial and CTE itself cannot currently be diagnosed in living people.
Unless Winslow undergoes psychological testing and counseling (and then openly shares what he's learned), we may never know the genesis of his behavior.
For now, Winslow serves only as a cautionary tale to current and future athletes alike.