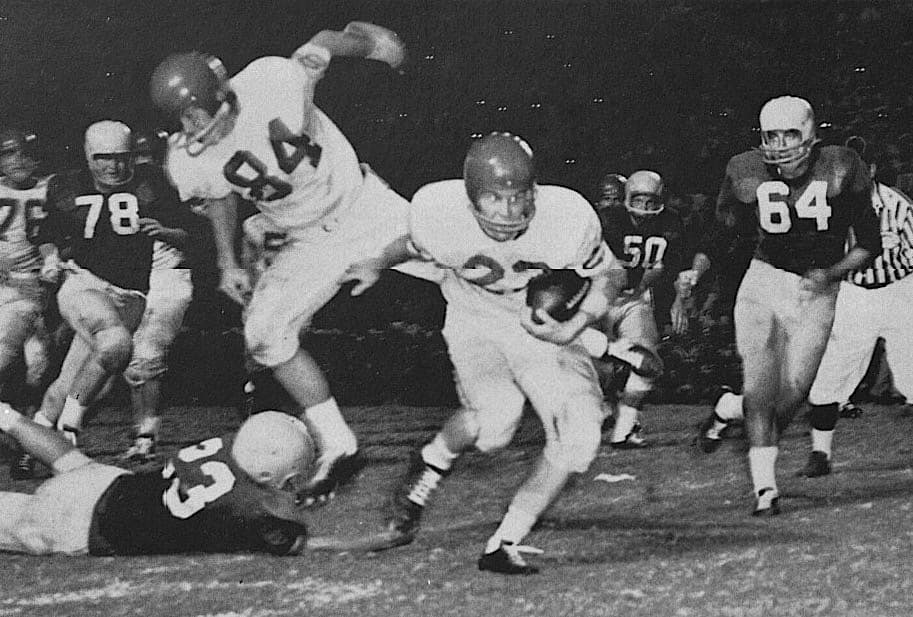 Former Cleveland Browns linebacker Jim Houston earned his nickname, Mr. Dependable.
Over a 12-year career, the defensive stalwart missed only three games.
The "Mr. Dependable" moniker was awarded to him during the 1962 season.
Nov. 15, 1970: RB Paul Robinson is tackled by LB Jim Houston. First regular-season @Browns vs @Bengals game in Cincinnati. Photo from @Enquirer archives #WhoDey #DawgPound@ENQphoto #CINvsCLE #NFLHistory #BattleofOhio pic.twitter.com/vy3ovaegbv

— NyergesMike (@NyergesMike) November 26, 2017
That year, Houston was recalled to active service in the US army.
Yet he managed to fly back to Cleveland every weekend for the Browns.
He did that despite Paul Brown making him a backup player because he couldn´t practice.
It was the only season besides his final year that Houston did not start on defense.
When his career ended, Houston became a successful businessman.
The Mr. Dependable nickname fit a person who had a Midas touch.
He sold life insurance, managed securities, and ran a local machine company.
Then, he bought a half-share of a gas station and car wash.
Wife of College Football HOFer and Cleveland Browns legend Jim Houston reveals Jim had #CTE when he died in 2018 after decades of cognitive & physical decline.

He wanted to donate his brain because he was "very concerned" about head injuries in football:https://t.co/sz9xnOXK67

— Concussion Legacy Foundation (@ConcussionLF) April 5, 2020
But his wife noticed at some point that Houston´s grasp on managing his business slipped.
By 1998, Jim Houston was broke.
He was subsequently diagnosed with Alzheimer's disease and dementia.
But he was concerned enough about the years of head trauma he suffered to donate his brain to CTE research.
Two years after his death, his widow Donna shared Jim´s diagnosis.
He suffered from Stage 3 CTE.
Why Did Houston Donate His Brain to CTE studies?
CTE, or Chronic Traumatic Encephalopathy, is a progressive degenerative disease of the brain.
It is caused by repetitive trauma, such as multiple hits on a football field or soldiers exposed to explosives.
Viking NFL Championship Memories – 1969 (#5)- If you watch none of the rest of our Viking Champfootage this week, WATCH THIS! It is YOUR Viking QB Joe Kapp on a run knocking-out the Browns LB Jim Houston. Joe and Bud Grant recall the incident. Classic! #vikings @HPBudGrant pic.twitter.com/UUt3EQVbuV

— VikeFans (@VikeFans) January 14, 2020
Symptoms can take years to develop.
Patients are often diagnosed with the vaguer terms, dementia or organic brain syndrome if they are older.
Dementia due to trauma was first described by a New Jersey doctor in the 1920s.
His work with professional boxers helped coin the term boxers´ dementia and later, punch-drunk syndrome.
In the early 2000s, a Nigerian neurologist studied the brain of former Steelers center, Mike Webster.
Webster died after suffering through noticeable behavioral and cognitive changes.
The doctor, Bennet Omalu, would study more patients and introduce us to the term CTE.
Jim Houston, Browns' 'Mr. Dependable,' had CTE https://t.co/l0yv6J6cKc pic.twitter.com/PKkn1RpLai

— WKBN Sports (@WKBNSports) April 5, 2020
Jim Houston was years into his slow decline and had a working diagnosis of Alzheimer´s and dementia.
But with three sons and four grandsons having played football, he was deeply concerned about head trauma.
He was certain the constant pounding of high school, college, and 12 years of professional football hurt him.
Donna Houston, Jim´s wife, was a professional nurse and kept an impeccable log of his behavior.
This helped expedite assistance for Houston from the NFL.
Frank Gifford, Earl Morral, and Bubba Smith are among dozens of other NFL players known to have suffered from CTE.
Both of Houston´s brothers played in the NFL, and both were diagnosed with dementia.
Jim Houston- More than a Browns Legend
Jim Houston achieved a rare trifecta in his football career.
He played on championship teams at the high school, college, and professional levels.
What´s more, he played every level in his home state of Ohio.
Houston went to Massilon High School and helped them win the OHSAA Championship in 1953.
He played for Ohio State when the Coaches Poll awarded the 1957 NCAA Championship to the Buckeyes.
Jim Houston was drafted by the AFL´s Buffalo Bills and the NFL´s Cleveland Browns.
Like his brother, Lin Houston, Jim chose to play for his beloved Browns.
Fun seeing dad Jim Houston #82 @Browns last night on @MNFootball making this interception off Broadway Joe. I was 7 days old on this play 9/21/70 pic.twitter.com/DqzXJDuL9C

— Dave Houston (@DWHouston7) September 11, 2018
Houston started his professional career as a defensive lineman.
But in 1963, he switched to linebacker, a position at which he thrived.
Houston was a Pro Bowl Linebacker in 1964, 1965, 1969, and 1970.
The 1964 season ended with the Browns' last national championship.
Jim Houston was voted into the College Football Hall of Fame in 2005.
The Cleveland Browns inducted him into their legends program the following year.