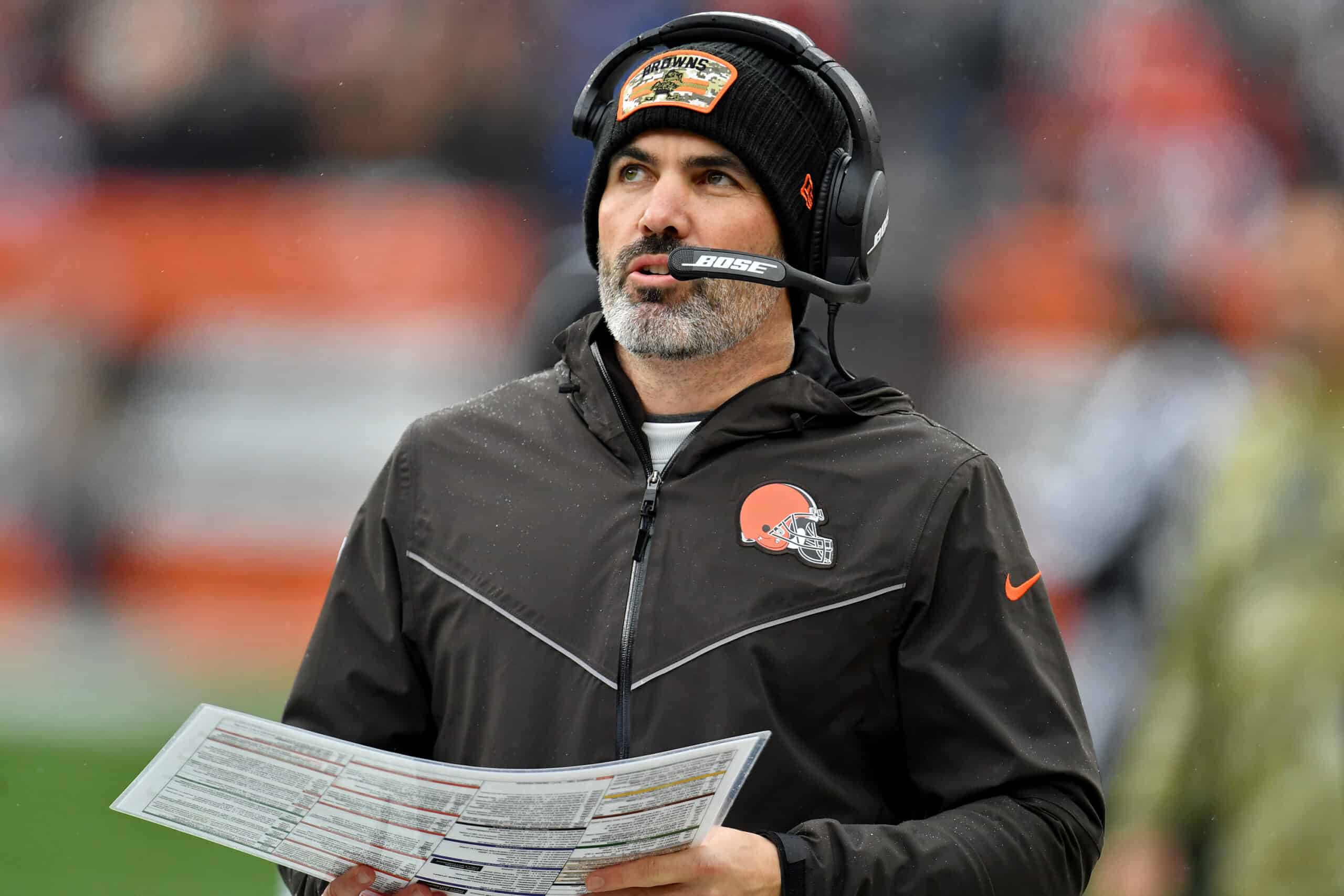 Cleveland Browns fans have to remind themselves that Coach Kevin Stefanski is a second-year head coach.
He had a spectacular first year resulting in his winning NFL Coach of the Year.
However, this year is a completely different story.
While Stefanski is still a good coach, there have been notable growing pains this season.
One of them has to do with the handling of quarterback Baker Mayfield.
The handling of Baker Mayfield's injuries has been baffling and the story of the Browns' 2021 season.

— Ben Axelrod (@BenAxelrod) November 21, 2021
Mayfield injured his shoulder in Week 2 and has added knee and foot injuries since then.
He sat out one game in Week 7 but has been playing in his broken state ever since.
In addition to his injuries, his production has not been what it was in 2020.
That's why it was not an unfair question to ask Stefanski after the Week 12 Ravens loss if he would consider benching Mayfield.
What Stefanski Said
Stefanski did not hesitate in answering the question.
"No. Let me ask you a question, why would we do that?… No, we're not doing that."
#Browns Kevin Stefanski, asked if a change at quarterback was a possibility, says:

"No."

"Let me ask you a question, why would we do that?… No, we're not doing that."

— Camryn Justice (@camijustice) November 29, 2021
I don't know how the question was asked but I, personally, would have asked Coach Stefanski "with Baker Mayfield having multiple nagging injuries and Case Keenum being a capable back up, will a QB change for the next meeting between the Browns and Ravens be in the works"

— Elaine Shircliff (@imaraindancer) November 29, 2021
Why Not Use Case Keenum
How can you tell me right now that a healthy Case Keenum wouldn't give the #Browns a better chance to win than Baker Mayfield.

— Noah Weiskopf (@BrownsWithNoah) November 29, 2021
Keenum is arguably one of the better backup quarterbacks in the NFL.
When he played in Week 5 against the Denver Broncos, he proved to be an efficient game manager and led the Browns to a win.
Though none of us know what is going on behind closed doors in Berea, it is baffling why Stefanski is so adamant to use Mayfield.
Case Keenum went to an NFC Championship with Stefanski coaching him. What has he done behind closed doors to convince Stefanski he's not as capable as this ridiculous version (injured or otherwise) of Baker Mayfield?

— Tim Cowlishaw (@TimCowlishaw) November 29, 2021
We cannot pretend that he is not hurt.
He is limping and grimacing during the games.
After the Ravens game, Stefanski described him as "no worse for the wear with his injuries".
Everyone is banged up at this point in the season, but Mayfield's injuries are more excessive than most players.
#Browns HC Kevin Stefanski said QB Baker Mayfield is no worse for the wear with his injuries after last night

— Nate Ulrich (@ByNateUlrich) November 29, 2021
Furthermore, Stefanski used him on a quarterback sneak against the Ravens to gain the first down, and I could not believe it.
Keenum should have played the Detroit Lions game for sure.
Depending on how Mayfield was feeling, Keenum could have played in the Ravens game also.
The plan should have been to rest for Detroit, Baltimore, and the bye, and then bring him back for the second Baltimore game.
Conclusion
Stefanski is proving to be just as stubborn as Mayfield.
Besides leaning on Mayfield too much in his decrepit state, he is also dead set on calling the plays.
#Browns HC Kevin Stefanski on whether he has considered giving play-calling duties to OC Alex Van Pelt: I'm comfortable with how we're doing it right now, we just have to be better, I have to be better

— Nate Ulrich (@ByNateUlrich) November 29, 2021
Alex Van Pelt is the offensive coordinator and is capable of calling the plays, but Stefanski has no plans to make the change.
Freeing up Stefanski from calling the plays would allow him to concentrate on the entire team at this critical juncture.
There is still plenty of football to play, but change needs to come from the top down so this team has an outside chance to contend for a playoff berth.