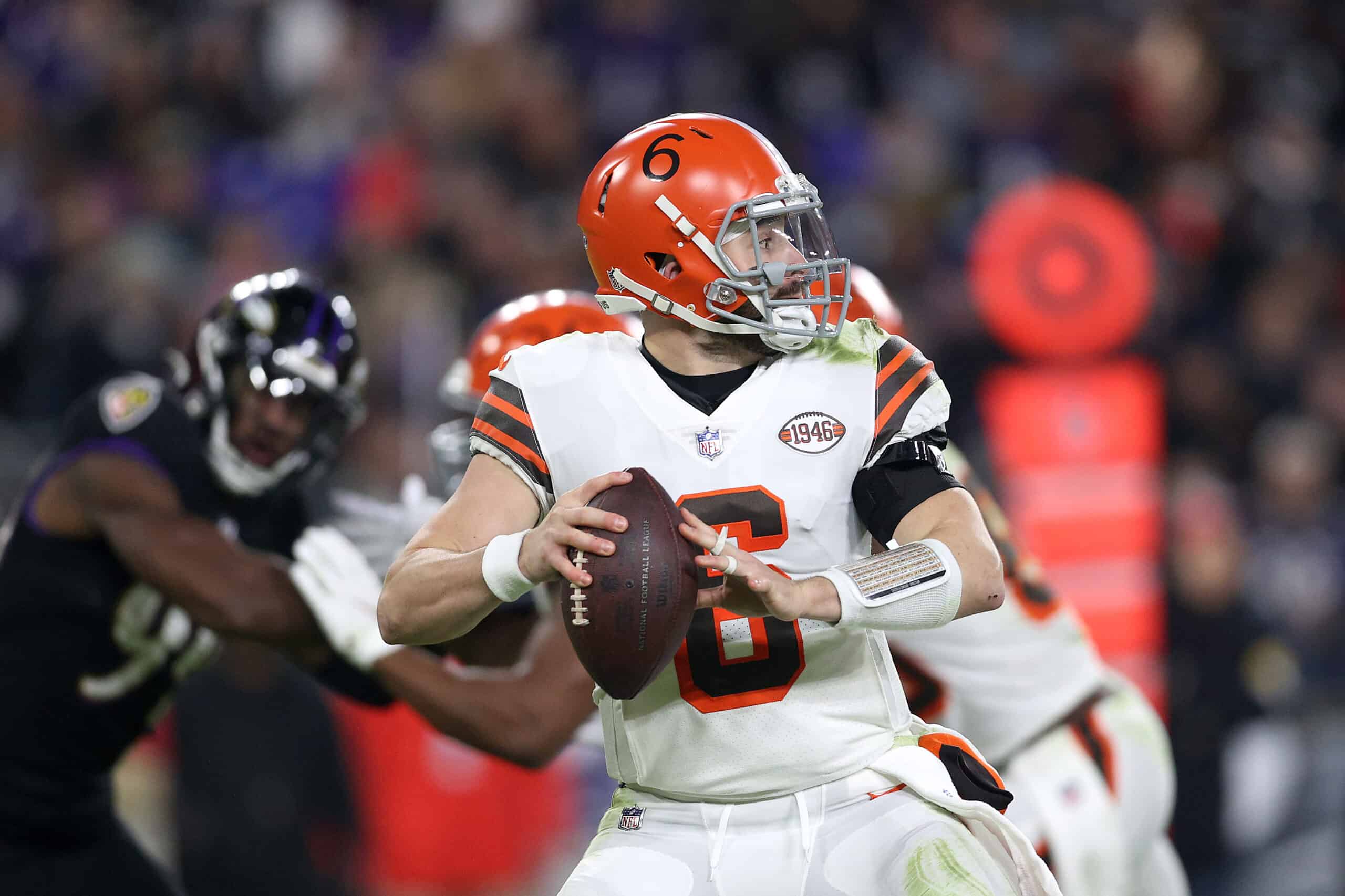 Into the late hours of Sunday night and early Monday morning, the NFL world shared its reactions on social media to Cleveland Browns quarterback Baker Mayfield's performance against the Baltimore Ravens.
Here are some of the more noteworthy reactions.
No Alternative But To Bench Him
There is a social media contingent who believes Mayfield should be benched based on his injuries and/or performance.
These people believe Case Keenum is a better option right now.
It's about time #Browns HC Stefanski puts on the big boy pants, does his job & benches #bakermayfield . He's the HC, what he says goes,Baker doesn't call the shot's. You might want to put Case in as Qb.

— 👑DynastyDog01🏈 (@DynastyDog01) November 29, 2021
#Baker #Mayfield tonight!#Browns may need to RE-think this long term strategy!

Either he's hurt and shouldn't be out there OR He shouldn't be out there!

#CLEvsBAL pic.twitter.com/mxZqB5nuNG

— B o B (@robertleusch) November 29, 2021
How can you tell me right now that a healthy Case Keenum wouldn't give the #Browns a better chance to win than Baker Mayfield.

— Noah Weiskopf (@BrownsWithNoah) November 29, 2021
Harrison Bryant limping off the field and Baker Mayfield is limping to the line of scrimmage attempting to go up-temp it seems. This sums up the #Browns right now.

— Noah Weiskopf (@BrownsWithNoah) November 29, 2021
#BAKERMAYFIELD should be on injured reserve, period! If we were 6-6 with Keenum, we would be cheering but we are 6-6 with our broken starter! Stefanski needs to bench Baker and stop with the BS. #Browns Any other coach and team Baker would be on bench!! #Stefanski

— Carl Mathews Jr (@carlmathewsjr) November 29, 2021
Dropped Passes Are Not His Fault
Some mention the dropped passes and Landry fumble as not Mayfield's fault.
6 drops tonight I wish Baker Mayfield was a better Wide Receiver #Browns.

— Tyler Johnson (@T_johnson_TJ) November 29, 2021
In a game that was decided by less than one touchdown, at least three different drives were killed by drops. Just a brutal way to go down.#Browns

— Stephen Tipton (@StephenTipton) November 29, 2021
Others believe the entire offense is a mess, and Mayfield is not the only one to blame.
Drops. Bad throws. Pressure on QB.
WRs not separating. Play calls that don't work.

It's not just Baker. The whole passing game is a mess #Browns

— JohnnyOhio (@JohnnyOhio) November 29, 2021
Where Do The Browns Go From Here?
Probably, the most troubling part of the social media reaction to Mayfield's performance is that there are varying opinions on where to go from here in 2021 and beyond.
It's pretty clear that Browns fans think the season is over.
The @Browns will be watching the NFL Super Bowl AT HOME WITH @bakermayfield this February!#BakerMayfield #ClevelandBrowns #SuperBowl pic.twitter.com/XyvH0aCaDV

— Bitsy News (@BitsyNews) November 29, 2021
Another person thinks Progressive should kick Mayfield out of his house also known as FirstEnergy Stadium.
Progressive needs to evict #BakerMayfield after that crappy performance. #Browns

— Doug9586 (@doug9586) November 29, 2021
During the game, an SOS call for a franchise quarterback for 2022 was issued.
One call went out to Russell Wilson.
Save us, @DangeRussWilson. Save us.#Browns

— Russell Williams (@Russ_Will_) November 29, 2021
Another one was sent to Aaron Rodgers.
#browns lets start our campaign right now😁 @AaronRodgers12 pic.twitter.com/FiVROwvnbv

— Money Manziel(8-4)👍🏽 (@yedoingtingz) November 29, 2021
Others disputed whether Cleveland can attract a future Hall of Fame quarterback like Wilson or Rodgers.
These fans believe a reality check is in order.
I feel Ike a lot of #Browns fans need to hear this… Russell Wilson or Aaron Rodgers aren't coming here lol ever. Just end that pipe dream right now. Sheesh.

— Mike (@big_mike9169) November 29, 2021
I find myself split in the middle of these Baker debates. Getting someone like Russ is a no brainer but some of y'all talk like NFL QBs grow on trees. It's not *that* easy to find a guy.

— Football Chopz (@Pchopz_) November 23, 2021
Conclusion
It is debatable which was the uglier scene: the slaying of Mayfield and the Browns on social media during the game or the actual Sunday night football game.
The Browns have five games left in 2021.
Whether they make the playoffs or not, they need to come out after the bye and play strong, sound football.
They have been so inconsistent and undisciplined this year that it would be great to end the season on a positive note.