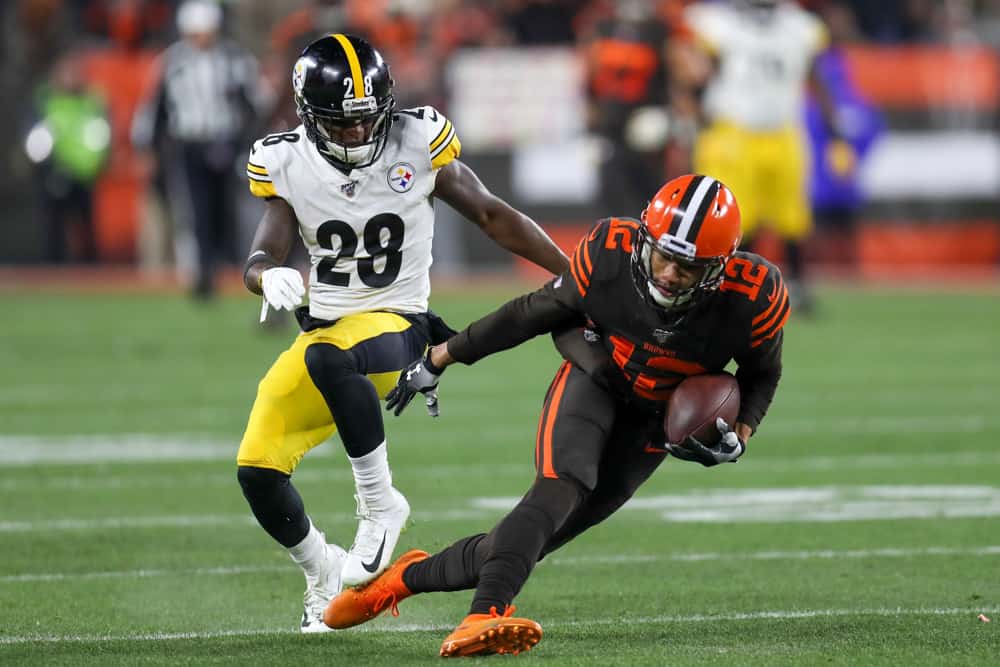 Khadarel Hodge's name might not have jumped off the waiver wire in most NFL cities.
After all, the 4th-year wide receiver only boasts 17 receptions in his first three seasons.
But if anybody was going to get excited about signing Hodge, it was the former Cleveland Browns GM, John Dorsey.
And John Dorsey is currently the senior personnel executive for the Detroit Lions.
Former #Browns WR Khadarel Hodge got claimed by the #Lions and none other than former Browns GM John Dorsey who also claimed him in Cleveland.

— MoreForYouCleveland (@MoreForYou_CLE) September 1, 2021
Detroit made Hodge one of the first players claimed off post-roster reduction waivers today.
It might be the perfect location for Hodge to break out as an NFL receiver.
And he will surely help the Lions coverage teams, as well.
Detroit also signed former Browns kicker Austin Seibert after cutting all their kickers earlier this week.
Hodge Steps Into Prime Role 
Barring any further deals or signings, Khadarel Hodge is, at worst, the WR-3 for Detroit.
Former Raider Tyrell Williams is the only player with any NFL receiving success ahead of him.
And the Lions drafted Amon-Ra St. Brown in the fourth round of the 2021 NFL draft.
Hodge suffered through an injury-riddled 2020 season in Cleveland that limited his targets.
Baker Mayfield to KhaDarel Hodge, Browns (preseason) touchdown.pic.twitter.com/5DNjqY0WPC

— Register Sports (@RegisterSports) August 30, 2021
But he entered the season as the WR-3 behind Odell Beckham Jr and Jarvis Landry.
Ten of Hodge's 11 catches last year resulted in first downs.
And he is adept at winning contested balls if needed.
Jared Goff spread the ball around in Los Angeles and should find Hodge a comfortable target soon enough.
Why Hodge Was Available
When Odell Beckham's season ended prematurely, Rashard Higgins jumped over a banged-up Hodge to take his role.
Higgins went on to earn the highest DVOA among NFL wide receivers as a favorite target of Baker Mayfield.
He signed a guaranteed contract with the Browns this offseason.
Meanwhile, Donovan Peoples-Jones jumped past both Higgins and Hodge on the depth chart this summer.
Was KhaDarel Hodge covered in soap here? The #Steelers couldn't tackle the #Browns WR at all! #TNF pic.twitter.com/Xmbg1wrxLp

— Billy Heyen (@BillyHeyen) November 15, 2019
And the addition of speedy 4th-round draft pick Anthony Schwartz and rookie Demetric Felton pushed Hodge out.
Hodge was re-signed ahead of Higgins, but his $2.1 million salary was not guaranteed.
That might have sealed the deal, even though Hodge had a better preseason than Higgins.
Hodge's special teams coverage skills played as much a part in his re-signing as his receiving ability.
Austin Seibert Also Signed By Lions
John Dorsey and the Lions grabbed another former Brown in kicker Austin Seibert.
Detroit released all their kickers during the preseason.
That included Zane Gonzalez and Randy Bullock in the final 53-man roster decisions.
Seibert enjoyed a solid preseason after some mixed reviews of his early career.
Lions have a new kicker: Detroit claimed former Bengals' kicker Austin Seibert on waivers.

Lions also claimed former Browns' WR Khadarel Hodge.

— Adam Schefter (@AdamSchefter) September 1, 2021
But the Cincinnati Bengals went with the kicker they drafted back in April.
Detroit lost their longtime stalwart, Matt Prater, in free agency earlier this year.
Under new head coach Dan Campbell, the Lions are in a full rebuild mode.
And some former Browns might be a big part of things in Michigan.