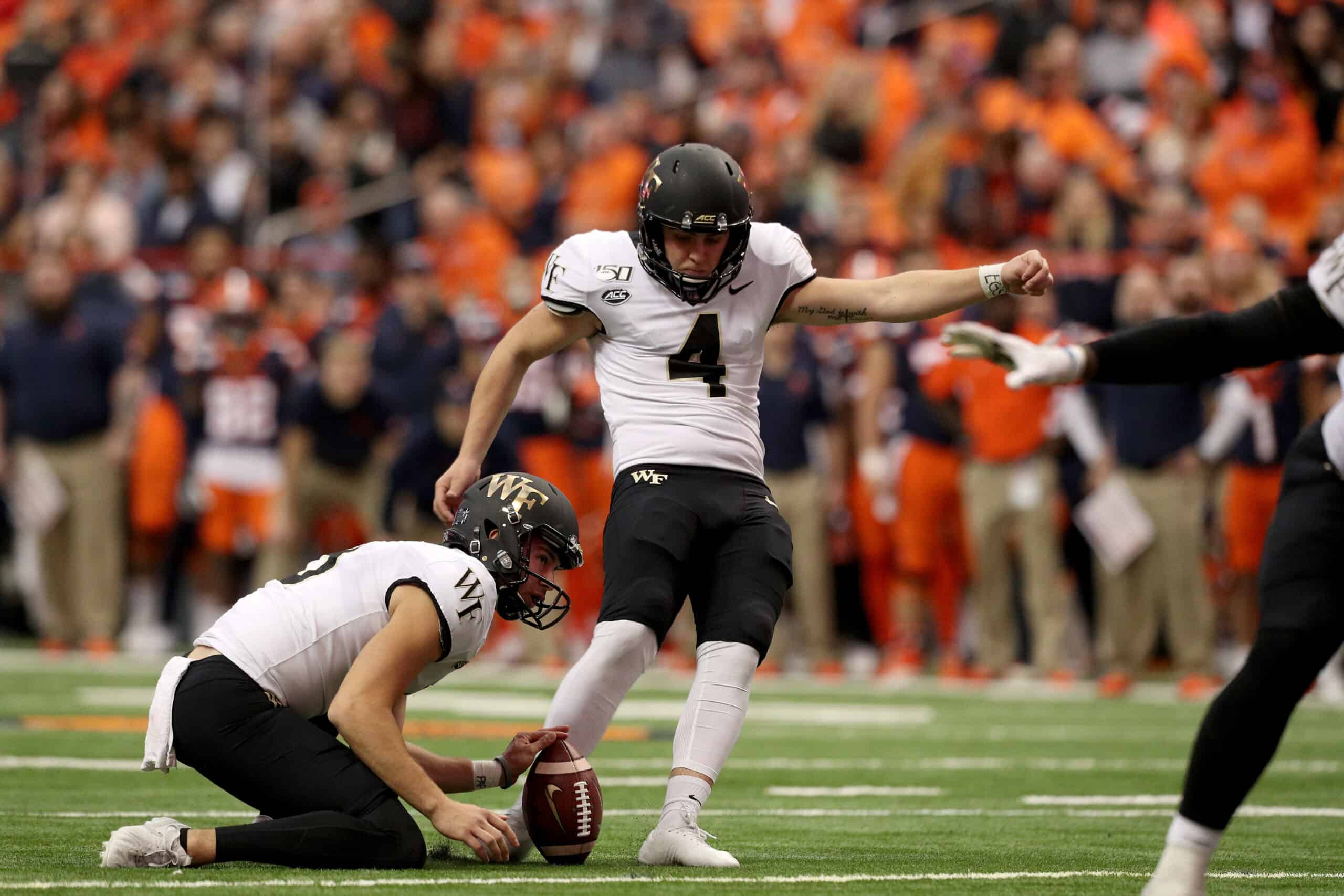 The Cleveland Browns enter the offseason with a number of roster needs.  One of the positions that must be addressed is at kicker.
Last May, the team signed Chase McLaughlin to replace the unspectacular Cody Parkey.
Through the first part of the season, McLaughlin looked dependable.  In Week 3 alone, he kicked a 57 yarder as part of a 4 for 4 afternoon.
However, by season's end, McLaughlin had made 15 of 21 field goals which included a woeful six kicks missed between 40-49 yards.
#Browns Kicker Chase McLaughlin is in a slump.

His FG% of 71.4% (15/21) ranks 29th in the #NFL.

He's 4/10 from 40-49 Yards. All 6 of his misses are from this range.

5 of the missed FGs have been in games decided by 0-7 Points.

Should the team explore new options at Kicker? 🤔 pic.twitter.com/TAJFuYK4qg

— The Hottest Take (@Hottest_TakePod) December 21, 2021
That yardage range is crucial, especially late in games.
Additionally, McLaughlin was absent for the game against Green Bay due to Covid and Chris Naggar took his place.
Naggar made his only field goal attempt but missed an extra point.
To make matters worse, the Browns special teams unit as a whole has been ranked near the bottom of the NFL.
As of now, McLaughlin is still employed by Cleveland.
However, that doesn't mean they are sticking with him long-term.
It is doubtful that the team will draft a kicker.
But just in case, here are three kickers that could interest the Browns.
3- Parker White, South Carolina
White is the first four-year starter in Gamecocks history.
He also took advantage of NCAA Covid rules and returned to South Carolina for a sixth season in 2021.
That led to the 6'5", 205 pound White becoming the program's all-time leading scorer with 360 total points.
South Carolina kicker Parker White (43) celebrates with fans after he hit the game-winning kick. @thestate pic.twitter.com/8PP2OWVlCO

— Tim Dominick (@timdominickSC) September 23, 2017
2021 was by far White's best collegiate season.
He connected on 94.1% of his kicks and only missed one field goal.  White converted all of his extra points.
What is appealing about White is not just his experience as a kicker, but his range as well.
This past season, he was perfect on kicks of 40 yards or more.  In the past four years, he made 18 of 22 attempts between 40-49 yards.
2- Chandler Staton, Appalachian State
Staton is a First-team All-American and a Lou Groza Award semifinalist.
He ends his career ranked number five all-time in FBS history with 464 points in field goals and 272 in extra points.
Staton also leads the Mountaineers program in several statistical categories.
Two important stats for the 5'11", 195-pound kicker are consecutive field goals made with 18 and consecutive extra points made with 148.
With his 20th field goal, @Chandler_Staton has broken the record for single-season FGs at App State! pic.twitter.com/mA4FaeoRPD

— App State Football (@AppState_FB) December 18, 2021
Staton has been Appalachian State's kicker for the past five seasons.
In 2021, he had a career-best 95.2% field goal percentage and missed only two field goals.
However, Staton was a perfect 6 of 6 from 40-49 yards and made all his extra points.
1- Nick Sciba, Wake Forest
Sciba is nearly automatic.
In fact, at one point during the 2021 season, he had made 34 consecutive field goals, setting an NCAA record.
Pressure situations don't appear to phase the 5'9", 191-pound kicker either.
In early October he made a game-winner as time ran out to beat Louisville.
Just a fabulous shot here by @JaylynnNash of birthday boy, NCAA all-time leading FG kicker, and final-minute hero in yesterday's win over Louisville – Wake Forest kicker Nick Sciba, being lifted up in celebration by his teammates. pic.twitter.com/Ja6NGbpfYU

— Les Johns (@Les_Johns) October 3, 2021
That was only one of several such kicks Sciba has made in his collegiate career.
Sciba has started every year since 2018 for the Demon Deacons.
In 2021, he did end up missing two kicks.
However, he was 7 of 7 from the 40-49 yard range, something the Browns should take note of.
Even more impressive, he only missed two kicks from that range in four years.