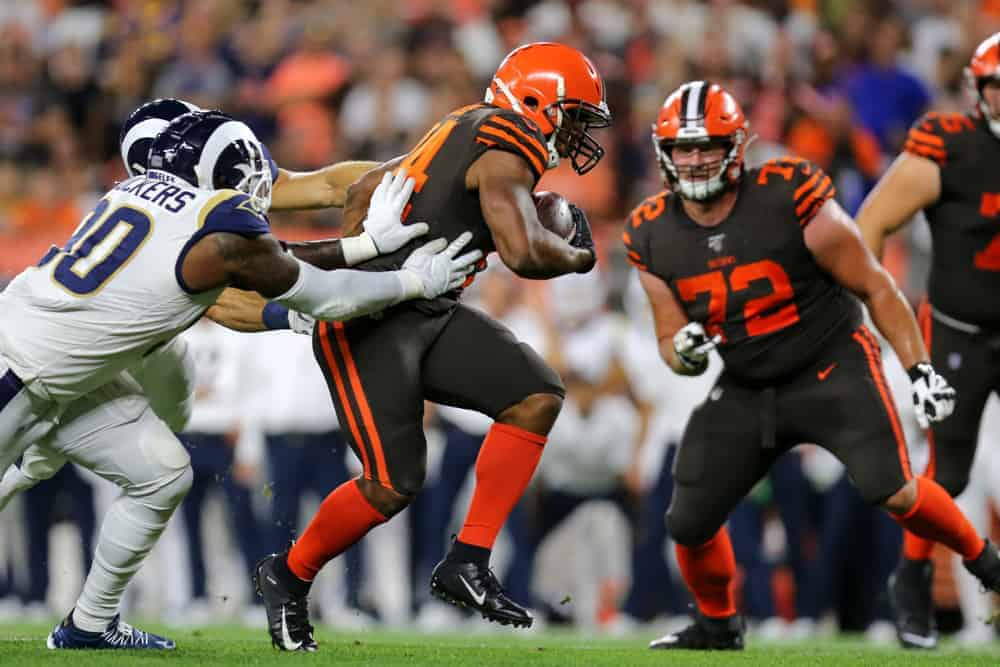 On another night of offensive woes in the Cleveland Browns 20-13 loss to the Los Angeles Rams, one call clearly stood out above them all.
The Browns were only down 4 points with 10 minutes to go.
They faced a 4th and 9 from the Rams' 40-yard line.
It was too far for a field goal, but instead of punting, Kitchens opted to go for it.
Baker Mayfield faked the hike and acted like he was trying to draw the Rams offside.
JC Tretter then snapped the ball to Mayfield with 2 seconds left on the play clock.
Mayfield then gave the ball to Nick Chubb on a delayed handoff.
Chubb was hit by Dante Fowler behind the line of scrimmage before being tackled by Eric Weddle for only a 2 yard gain.
Kitchens immediately took responsibility for the play call after the game:
"Bad call," Kitchens said, confirming that he was the one who called the play on the Rams' 40-yard line with Cleveland trailing 17-13.
"It just didn't work. It was a bad call… We're trying to win the game and we're on their side of the field. Bad call."
#Browns coach Freddie Kitchens on taking the blame for Sunday's 20-13 loss to #Rams #3Browns pic.twitter.com/bw50l1i5fT

— WKYC 3 News (@wkyc) September 23, 2019
Many fans were baffled and disgruntled with the call.
The call was unprecedented according to NFL statistics and research.
According to ESPN research, there has never been a draw called on a 4th and 9 or more since 2007.
So… since ESPN began video tracking the NFL in 2007, there has never been a draw play called on 4th and 9 or more, according to @ESPNStatsInfo

— Jake Trotter (@Jake_Trotter) September 23, 2019
NFL Hall of Famer and FS1 "First Things First" co-host Chris Carter also questioned Kitchens play call in that situation.
"I hadn't seen in all my years of watching, since I coached little league, on fourth down I'm getting ready to run a draw on 4th and 9 and I'm gonna pick it up," said Carter. "If I put the ball in the air there is a chance I can get pass interference. Once you decide to run, you negate all that…In that situation, it's very, very tough."
Carter did offer some praise for Kitchens as well.
"He did get this team ready to play," said Carter. "Three of their four starters in the secondary were not available to play in the game and they played well enough that they still could have won the game."
Carter ended is analysis by questioning whether Kitchens head coaching duties are now affecting his play calling.
It's obvious the Brown's have not had any rhythm on offense to start the season through 3 games.