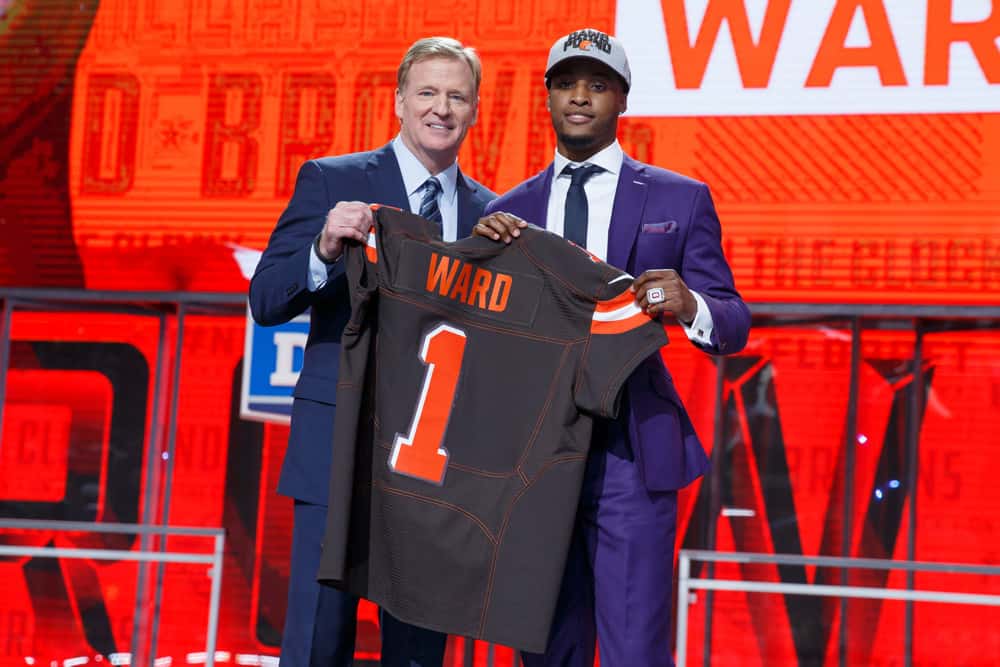 The Cleveland Browns' 2018 rookie draft was the first by general manager John Dorsey. After years of failed attempts at franchise quarterbacks, the Browns seemed to have a general manager with a great resume making the draft selections. He made Cleveland feel confident about the decisions he made.
Immediately following the draft, analysts lauded it as a success and turning point for the Browns' franchise.
In the aftermath of releasing Antonio Callaway, it's a good time to look back at that 2018 draft and re-evaluate how good those selections are a year-and-a-half into their careers.
Round 1 – Pick 1
Baker Mayfield – QB – Oklahoma
In the NFL Draft, there are no guarantees. Baker Mayfield was the reigning Heisman Trophy winner after an electrifying senior year at Oklahoma, but concerns regarding his height and personality remained. Cleveland worried that he could become the next Johnny Manziel.
He wasn't the consensus best quarterback in the draft. Sam Darnold was seen as the most prototypical NFL quarterback. Josh Allen, Josh Rosen, and Lamar Jackson all went off the NFL draft board in the first round. However, the Browns showed a commitment to Mayfield.
It took a few weeks and an injury to Tyrod Taylor for Mayfield to receive an opportunity to start. In typical Mayfield fashion, he grabbed the bull by the horns and made the job his own.
He made Browns' fans confident for the first time since the team returned in 1999. It's the success and rise of Mayfield that gave Browns fans, and the national media, the belief that 2019 would mark the Browns return to the playoffs.
This season, Mayfield is going through a bit of a sophomore slump, but that can be attributed to the more general struggles of the offense as a whole, the play calling of Freddie Kitchens, and the growing pains of having a first-year head coach. Still, in a season-and-a-half, Mayfield threw for over 6,000 yards and 38 touchdowns.
Is Mayfield a finished product? No, but he is better than anything the Browns have had since 1999. If the Browns are to going to have success in the next few years, it will be with Mayfield under center.
Baker Mayfield woke up feeling dangerous.

🔈⬆ (via @AlwaysLateESPN) pic.twitter.com/4EX4IP1zaZ

— ESPN (@espn) November 16, 2018
Round 1 – Pick 4
Denzel Ward – CB – Ohio State
With their second overall pick in the 2018 draft, the Browns ended their unofficial embargo of Ohio State players and chose Cleveland-born Denzel Ward. The Browns reached for a cornerback in the top five, but they've long lacked a shutdown corner.
John Dorsey seems to know what he's doing when drafting cornerbacks, as his track record in Kansas City proved with such successes of Eric Berry.
He may have done it again. Denzel Ward was an instant improvement to the Browns' defense and a starter from day one.
In his rookie season, Ward intercepted three passes and was named to the Pro Bowl.
In his second season, Ward is struggling with injuries, playing in just 6 of the teams' 10 games. Despite this, he is the Browns' best corner and could be headed to another Pro Bowl.
Was he worth the fourth overall pick in the 2018 NFL Draft? Definitely, as his Pro Bowl selection proves. The good news is he's not a finished product either and should only continue to improve. The Browns appear to have a shutdown corner for the next 10 years.
.@denzelward with his first NFL interception!#PITvsCLE pic.twitter.com/T4Erd6qagv

— Cleveland Browns (@Browns) September 9, 2018
Round 2 – Pick 33
Austin Corbett – OL – Nevada
Not every pick works out. Austin Corbett was chosen to eventually take over a vacated left tackle position formerly held by Joe Thomas.
Unfortunately, after three weeks of training camp, he lost his job to Desmond Harrison. The Browns tried him out at guard, letting him play behind veteran Joel Bitonio. That didn't work either.
After two brief stints at right tackle and center, it was unclear if Corbett would make the roster to start his second season.
He could still figure out his failures, but it won't be in Cleveland after the Browns traded Corbett to the Rams in October for an undisclosed draft pick. That draft pick won't be in the second round.
Corbett is officially a bust.
"With the 33rd pick in the 2018 NFL Draft, the Cleveland Browns select … Austin Corbett, T, Nevada"

📺 : NFL Network/FOX pic.twitter.com/DA2DnbQDOW

— Cleveland Browns (@Browns) April 27, 2018
Round 2  – Pick 35
Nick Chubb – RB – Georgia
With as much success as the players in the first round achieved, the best pick in the 2018 draft was Nick Chubb at 35 overall. The Browns drafted a stud running back, stealing him in the second round.
Nick Chubb began the season splitting snaps with Duke Johnson and Carlos Hyde.
By the end of the season, Hyde left Cleveland and it was the Nick Chubb show at First Energy Stadium.
Nick Chubb rushed for 1,000 yards in his rookie season briefly, only to have that number reduced to just under the 1,000-yard mark with a negative carry on one of the last plays of the season.
Now in his second season, Chubb was the first running back to record 1,000 yards this season, accomplishing that feat in just 10 games. The Browns continue to struggle to find an identity on offense, while Chubb dominates on the ground.
They should recognize the talent they have in the backfield and let Chubb lead the way for a while.
Nick Chubb reached 21.95 MPH on this 88-yard TD run, the fastest speed reached on a touchdown this season.@NickChubb21 sustained 21+ MPH for 44.4 yards, from the Browns 33 yard line to the Ravens 21 yard line.#CLEvsBAL | #Browns pic.twitter.com/AARpBPGS3H

— Next Gen Stats (@NextGenStats) September 29, 2019
Round 3 – Pick 67
Chad Thomas – DE – Miami
As a rookie, Chad Thomas played in four games, starting in none of them. In those games, he did not register a sack or a tackle.
Those numbers need to improve in the latter parts of this season, as Thomas is scheduled to replace Myles Garrett. Garrett was recently suspended for his actions in the Pittsburgh Steelers' game.
He won't be thrown into the fire without experience, though. He played in all 10 games so far this season, starting 2 of them. Through 10 games, Thomas tallied 13 tackles and 3 sacks. That's a decent number of sacks for a player that isn't on the field every play.
Thomas is a player to watch for the rest of the year. Will he make the most of his opportunity? If not, he can always fall back on his side career as a music producer. Seriously, he has produced songs for the likes of Rick Ross, Kodak Black, and Ball Greezy.
No, that's not a joke.
As a rookie defensive lineman for the Cleveland Browns, music producer and rapper, Chad Thomas is a perfectionist. @MajorNine makes hits on and off the field, with his passion and skills. #MakeBelieveHappen Watch the full video: https://t.co/8uF71sTdM4 pic.twitter.com/JmBfjf4HHk

— Microsoft Surface (@surface) December 14, 2018