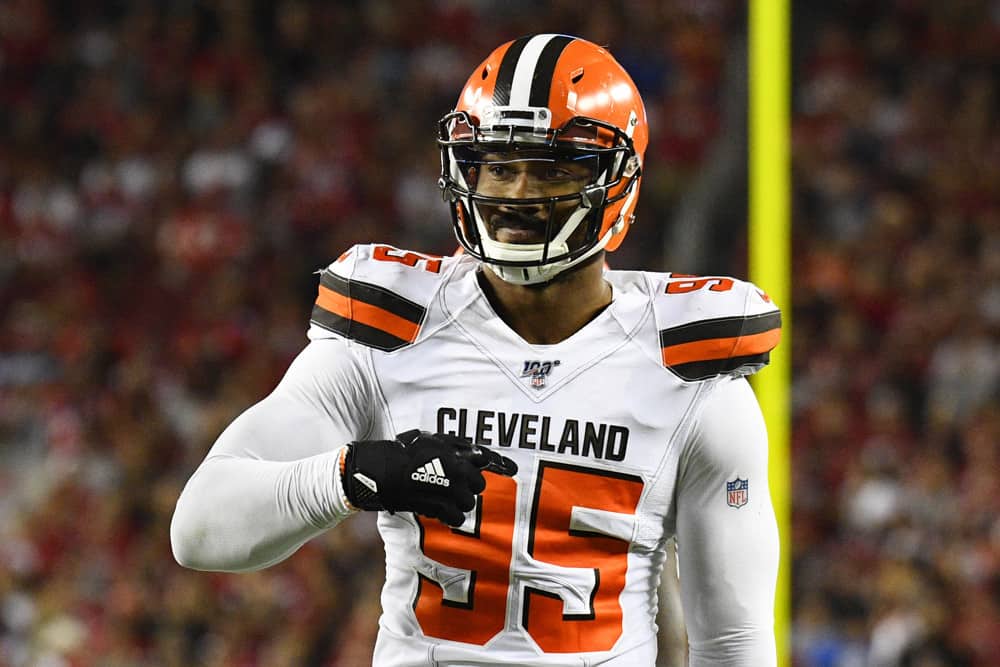 Cleveland Browns defensive end Myles Garrett has been entertaining us the entire offseason with his workout videos.
Clearly, he is staying in peak football shape as evidenced by his massive physique in a suit at last week's NFL draft.
holy crap Myles Garrett's arms pic.twitter.com/IY877puSxy

— Yahoo Sports College Football (@YahooSportsCFB) May 1, 2021
Garrett's Latest Workout
His latest video shows us his tremendous upper body strength and he follows it up with the trademark Steph Curry shimmy.
Check it out.
Hit the shimmy like I'm @StephenCurry30 pic.twitter.com/UeRV7GERdA

— Flash Garrett ⚡️ (@MylesLGarrett) May 5, 2021
Curry's shimmy happens on the basketball court and is not shirtless.
What Is Garrett Up To?
Besides the basketball, weightlifting, and cross-fit videos, Garrett has also been out in the community.
#Browns Myles Garrett with artist Glen Infante, posing in front the the new mural Garrett commissioned on Euclid Ave. featuring LeBron James, Machine Gun Kelly, Toni Morrison, Jim Brown, and Tracy Chapman.

Iconic. pic.twitter.com/J1QD4mRU6o

— Camryn Justice (@camijustice) April 22, 2021
Prior to the draft, he was involved with a mural that he commissioned.
Local artist Glen Infante created a mural outside the offices of Destination Cleveland on Euclid Avenue.
Entitled "Cleveland Is The Reason," the mural features athletes such as Jesse Owens, Jim Brown, and LeBron James along with musicians and others involved in the arts.
The 25-year-old Texas native thinks of Cleveland as his second home.
"The longer I've been here, the more it's grown on me, and I've just started to love it. Even when I'm in Texas, I sometimes miss my home of being in the city or just going through and seeing the people. Back where I'm from, they say we have a lot of kind, well-mannered people, and I feel like it's the same way here in Cleveland. So it's much appreciated. It's always felt like a second home."
Garrett also appeared in the pre-draft hype video.
📍 Welcome to Cleveland!#NFLDraft pic.twitter.com/9o5wRfXBju

— Cleveland Browns (@Browns) April 27, 2021
Garrett Is Excited For 2021 Season
After carrying the defense largely on his back, Myles Garrett is getting help in 2021 so it is no surprise he is very excited to get to work with his new teammates.
"I think we can do a lot. "With the pieces we have now, I think we'll be very scary, so I'm looking forward to it."
Regarding the long-awaited addition of Jadeveon Clowney, Garrett said:
"I know the guy is aggressive, really gets after it and he has a motor, keeps attacking, plays the run well and a good pass rusher. He's an athletic specimen like someone I know on the Browns, so it will be fun. It really will. And we got a new safety. We got Takk and so, John Johnson will be able to make some plays, Greedy will hopefully be back and Takk will come in and apply some pressure. It's all rounding out pretty nicely."