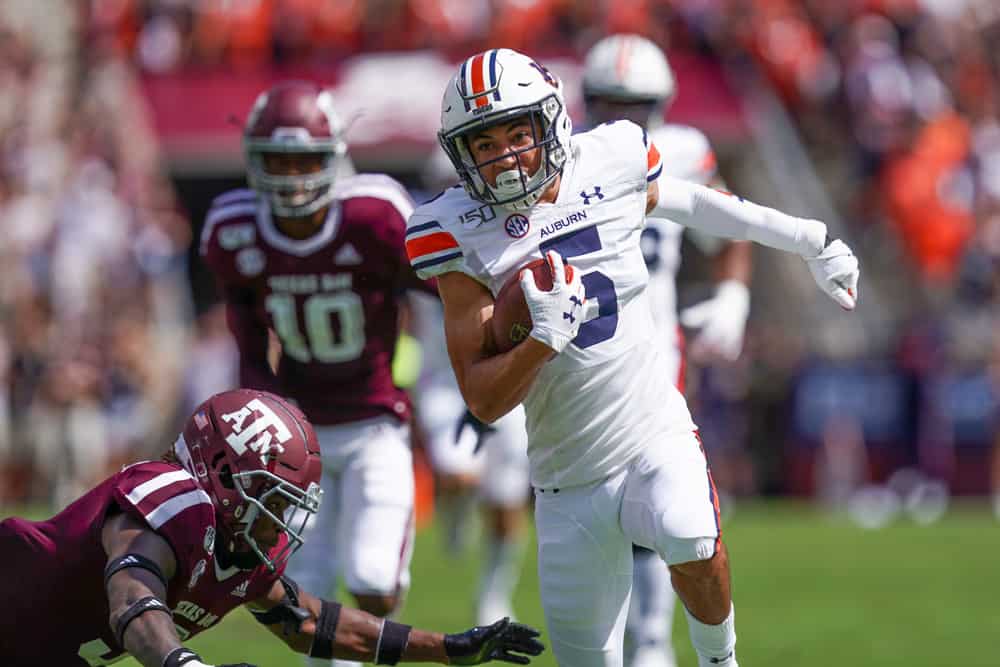 The Cleveland Browns used the 91st pick to draft Auburn wide receiver Anthony Schwartz who is nicknamed "Flash."
Schwartz, 20, is a two-sport athlete, excelling at track with world-class speed.
He possesses more of a track build than a football build measuring 6'0″ and 186 pounds.
Anthony Schwartz is my WR14. 4.2 track stud who adds a deep element. Started to develop as a route runner, especially the quick slants and out routes. Special teams ace too. Adds a new element to the #Browns. Great pick. #NFLDraft #HallamAnalysis

— Shane P. Hallam (@ShanePHallam) May 1, 2021
Anthony Schwartz joins a talented wide receiver room that includes Odell Beckham Jr., Jarvis Landry, Rashard Higgins, and Donovan Peoples-Jones.
Despite rumors saying otherwise, Schwartz is not there to displace any of the aforementioned wide receivers.
He is definitely a player in development.
That does not mean he cannot be used in the short term.
How will the Browns use Schwartz?
Here are some options.
1. Special Teams
Schwartz ran a 4.25 40 yard dash.
His speed could definitely be used on kickoff returns and punts.
How fast in Anthony Schwartz? If the new Browns WR picked track instead of football coming out of high school, there's a real good chance he'd be in Tokyo this summer.

Also, HS teammate of Pat Surtain, Tyson Campbell, Marco Wilson and Nick Eubanks.

— Albert Breer (@AlbertBreer) May 1, 2021
2. Running Plays
Browns just got the fastest player in the NFL Draft, Anthony Schwartz💨

— PFF Draft (@PFF_College) May 1, 2021
Early in his Auburn career, Schwartz was principally used for running plays for obvious reasons.
In 2018 and 2019 he rushed for 329 yards in 26 games, scoring 7 touchdowns.
His ability to cut while maintaining his speed gives the Browns a unique offensive weapon they did not have in 2020.
3. Gadget Plays
Taysom Hill of the New Orleans Saints is the king of gadget plays, but he is not as fast as Schwartz.
Coach Stefanski is very creative so the sky is the limit.
Remember the touchdown pass Jarvis Landry threw to Odell Beckham Jr.?
Schwartz could be on the receiving end of one of those passes also.
How about the Wildcat?
That could be in the plans also.
4. Traditional Passing Plays
Schwartz has developed good ball handling skills.
He is also comfortable catching the ball away from his body.
Browns VP of football operations Kwesi Adofo-Mensah said this about Schwartz.
"[He] jumps off the tape. … He's not your typical track guy. He's got a run after the catch mindset."
Schwartz had a career best 2020 season with 636 yards receiving and 3 touchdowns.
In one season, he achieved nearly half of his passing productivity.
During his 3 year Auburn career, he netted 1,433 receiving yards and 6 touchdowns.
While there is plenty of excitement surrounding the selection of Anthony Schwartz, GM Andrew Berry has been quick to note that he needs more development.
#Browns GM Andrew Berry on addition of WR Anthony Schwartz: "What attracted us to Anthony is his ability to stretch the field." Adds they believe he's very early on in his development curve in his career

— 92.3 The Fan (@923TheFan) May 1, 2021
"Anthony is very, very smart and a quick study. The theme of Day 2 of the draft is speed. Anthony has world-class Olympic speed. He has all the things we desire to help us stretch the field. His best football is ahead of him."
In the meantime, Schwartz is grateful for the opportunity and ready to get to work in Cleveland.
He is planning to wear the number 10 for the Browns.
After two seasons of wearing number 5 at Auburn and wearing number 1 last season, some fans may be confused.
Schwartz is partial to number 10 because it is the number he wore in high school.
Welcome to Cleveland Anthony Schwartz!