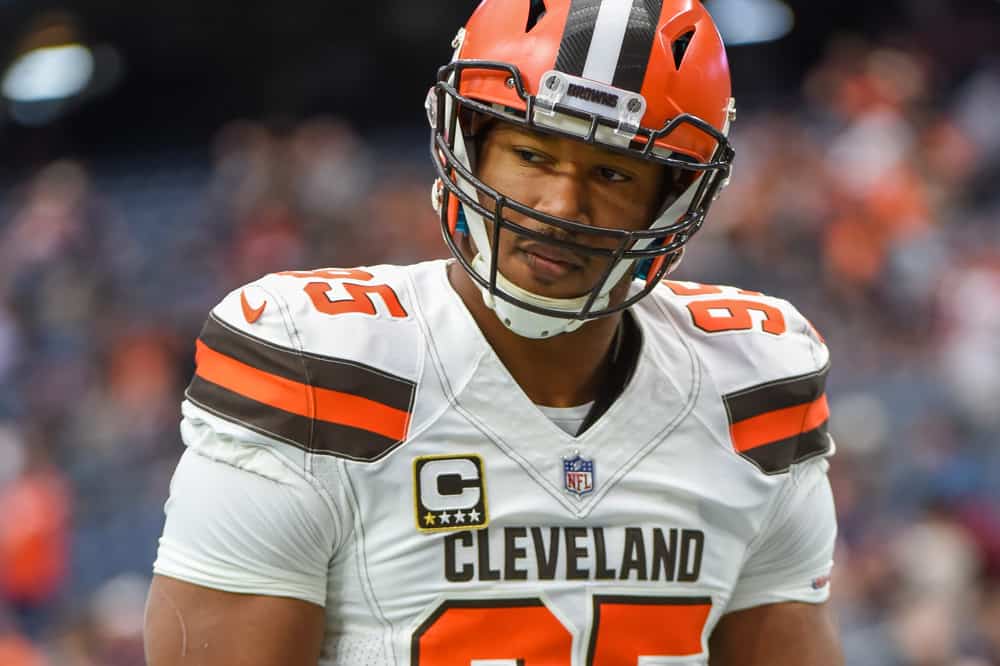 In Sunday's 41-35 victory over the Tennessee Titans, Browns defensive end Myles Garrett made team history, as he surpassed 10 sacks in 2020.
Welcome back, Myles Garrett ⚡️
pic.twitter.com/HGbCGlI6pE

— PFF (@PFF) December 6, 2020
His crucial third-down sack during the first Titans drive of the fourth quarter forced a Tennessee punt on the next play.
Garrett's nine-yard takedown of Ryan Tannehill gave him double-digit sacks for the third consecutive season:
Myles Garrett is the first player in Browns history with 3 straight seasons of 10+ sacks. pic.twitter.com/PSf3vWuqEg

— CBS Sports HQ (@CBSSportsHQ) December 6, 2020
Garrett, who had been activated off the COVID-19/reserve list on December 1, was playing in his first game since Week 10.
His 52 snaps played on defense were his most since October 25's victory against the Cincinnati Bengals.
In the Week 7 win at Cincinnati, Garrett matched his season-high with two sacks.
In 2020, the Defensive Player of the Year candidate has already set new single-season career highs in his forced fumbles and fumble recoveries.
He is also hoping to do so in terms of sacks, tackles, and tackles for loss.
In 2019, his season was cut short and he played just 10 games.
However, this year, Garrett should be ready to make an impact during the end of the season and in the playoffs.
How Crucial is Week 14's Game Against the Baltimore Ravens for Garrett?
In Garrett's five-game career against the Ravens, the Browns are 2-3.
Cleveland has allowed at least 25 points in four of the contests.
The worst of the five meetings was Week 1's blowout loss at the hands of the Ravens.
Garrett has just 1.5 sacks in his five games against Baltimore.
He did not record a sack in Week 1, but he did have a fumble recovery and one quarterback hit.
The Ravens, especially on offense, have stalled as the season has progressed.
It is very important for Garrett and the Browns to capitalize on Baltimore's struggles.
The 2017 No. 1 overall pick will look to step up his performance for the Monday Night Football contest.
Looking Ahead, How Many Sacks Can Garrett Have This Season?
With just four games left in the 2020 season, Garrett is well on his way to his second career Pro Bowl selection.
He registered his first AFC Defensive Player of the Week earlier this season.
He put together the following line in a 49-38 win over the Dallas Cowboys in Week 4: 2 sacks, 3 combined tackles, 1 tackle for loss, and 1 forced fumble.
Garrett's 10.5 sacks are tied with Trey Hendrickson and Za'Darius Smith for the third-most sacks in the league.
The only players with more sacks in 2020 are Aaron Donald and T.J. Watt.
Donald has played 12 games this season, and Watt has played 11 games.
In Week 15, the Browns take on the New York Giants and Daniel Jones or Colt McCoy.
Jones has ranked in the top 10 in times sacked in each of his first two seasons in the league.
Then in Week 16, Garrett's mouth will be watering as the Browns play once again at MetLife Stadium.
Garrett has three career games against the New York Jets, and he has at least two sacks in each of those contests.
Browns fans are hoping that Garrett stays healthy, as he is hoping to make a huge impact down the stretch.
He has a strong chance at leading the league in sacks.
Garrett could have as many as five or six sacks combined over the next three weeks.
Then in Week 17, the Browns take on the currently undefeated Pittsburgh Steelers.
Garrett should already have surpassed his career-high 13.5 sacks from 2018.
He had a sack in the loss at Pittsburgh in Week 6 and will look to continue to add to his total in the final game of the regular season.