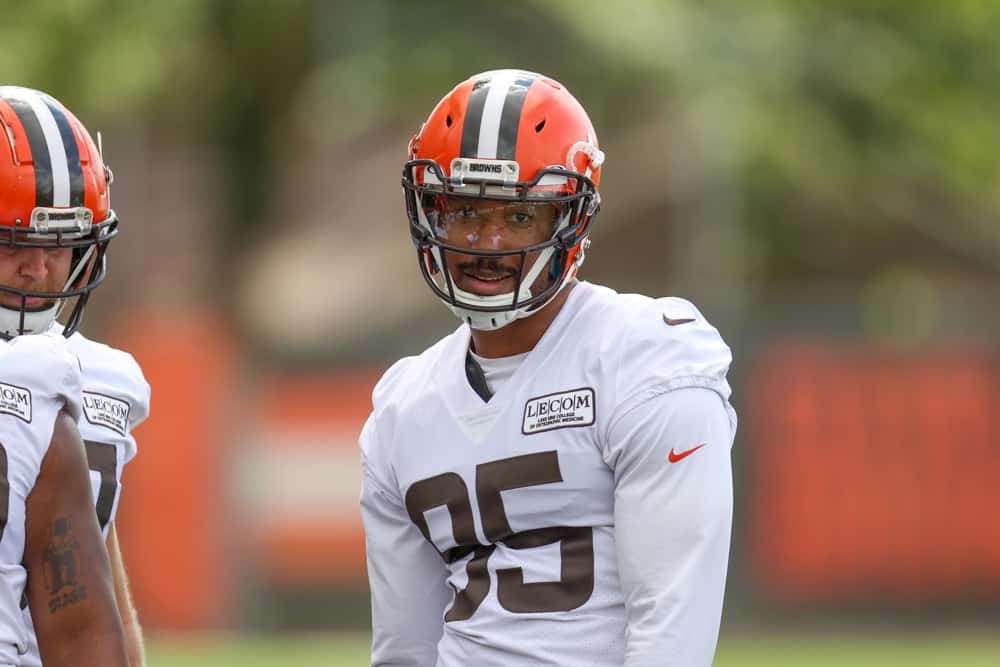 The Cleveland Browns have activated defensive end Myles Garrett from their COVID-19/reserve list.
The team made the announcement Tuesday on its website.
Barring any kind of setback or injury in practice, Garrett is expected to return for Sunday's game against the Tennessee Titans.
We've activated Myles Garrett from the reserve/COVID-19 list and placed Ronnie Harrison Jr. (shoulder) on IR

Details » https://t.co/nXulmNofIl pic.twitter.com/IwOCL2PXBZ

— Cleveland Browns (@Browns) December 1, 2020
"We talked about when Myles went out, we don't want to win without him," Browns head coach Kevin Stefanski told media members Monday. "We'll do it, but he's a good player so we want him out there. I think the guys get a big boost when they see No. 95 out there with them.

"That's just based on how productive he's been for us and the game-changing plays he's made for us throughout the season."
Garrett, 24, missed two games after testing positive for COVID-19: A 27-25 win over the Jacksonville Jaguars on Nov. 29 and a 22-17 win over the Philadelphia Eagles on Nov. 22.
Stefanski said he thinks Garrett will play at a high level when he returns to the field.
"Just knowing the pro that Myles is and how hard he works, I do feel confident there, but the truth of the matter is, I haven't put my eyes on him yet," Stefanski said. "I'll be able to answer that better throughout the week."
The Browns initially put Garrett on their COVID-19/reserve list on Nov. 20.
Despite missing the last two games, Garrett is tied for second in the NFL with 9.5 sacks and tied for first with four forced fumbles.
As of Nov. 24, the sports betting website Sports Betting Dime lists Garrett as the third-favorite to win NFL Defensive Player of the Year at +450.
Pittsburgh Steelers linebacker T.J. Watt is considered the favorite at +248 and Los Angeles Rams defensive lineman Aaron Donald is the second-favorite at +250.
On Tuesday, the Browns also placed safety Ronnie Harrison Jr. on injured reserve with a shoulder injury.
It means Harrison will miss the next three games.
Harrison is expected to miss the next four to six weeks after injuring his shoulder early in the first quarter of Sunday's win over the Jaguars.
The team hopes Harrison could return before the playoffs.
Harrison had started the past six games for the Browns.
On Monday, the Browns claimed former Kansas City Chiefs safety Tedric Thompson off waivers.
On Monday, Stefanski said the Browns probably will not get cornerback Denzel Ward back for the Titans game.
Ward missed the Week 12 game against the Jaguars with a calf injury.
The team also released cornerback Stephen Denmark from the practice squad.