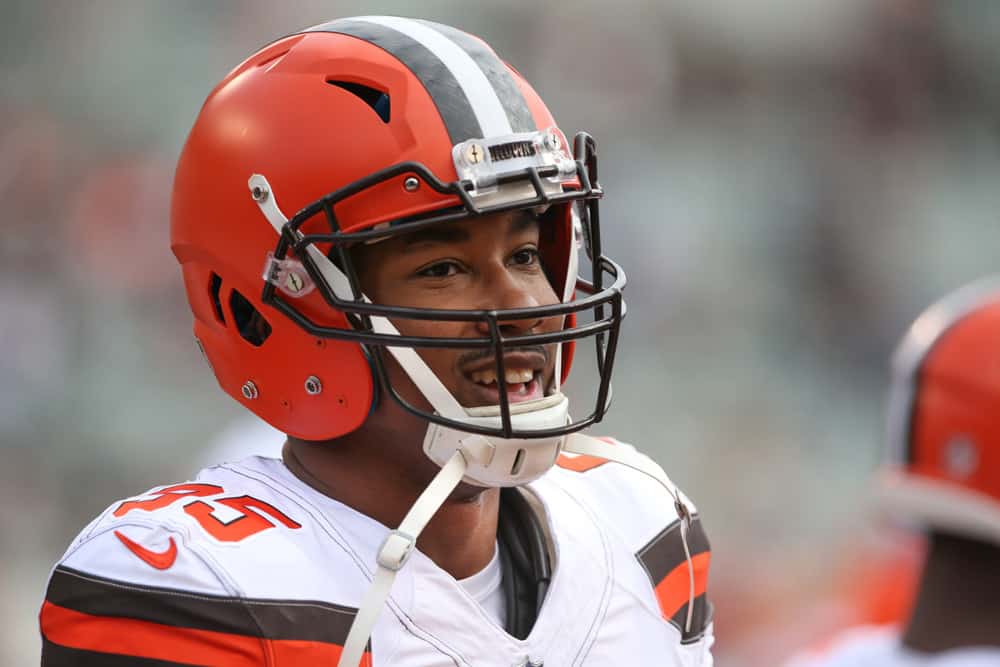 Pro Football Focus continued with its "50 Best Players in the NFL Right Now" Wednesday.
And another Cleveland Browns player landed right in the middle of the list.
Myles Garrett earned PFF's 25th spot, the third Cleveland Browns player cited by the analyst group.
Myles Garrett: the most dominant pass-rusher in football 💪 pic.twitter.com/3FYS76LY0N

— PFF (@PFF) October 12, 2020
Writer Sam Monson spent as many words talking about the potential of Garrett more than what he's done.
Cleveland's edge rusher earned an overall PFF grade of 86 or higher in each of the last three seasons.
And his pass-rushing score topped the elite level of 90 in 2019 and 2020.
But the rest of Monson's blurb won't start any arguments with Browns fans:
"I'm still not convinced that we've seen the very best Garrett has to offer over a full season. With Jadeveon Clowney now signed with Cleveland alongside other upgrades on the interior, Garrett could be about to set a new benchmark in 2021."
Takk McKinley and Curtis Weaver won't hurt Garrett's 2021 sack totals.
And a return to full health after last year's stamina-sucking Covid battle only heightens expectations.
Garrett is joined on the PFF list by safety John Johnson III (41) and running back Nick Chubb (37).
What Garrett Did To Make The List 
Myles Garrett is a force to be reckoned with in the Cleveland Browns' pass rush.
Before the Covid virus slowed him down last year, Garrett was averaging just over a sack per game.
But many folks forget that the early pace was a continuation of his 2019 effort.
Garrett put up 10 sacks in 10 games before that season ended early and ugly.
Myles Garrett: NFL sack leader 💪
pic.twitter.com/n1Mk738ycr

— PFF (@PFF) November 15, 2020
His career sack rate of 0.83 sacks per game is tied for second-best in NFL history.
Garrett and former Jet Mark Gastineau trail only the great Reggie White.
But it's not all about sacks as Garrett also racked up 48 tackles and 18 quarterback hits last year.
He was also credited with 2 passes defended and forced 4 fumbles, with 2 recoveries.
Why Garrett Will Be a Top 10 Player in 2021
Most of Garrett's sacks not only came before Covid knocked him for a loss.
They also came before Olivier Vernon kicked into gear and became the second-leading sacker.
Vernon took a while to get his footing, which is why fans are excited about Clowney and McKinley.
With a pair of top-notch pass rushers playing opposite Garrett from the start, expectations are high.
Myles Garrett's spin move before the sack 😤

(via @thecheckdown)pic.twitter.com/QypEuGatcK

— Bleacher Report (@BleacherReport) October 4, 2020
Throw in a 17th game, and it is no wonder many expect the all-time season sack record to fall this year.
Michael Strahan's 22.5 sacks mark is in peril, and it is almost assumed Garrett will join the 20-sack club.
At a 20-sack pace, Garrett would also catch White for the best career sack rate.
And number 20 will move him past Clay Matthews as the Browns' all-time career sack leader.
That would be the icing on the cake of a Defensive Player of the Year effort from Garrett.