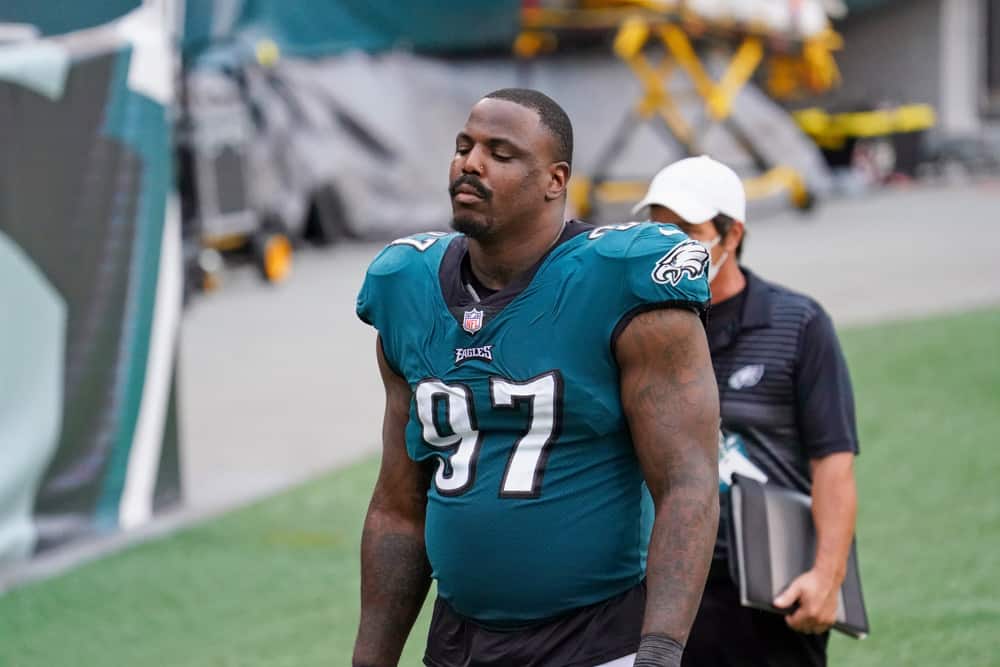 Sheldon Richardson returned to the Minnesota Vikings on a one-year deal.
There are reports he passed up a better offer from the Cleveland Browns.
While that offer might have topped what he gets from the Vikings, it was not the $12 million he hoped to make.
That is what the final season of a 3-year deal Richardson signed in 2019 was worth.
#Browns DT Malik Jackson in @923TheFan "(They) did a good job of bringing good guys in here. Guys that aren't going to be scared of competition, threatened about somebody taking their spot. It's the team's job to get younger, faster guys in the room, it's my job to keep my spot"

— Keith Britton (@KeithBritton86) June 18, 2021
Andrew Berry did not feel Richardson was worth that kind of money, despite his consistently solid play.
Cleveland added another veteran, Malik Jackson, to the interior line early in free agency.
Jackson brings veteran experience to a young position group and basically replaces Richardson.
But is Malik Jackson really an upgrade over Sheldon Richardson?
By The Numbers: Hard To Say 
Malik Jackson officially enters his 10th NFL season, one year more than Sheldon Richardson.
But Jackson missed almost all of 2019 and brings only 5 more games of experience to the Browns.
And games played isn't the only similar number they share on the stat line.
Richardson has 31 career sacks and 92 quarterback hits compared to Jackson's 35 and 99.
Browns are signing interior DL Malik Jackson, per @RapSheet

Jackson: 72.8 pass-rush grade since 2018 (19th) pic.twitter.com/ePr8Kcdi64

— PFF (@PFF) March 20, 2021
Jackson logged 61 tackles for a loss and forced 6 fumbles, compared to Richardson's 58 and 10.
They each have a safety and although Richardson has 2 touchdowns, they came as a running back for the Jets.
Jackson has more passes deflected (25-14), but in the biggest statistical disparity, he has almost 200 fewer tackles.
Richardson's snap count is much higher, indicating Jackson has been part of a bigger rotation over the years.
What Have They Done Lately? 
Malik Jackson comes over from the Philadelphia Eagles, where he was used in a part-time role.
In 280 pass-rush snaps last season, Jackson was credited with a 9.3% quarterback pressure rate.
This compares to the 7.2% pressure rate racked up by Richardson over 456 passing snaps.
Jackson logged 2.5 sacks and 13 quarterback hits, while Richardson got 4.5 sacks, but only 10 quarterback hits.
PFF on Malik Jackson:

"Once one of the best pass rushing interior defensive linemen in the game, Jackson's effectiveness has waned with age in recent seasons, but he still brings a reliable source of pressure as part of a defensive line rotation, and that will always have value"

— BrownsFreak51 (@BrownsFreak51) March 20, 2021
But Richardson also had 64 tackles, proportionally higher than the 28 made by Jackson.
In total, Richardson played 799 (74%) defensive snaps, and Jackson only 538 (49%) for Philly in 15 games.
Whether that was by design after his injury or by necessity after 9 seasons is uncertain.
But each player contributed solid, if unspectacular, play in the interior.
Looking At The Intangibles 
Sheldon Richardson was a quiet professional during his two seasons in Cleveland.
He went about his job, providing consistent results on and off the field.
But you rarely heard anyone call him a leader among even his own position group.
Malik Jackson was quick to embrace a leadership role and stands to be more vocal in front of the others.
New #Browns DT Malik Jackson leads off DL drill. pic.twitter.com/Zxpms9lzV3

— Scott Petrak ct (@ScottPetrak) June 15, 2021
Damion Square and Sheldon Day are veterans, but neither is assured a spot on the final roster.
4th-year player (after skipping 2020) Andrew Billings is the most experienced of the rest.
Second-year player Jordan Elliott and rookies Tommy Togiai and Marvin Wilson fill out the group.
And that youth might do better with a more involved leader, especially one with Jackson's Super Bowl experience.
Is Malik Jackson An Upgrade Over Sheldon Richardson?
Cleveland made Sheldon Richardson an offer to return to the Browns locker room.
But that does not mean they are not happy with the addition of Malik Jackson.
It might mean a veteran like Square or Day can bump a younger player out of a roster spot.
Joe Woods alluded to a bigger rotation to keep players fresher in the fourth quarter.
Malik Jackson got past the C Nick Martin so quickly he thought it was a screen pic.twitter.com/CEUqXAKZVK

— Mike Renner (@PFF_Mike) September 11, 2017
That could limit concerns of increasing Jackson's traditionally lower snap count.
Woods might even use him as a pass-rush specialist with another veteran playing the running downs.
Jackson knows there are young players gunning for his spot, and that motivates him.
Whether that makes him an upgrade or not, Jackson will be the best he can be for the Browns.