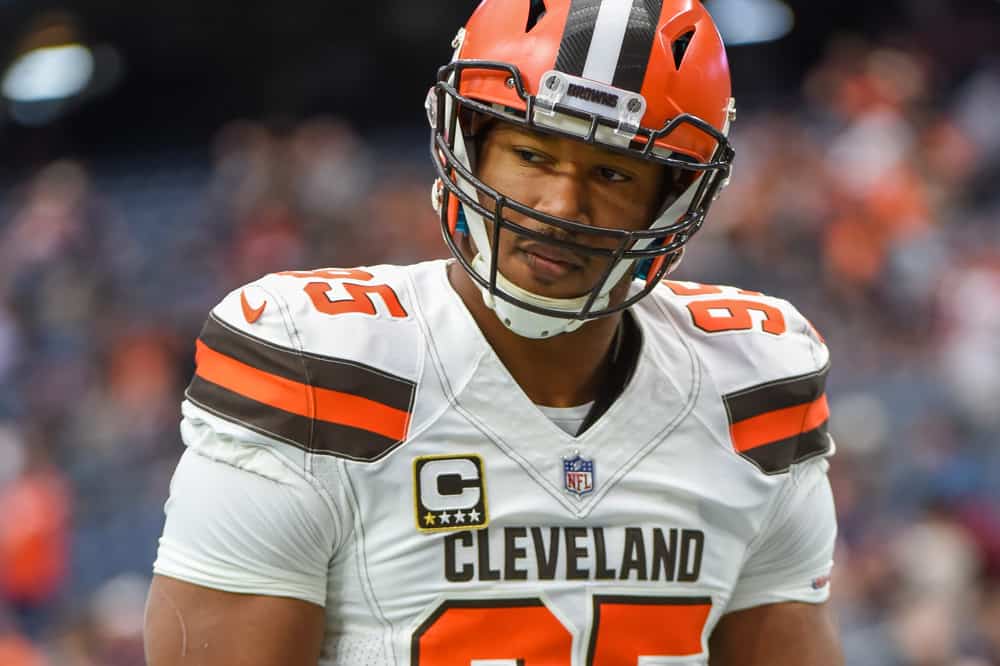 The Cleveland Browns are eager to get the 2020 season started after making major improvements this offseason.
They've added right tackle Jack Conklin and Pro Bowl tight end Austin Hooper through free agency.
However, the biggest addition to their team might be someone who was already part of the organization.
24-year-old defensive end Myles Garrett has been reinstated by the league and is ready to play in 2020.
Garrett has already established himself as one of the best pass rushers in the league.
It appears Garrett has spent plenty of time training for his return and opposing offensive lines are going to have a tough time stopping him.
In a video Garrett posted on Instagram he looks strong, agile, and someone who is going to be a nightmare for opposing teams.
@MylesLGarrett putting in work 😤😤😤 pic.twitter.com/0WbzPallnl

— Heavy on Browns (@HeavyOnBrowns) June 11, 2020
Best of luck to teams trying to slow down Garrett during the 2020 season.
Garrett Looks Better After Suspension
He will need to fix his reputation after what he did last season.
However, Browns defensive coordinator Joe Woods believes that Garrett is in a good place after the suspension.
"Right now, I think he is in a good place," says Woods.
#Browns DC Joe Woods said Myles Garrett has the right mindset for a comeback this season. "I think he's in a good place." Said he's working hard, focused on being a good teammate and has been vocal and taken on a leadership role with the team.

— Camryn Justice (@camijustice) May 28, 2020
It sounds like Garrett has changed his mindset and wants to be a leader for his team.
"He has been in the meetings. He is trying to step up and take more of a leadership role. I definitely think he is moving in the right direction and has the right mindset," says Woods.
Garrett is clearly in good shape and it sounds like his mind is finally in the right place as well.
What's Next for Garrett?
He has only been in the league for a few seasons and has already become one of the best pass rushers throughout the NFL.
The Browns have already accepted Garrett's fifth-year option for the 2021 campaign.
Although, there are rumors that Garrett is seeking an extension and wants to make $25 million per season.
#Browns GM Andrew Berry told RapSheet + Friends (https://t.co/CiKkY8tVHv) that he hopes Myles Garrett is with the #Browns for years to come. Why a long-term extension makes sense 👇🏼👇🏼👇🏼 pic.twitter.com/Xfe6oebpQU

— Ian Rapoport (@RapSheet) May 5, 2020
Browns general manager Andrew Berry didn't speak long about the possible extension, but did mention that the organization does want to keep Garrett around long term.
Another Pro Bowl caliber season by Garrett might be enough to warrant an extension in the range of $25 million per year.
It certainly appears that Garrett is ready to turn the page and show everyone how dominant he can be in this league.