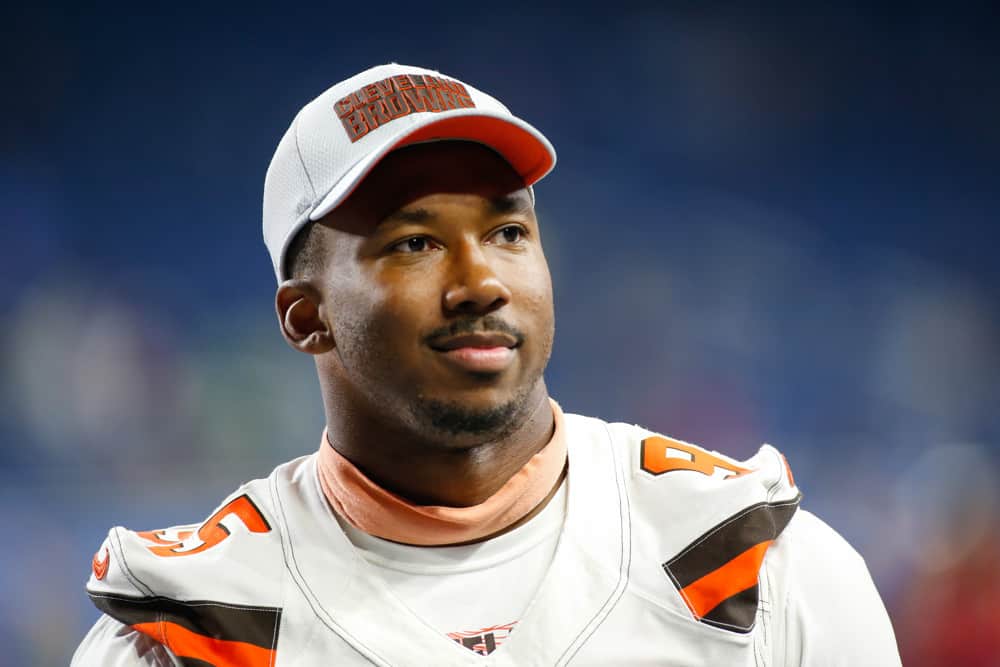 Earlier this offseason, the Cleveland Browns decided to exercise the fifth-year option on defensive end Myles Garrett.
Which means, Garrett will be around until at least the end of the 2021-2022 season.
However, Browns general manager Andrew Berry mentioned that the organization would like to sign Garrett to a long-term extension.
It would not be surprising if Garrett gets a deal worth $25 million per year, according to Ian Rapoport.
#Browns GM Andrew Berry told RapSheet + Friends (https://t.co/CiKkY8tVHv) that he hopes Myles Garrett is with the #Browns for years to come. Why a long-term extension makes sense 👇🏼👇🏼👇🏼 pic.twitter.com/Xfe6oebpQU

— Ian Rapoport (@RapSheet) May 5, 2020
Garrett was involved in one of the biggest controversies during the 2019 season.
However, that incident has not changed the opinion of the team, which is great news for Garrett.
He has two years left on his rookie deal, but is expected to get an extension before his contract expires.
Garrett's 2019 Season
Garrett was well on his way to having a monster campaign in 2019, but was suspended after 10 games.
He was suspended indefinitely after hitting Pittsburgh Steelers quarterback Mason Rudolph over the head with his own helmet.
An ugly altercation, which cost Garrett the final six games of the regular season.
He finished with 29 total tackles, 11 tackles for loss, and 10 sacks through 10 games last season.
Garrett recorded 13.5 sacks during the year prior through all 16 games, so there's a good chance he would've set a career-high in 2019.
The 24-year-old has 30.5 sacks, six forced fumbles, and 104 combined tackles through his first three seasons in the league.
He is one of the best defensive ends in the league and is well-deserving of a contract extension.
What Other Stars Got Paid
Spending $25 million per season on a defensive end seems outrageous at first, but could actually happen.
Player salaries continue to rise each season and Garrett getting $25 million isn't out of the question.
Aaron Donald and the Rams finalizing 6-year/$135M extension including $87M guaranteed, per @adamschefter pic.twitter.com/URVc1ULIL2

— Bleacher Report (@BleacherReport) August 31, 2018
Los Angeles Rams defensive end Aaron Donald received a massive extension that gives him $22.5 million per season.
Dallas Cowboys defensive end DeMarcus Lawrence and Indianapolis Colts young superstar DeForest Buckner make $21 million per year.
Rounding out the top four is Kansas City Chiefs defensive end Frank Clark who receives $20.8 million each season.
Star players get paid with enormous contracts and Garrett is already a superstar after three seasons in the league.
Will Garrett Get $25 Million Per Season?
The Browns want to keep Garrett around long-term which means they will have to pay him significantly.
Running back Nick Chubb is set to be a free agent the same year as Garrett.
However, the Browns are not expected to wait until then to get the deal done.
Luckily for Cleveland, there will be $17 million coming off their books when defensive end Olivier Vernon is a free agent after next season.
The Browns won't need to pay any superstar players next offseason, which might be the best time to get the deal done with Garrett.
Nowadays, every superstar wants to top the salary of the guy before him, which means Garrett getting $25 million isn't shocking.
Donald currently makes $22.5 million, which means Garrett might get anything from $23-25 million.
The Browns don't have too many players locked up to long-term big deals, so signing Garrett to that kind of money is possible.
He is well deserving of a significant pay raise and he could very well end up being the highest end defensive end in the league.