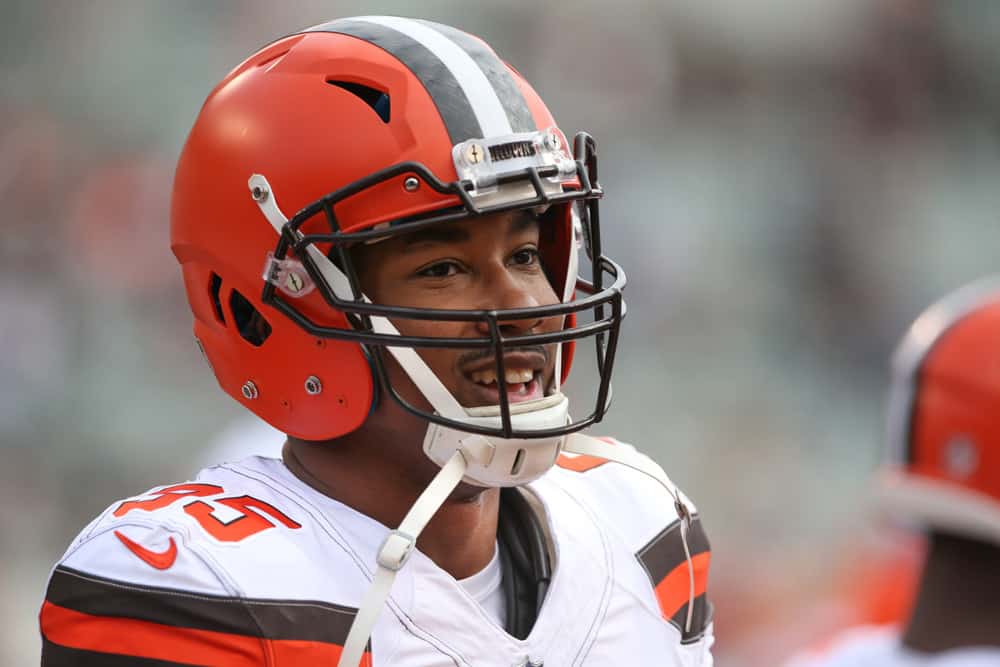 Cleveland Browns defensive end Myles Garrett has shown us how basketball has been a big part of his offseason fitness regimen.
Videos of Garrett dribbling, dunking, and using his body to get in the lane have filled our social media feeds much to our collective delight.
Well, it appears Garrett is winding down his basketball workouts in favor of football but not before torching a defender one last time.
Aight I'm going back to football 😂 pic.twitter.com/ZhUNCUip5Z

— Flash Garrett ⚡️ (@MylesLGarrett) May 26, 2021
Garrett's Busy Offseason
We have seen a lot of Myles Garrett this offseason.
Besides the basketball videos, we have witnessed his weightlifting workouts on the beach and in the gym.
Garrett also showed off his toned and massive physique at the NFL Draft earlier this month.
Myles Garrett at the NFL Draft last night looking absolutely jacked.

His suit is hanging on for dear life! pic.twitter.com/BajjcZJloK

— Burty (@FMBurty) May 1, 2021
Garrett has been out in the community also, commissioning and dedicating a mural in downtown Cleveland.
.@MylesLGarrett has real 🧡 for #TheLand

Today Myles unveiled the new mural he commissioned in partnership with @DowntownCLE by @GlenInfante#VoicesofCLE pic.twitter.com/TRScqpgyeE

— Cleveland Browns (@Browns) April 22, 2021
A fourth grade class at an Independence, Ohio elementary school decided to follow his lead and paint a mural of Garrett.
They received the ultimate surprise when Garrett thanked them in person for their hard work.
Last week, a 4th grade class in Independence painted a #Browns mural for their school art show–which featured players including Myles Garrett.

Today, Myles surprised the class at their school–thanking the kids for their creativity and encouraging them to continue working hard. pic.twitter.com/rWCcKD1gIt

— Camryn Justice (@camijustice) April 29, 2021
Garrett And The Browns 
His basketball foes are not the only ones happy that Garrett is getting back to football.
Browns fans are eager to see him on the field at 100% percent.
Garrett admitted that he struggled with the after-effects of COVID-19 after returning to the team last winter.
Daily reminder COVID robbed Myles Garrett of the DPOTY

— BakerMayfieldSZNAllSZN (@camfromthe216) May 10, 2021
He is healthy and ready to join his new defensive teammates for what many hope and believe will be a dominant 2021.
Garrett used the term "scary" to describe himself joining forces with Jadeveon Clowney.
"I know the guy is aggressive, really gets after it and he has a motor: keeps attacking, plays the run well and a good pass-rusher. He's an athletic specimen like someone I know on the Browns, so it will be fun."
If his offseason workouts are any indication, Garrett is preparing for a monster season.
We cannot wait.