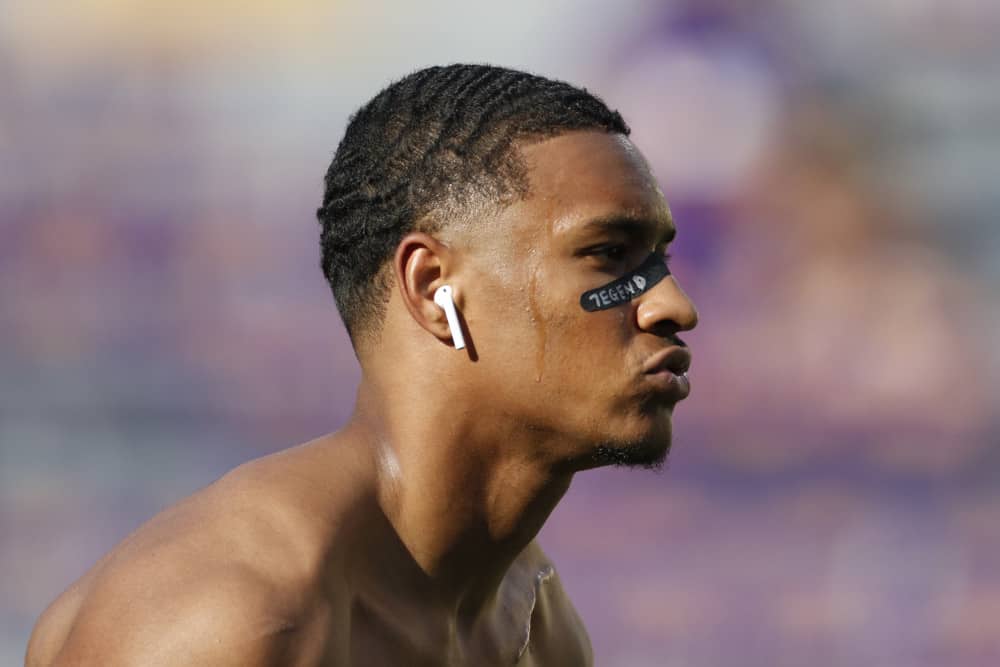 Cleveland Browns safety Grant Delpit is hoping his second year in the NFL is more successful than his first.
The 44th overall pick of the 2020 NFL Draft out of LSU was a promising addition to the Browns roster last spring.
He was expected to be a starter.
Unfortunately, he never got to hit the field in a game situation.
Browns Grant Delpit to miss the entire 2020 season due to that Achilles injury. pic.twitter.com/y0wsyswpYv

— Cleveland Sports Talk (@CLEsportsTalk) August 25, 2020
Good News On His Recovery
Delpit is apparently doing well with his rehab and recovery.
He plans to be on the field completely healthy by the time Browns training camp rolls around in late July.
Ruptured Achilles Tendon Did Not Keep Delpit Away
Delpit ruptured his right Achilles tendon in a noncontact individual drill on August 24, 2020.
By August 31, Delpit had surgery and was back in Berea using a scooter for his immobilized right leg which was in a cast.
The recovery timeline was nine months post surgery.
Though on IR, Delpit remained engaged and active with the team so he would not feel as though he was repeating his rookie year in 2021.
Stefanski On Delpit
Last November, Coach Stefanski credited Delpit for how he was handling his injury and recovery while trying to stay involved with the team.
"Some guys learn from doing. Some guys learn from listening and being on the board. I think Grant is a very conscientious kid. He is making sure that this year he is still spending a lot of time and a lot of energy to understand the scheme and understand his role so when he hits the ground running, he is ready to go."
Delpit's Maturity
The Browns have high expectations for Delpit in 2021.
He is eager to get out on the field and fulfill them.
Delpit approaches the game post injury with a newfound appreciation.
"It really opened my eyes to not take the game for granted. It can be taken away at any time … I took a lot of things for granted, just like walking, the simplest things like that. I definitely have a newfound respect for those things and I just can't wait to get back on the field."
Browns fans are eager for him to get on the field along with the upgraded defensive roster acquired through free agency and the draft in 2021.