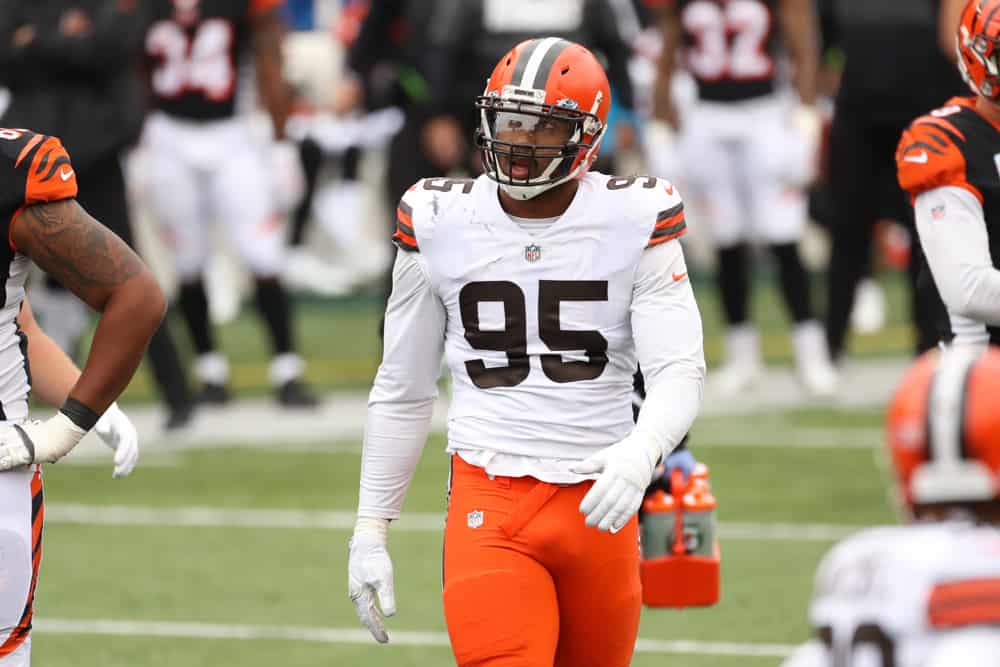 The Browns are at 5-2, and in the thick of the AFC playoff hunt.
And while getting to 5-2 in the tough AFC North is a total team effort, it can be said that Myles Garrett has had a huge hand in that success.
Three Years In, and He's Already Challenging Records
Drafted in 2017 out of Texas A&M, he was the pass rusher the Browns were desperately looking for, after a slew of subpar drafts (we all remember Courtney Brown).
Most sacks by a Brown in the first 7 weeks of a season:
1t. Myles Garrett 9.0 in 2020
1t. Myles Garrett 9.0 in 2019
3. Myles Garrett 7.0 in 2018
4. Anthony Pleasant 6.5 in 1995

— Dan Murphy (@DMurph_BrownsPR) October 27, 2020

In 44 total games, Garrett has racked up 39.5 sacks.
The Browns franchise leader in that statistic?
Clay Matthews, and it took 232 games to get there.
Garrett is more than halfway to breaking that mark.
He's Not Just Sacking QBs
While he is responsible for half of the Browns team sacks, he's not just getting to the opposing quarterbacks.
Myles Garrett is the NFL sack leader with 9.

4 of those sacks have also resulted in game changing fumble turnovers.

Myles has forced or recovered 6 of the 7 fumbles the Browns defense has caused this season.

Imagine thinking Myles Garrett isn't the best DE in the NFL. pic.twitter.com/2HzwcbCbHv

— Nick Karns (@karnsies817) October 27, 2020
Garrett has become quite adept at getting the strip sack, and has the Browns tied for 4th in the league with a +5 turnover differential.
While it gets a bit lost in the shuffle with his pass rushing prowess, Garrett also plays solidly against the run.
DPOY? Looks Like It To Me
Is Garrett the Defensive Player of the Year?
Only a blind person would say otherwise right now.
He's currently on pace for 19 sacks, which would break the current Browns single-season record set by Reggie Camp in 1984 by 5.
According to Sportsbettingdime.com, he overtook Aaron Donald for the best odds of bringing home DPOY.
His play has put him in the upper echelon of pass rushers in the league.
MYLES GARRETT IS UNSTOPPABLE 😤

A sack in six straight games 🔥

(via @thecheckdown)pic.twitter.com/6YTy3mFM1m

— SportsCenter (@SportsCenter) October 25, 2020
He's set to surpass his single-season bests in tackles, tackles for loss, sacks, and forced fumbles.
Simply put, the man cannot be stopped this year.
So take a bow, Myles.
I think it's safe to say the Browns made a wise investment in you.
Give Myles Garrett all the awards this year 🐐🏆 pic.twitter.com/Nek6hFcQU5

— Sami Basista (@MissBasista) October 25, 2020