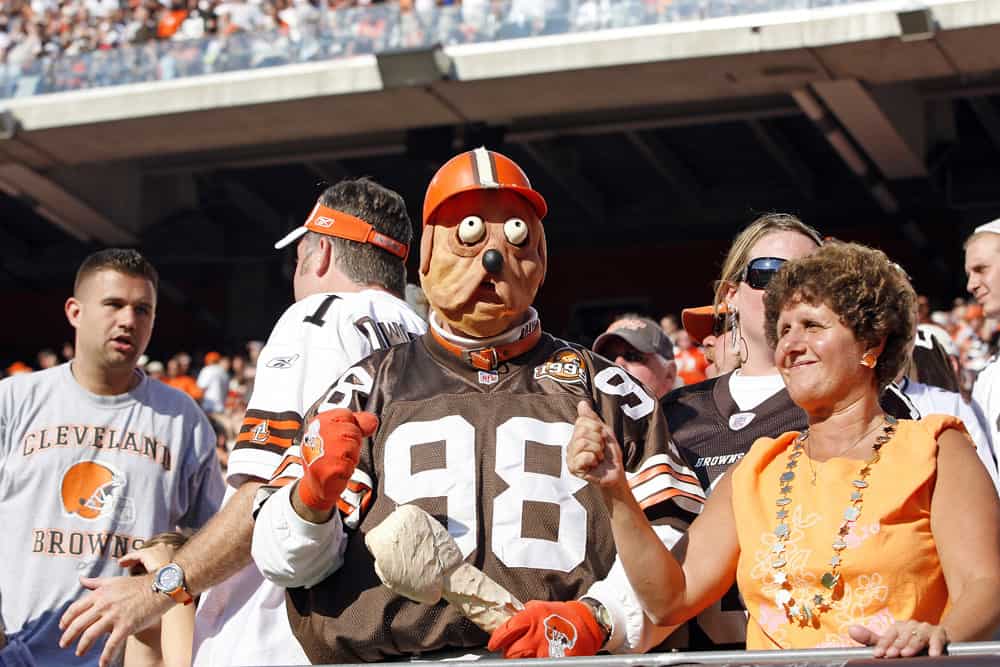 There has been plenty to talk about the Cleveland Browns over the last few days.
Star wide receiver Odell Beckham Jr. will miss the rest of the season after suffering a torn ACL during Sunday's win over the Cincinnati Bengals.
However, it's not all bad news for the Browns heading into their Week 8 matchup with the Las Vegas Raiders.
Quarterback Baker Mayfield is coming off one of the biggest performances of his career last week.
It'll be interesting to see how the Browns' offensive gameplan changes without Beckham or Nick Chubb for Sunday's game with the Raiders.
Here are my 3 bold predictions for Sunday's game.
3. Myles Garrett Records Three Sacks
At first glance, this might seem tough to believe, but this could actually happen.
Heading into the Week 8 matchup, Garrett has a league leading nine sacks on the season.
He sacked quarterback Joe Burrow twice last week in the victory.
One of those sacks was a huge strip sack on Burrow to keep his six game sack streak alive.
MYLES GARRETT IS UNSTOPPABLE 😤

A sack in six straight games 🔥

(via @thecheckdown)pic.twitter.com/6YTy3mFM1m

— SportsCenter (@SportsCenter) October 25, 2020
The Raiders offensive line has done an awful job of protecting quarterback Derek Carr this season.
Last week, Carr was sacked three times in the loss to the Tampa Bay Buccaneers.
It really wouldn't be that surprising to see Garrett record three sacks by himself on Sunday.
Garrett has been nearly unstoppable all season long and the Raiders offensive line hasn't been able to stop anyone to this point.
2. Rashard Higgins Gets 150 Receiving Yards
Luckily, wide receiver Rashard Higgins stepped up after OBJ went down last week.
Higgins hauled in all six of his targets for 110 yards in the win.
It was an outstanding performance for someone who has worked hard all season long.
#Browns Kevin Stefanski said Rashard Higgins, despite not getting a lot of playing time earlier this season, went about his businesses, working hard until his number was called. Said he gives him credit for that and said you can't discount the connection he has with Baker.

— Camryn Justice (@camijustice) October 25, 2020
It isn't going to be easy to fill the void of OBJ, but Higgins can help ease the pain.
He clearly has a strong connection with Mayfield and that shows on the football field.
Right now, the Raiders are allowing the 10th-highest amount of passing yards in the league.
The Browns are expected to significantly involve Higgins in their offense after what he did against the Bengals.
There is some special chemistry between Mayfield and Higgins, so a 150-yard performance isn't out of the question.
1. Baker Mayfield Throws For 300 Yards
Browns fans have been waiting a long time to see this type of performance out of Mayfield.
He looked horrendous during the first quarter, but was almost perfect after that.
Mayfield threw for 297 yards with five touchdowns and one interception in the win.
It was an outstanding game by Mayfield and enough to earn him AFC Offensive Player of the Week.
.@bakermayfield has been named AFC Offensive Player of the Week 🏆

RT to congratulate Baker!

📰 » https://t.co/eghP0M89mH pic.twitter.com/z01gV3Nh5c

— Cleveland Browns (@Browns) October 28, 2020
The issue with Mayfield is that he hasn't been able to stay consistent.
He'll show flashes of being a franchise quarterback, but then go back to being below average.
This is a great chance for Mayfield to prove that he's turned the corner.
As mentioned before, the Raiders secondary is allowing the 10th-most passing yards in the league.
Mayfield could very well throw for his first 300-yard performance of the season against the Raiders on Sunday.
Hopefully, he can carry over the momentum from last week into this contest.