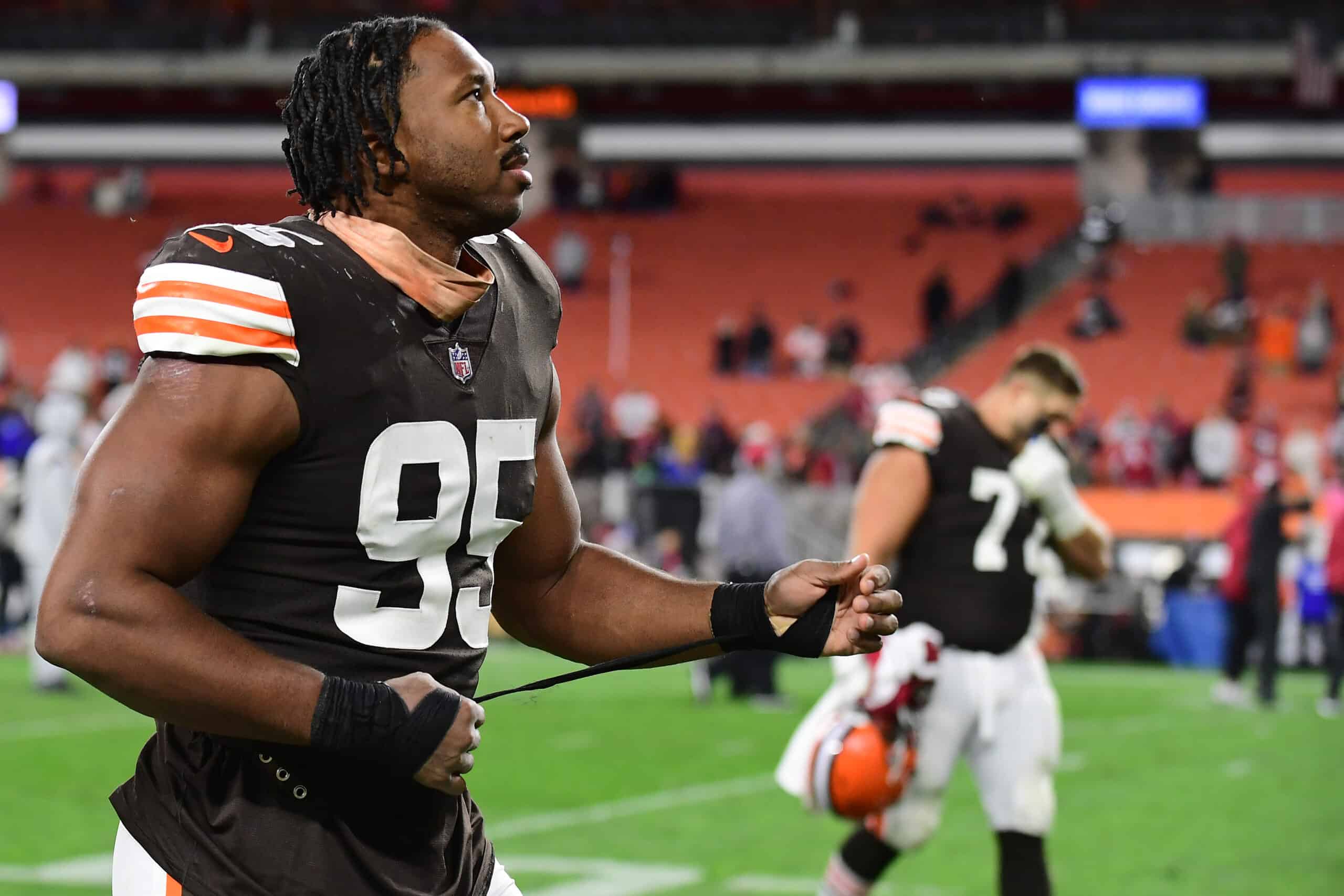 America, there is more bad news especially if you are Cleveland Browns fans.
Myles Garrett, who has gone sleeveless in two games, has retired #sleevelessmyles until further notice.
Seems he is a bit tired of the "random" drug tests that coincidentally accompany his sleeveless Sundays.
I go sleeveless TWO TIMES and get "randomly" drug tested BOTH times… I'd try 3 for 3 but they can miss me with the blood draw 😂 not the vibe. #SleevelessMyles is retired. pic.twitter.com/sq9xiQ2sQH

— Flash Garrett ⚡️ (@Flash_Garrett) October 19, 2021
A Sleeveless Conspiracy
Jacksonville Jaguars kicker Matt Wright jumped into Garrett's discussion.
He was sleeveless in London, and he also was randomly drug tested.
Hey @Flash_Garrett I feel your pain pic.twitter.com/qpRWQwmVBG

— Matt Wright (@Mattyice717) October 20, 2021
Garrett responded back to Wright.
Sleeveless Matt 😭😭 it's tough out here for us… time to bring the long sleeves out

— Flash Garrett ⚡️ (@Flash_Garrett) October 20, 2021
At least Matt Wright's drug test came after a winning effort.
He kicked the winning field goal to give the Jaguars their first win over Miami by a score of 23-20.
Wright kicked two from more than 50 yards and essentially won the starting job on Sunday.
Meyer said they'll meet today on roster moves but "obviously Matt (Wright) has earned the right to be the starting kicker." When asked about Lambo

— John Shipley (@_John_Shipley) October 18, 2021
Ironically Wright tried out for the Browns in early September.
Garrett Is Not Pleased With Browns D
All of these pleasantries aside, Myles Garrett is not happy with how the Browns defense is playing.
He provided a depressing yet true update of how things are going after the Cardinals game.
In his postgame press conference he said:
"We're not living up to who we are and the potential we have."
Garrett: "We're not living up to who we are and the potential we have."#Browns pic.twitter.com/XQoIPnIWDl

— Tom Withers (@twithersAP) October 17, 2021
Truer words have not been spoken.
This is just three weeks removed from the total defensive domination of Justin Fields and the Chicago Bears.
Garrett definitely wants the team to get back to that style of play.
On Tuesday, he led a players only defensive team meeting.
While few details were revealed about it, we can imagine that Garrett was motivating his teammates to play up to their potential sooner rather than later.
As in, Thursday night, when the Browns take on the Denver Broncos.
#Browns DE Myles Garrett held a players only defensive meeting yesterday. Garrett was coy about details with reporters but said his message was "it's about drive, it's about power, we stay hungry, we devour."

— Kevin Grandheer (@GrandheerNFL) October 20, 2021
Garrett's veteran leadership will help the Browns get ready for this interesting challenge on Thursday night.
Another veteran who is ready is backup Case Keenum.
Case Keenum: "I feel very ready. I've been ready. You don't have to get ready if you stay ready…" #Browns

— Jake Trotter (@Jake_Trotter) October 20, 2021
Let's hope so because the Browns need a win for several reasons; maybe #sleevelessmyles comes back after the Browns begin logging more wins.