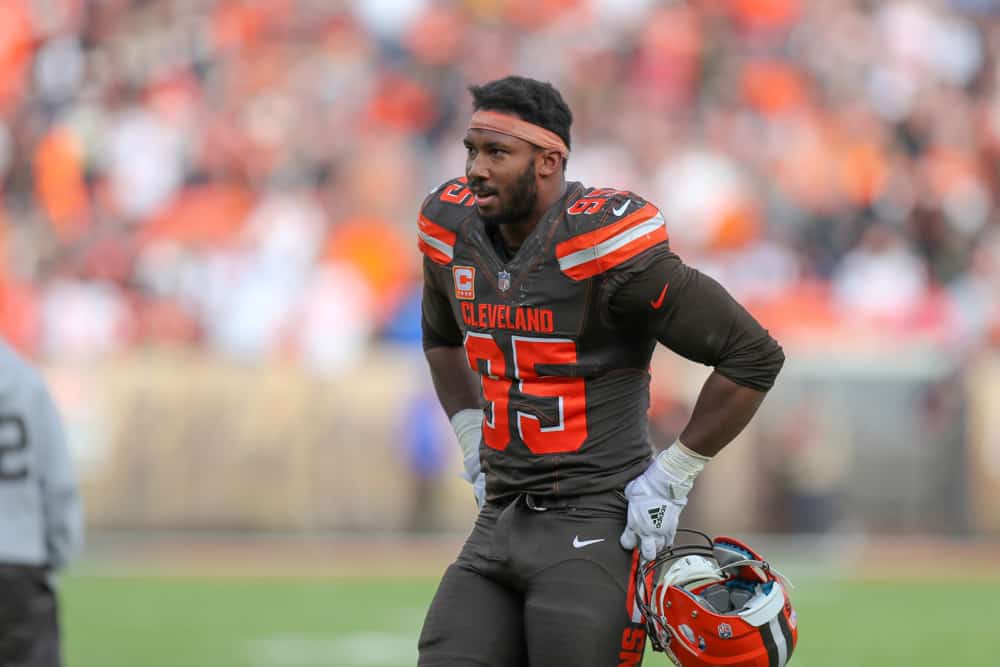 The Cleveland Browns didn't carry the momentum from their victory over the Cincinnati Bengals into Week 8.
They weren't able to get anything going on offense and took a tough 16-6 loss to the Las Vegas Raiders on Sunday.
A bigger concern might be that pass rusher Myles Garrett exited the game with a knee injury.
Head coach Kevin Stefanski confirmed that Garrett will undergo an MRI on Monday.
#Browns coach Kevin Stefanski said Myles Garrett suffered a knee injury and will have MRI in the morning

— Nate Ulrich (@ByNateUlrich) November 1, 2020
Garrett left the game, returned, and then left again and remained out.
Although, Garrett mentioned after the game that if he's able to walk then he wants to play.
Losing Garrett would be a crushing blow to the Browns defense.
Garrett's Presence
The former No. 1 overall pick has been destroying opposing offensive lines all season long.
Heading into Week 8, Garrett had a league-leading nine sacks and four fumbles forced through seven games.
He had also recorded a sack in six straight games coming into their matchup with the Raiders.
Myles Garrett has recorded a sack in 6 straight games 😳 @brgridiron

That's the longest active streak in the NFL. pic.twitter.com/lesZvE975m

— Bleacher Report (@BleacherReport) October 25, 2020
What Garrett brings to this defense is something that cannot be matched by anyone else.
The 24-year-old has put himself in the Defensive Player of the Year conversation with his play this season.
Last season, Garrett finished with 10 sacks in 10 games, but already has nine in 2020.
He is looking at possibly a career year, assuming he's able to avoid any major injury.
Garrett's presence on defense is something that cannot be replaced.
Myles Garrett with the euro step rush. Blocker bit on the inside move & never recovered. Garrett leans & runs down the QB for the sack! #passrush #browns pic.twitter.com/TlpxytpEnp

— DLineVids (@dlinevids1) October 25, 2020
Having Garrett on the field makes opposing offenses have to be intelligent about their blocking schemes.
The Browns are already going to be without star wide receiver Odell Beckham Jr. for the rest of the season.
Losing Garrett for a significant amount of time would be tough to overcome.
The Cleveland secondary has been inconsistent all year, so having Garrett causing havoc has been helpful.
Browns fans will have to patiently wait and hope that Garrett doesn't miss significant time.