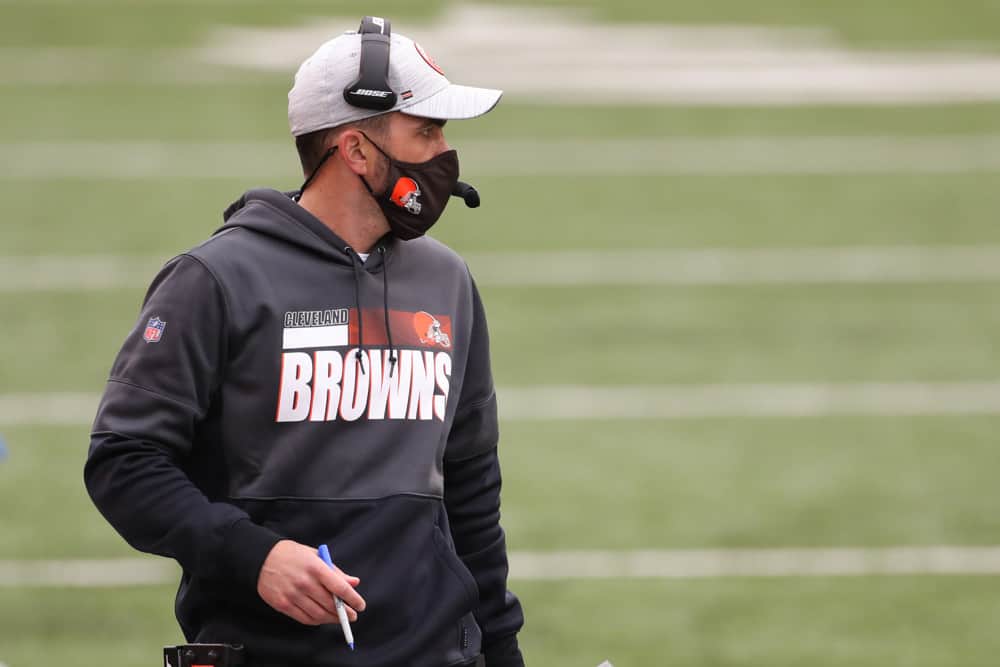 Frustrating doesn't quite say enough when it comes to the Cleveland Browns performance against the Raiders on Sunday.
Any game where Cody Parkey is responsible for all of your points is not likely to end well.
Sunday afternoon certainly did not end well at all.
As we do weekly here at Browns Nation, let's dive into some of the studs and duds from the 16-6 loss to Las Vegas.

Stud: Porter Gustin
Porter Gustin is someone you will occasionally see fans clamoring for more of on Twitter.
This will usually be preceded by a bad play from Olivier Vernon or Adrian Clayborn.
Regardless, Gustin has usually made an impact when he gets on the field.
His performance on the Browns' Thursday night game against the Bengals back in September certainly comes to mind.
Gustin came up big again today for the Browns defense with their backs against the wall.
@PorterGustin yes sir!! #cleavland #football #browns pic.twitter.com/1ZfyYenBqV

— Deemusa (@Deemusa10) November 1, 2020
Porter Gustin has been the Browns' best run defender all day (not saying much considering the overall effort).

— Brent Sobleski (@brentsobleski) November 1, 2020
With the Browns awaiting an MRI for Myles Garrett, there's a chance you could see more of Gustin in the rotation after the bye week.

Dud(s): The Receivers
The dropped passes in this game is something the Browns' receivers will be kicking themselves for these next two weeks.
Baker Mayfield was not perfect on every single throw, but some that were close to that description ended up on the turf.
3 drops cost the #Browns the game. Defense stunk against the run but you make those 3 catches. It's a different game.

— Dustin Fox (@DustinFox37) November 1, 2020
Among the numerous #Browns drops were 2 TD's from Landry and a key 3rd down conv. from Njoku. Meanwhile, I can only recall one drop from Vegas. This weather is supposed to be an advantage for Cle, yet Vegas seemed to use it to their advantage with an unstoppable ground game. Sigh

— Michael Bohm (@MistaBohmbastic) November 1, 2020
The weather was horrible and I can't blame Baker for than. He had crazy drops too all across the board! But is it me or did the field get shrank down to the size of micro machine 🤔 Mark my words it be more difficult to open this field up .issuing OBJ. #browns

— Garrett Bush (@Gbush91) November 1, 2020
The most costly was a drop by Jarvis Landry midway through the third quarter.
It was a tough throw to make as well as a tough catch.
Mayfield held up his end of the bargain, however, while Landry did not.
Tough plays are the ones that playoff and championship-caliber teams make.
Harrison Bryant's fumble gets lobbed into the folly pile as well.
Poor ball control resulted in a game-changing turnover and was certainly part of the Browns' issues on Sunday.
The "dropsies" even found their way into the Browns' secondary as Ronnie Harrison dropped what would have been a pick-six.

Stud: The Wind
A slightly sarcastic stud for the week here, but there weren't any other Browns worthy of the title.
The wind, without question, was a huge factor in this game.
The wind in Cleveland is BANANAS pic.twitter.com/SsrmYZ9a1U

— Barstool Sports (@barstoolsports) November 1, 2020
With gusts reaching as high as 50 mph, both the passing and kicking game were made extra challenging.
Mayfield did a good job managing the game despite this, and Parkey was just fine until that final kick.
Ultimately, games like these can turn into a war of attrition of sorts.
It's next to impossible to develop offensive rhythm, and neither side ever did so.
Rather, this game came down to being able to make the big plays.
Las Vegas made enough while Cleveland did not, and that was the difference.

Dud: Mack Wilson
The Browns defense has needed more from the linebackers, and they simply have not delivered.
That starts with Mack Wilson, the leader of that unit.
If the injury from earlier this year is truly still bothering him to where he looks this lost, then he needs to sit.
Otherwise, he needs to be better. Much, much better.
There were a few plays, including two different chances at interceptions, that make you question his awareness on the field.
His hit on Josh Jacobs stands out today.
The ball is tipped up into the air and Wilson has a clear chance at the interception.
Instead, he chooses to lay out Jacobs and let the ball fall incomplete.
The hit was nice, but a turnover would have been better. It was just a bad play.
He is never really at the point of impact on plays, and is often late to the party with his hands on his hips.
Mack Wilson looks like he's just on the field to supervise the other 10 players on defense. Every play finishes with him standing around and watching someone else make the tackle. #Browns

— Roberto Shenanigans (@Rob_Shenanigans) November 1, 2020
Fans are growing tired of his inspirational tweets that lead to another poor weekend performance.