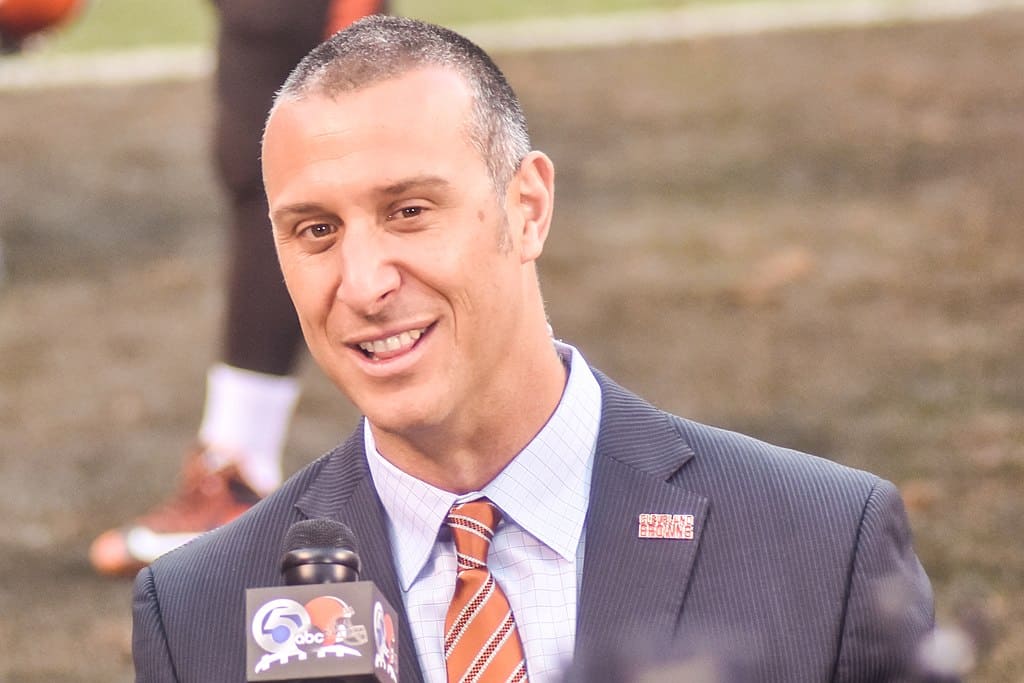 The Cleveland Browns 2018 season was not getting off to a great start.
Cleveland tied Pittsburgh 21-21 during their Week 1 game in Cleveland.
Then, in Week 2, the Browns looked like they had New Orleans dead-to-rights.
However, kicker Zane Gonzalez missed two field goals and two extra points during the game.
The result was a 21-18 Cleveland loss that put the team at 1-1 for the year.
To make matters worse, Browns sideline reporter Nathan Zegura took it upon himself to "share" his opinions with the officials during the Saints game.
#Browns sideline reporter Nathan Zegura removed from Thursday night radio broadcast for arguing a call with an official during loss to #Saints; Will be replaced by Dustin Fox of @923TheFan https://t.co/qVHruCs6Sa

— Mary Kay Cabot (@MaryKayCabot) September 19, 2018

Zegura, who was working as a sideline reporter for the team, took offense at a few calls the zebras made during the game.
"Multiple sources say Zegura chirped at a ref about a call during the Saints game while working sideline and the league did not take kindly to that," Tweeted Vince Grzegorek, editor-in-chief of the Cleveland Scene."
After the game, the Browns decided to reprimand Zegura for eight games.
Apparently, that was not the first time that Zegura was scolded by the team.
However, the eight-game suspension was the most severe form of discipline they had levied against him.
Once the decision by the Browns made headlines, the general public wanted to know one thing.
Who is Nathan Zegura?
Upbringing, Education, and Early Employment
First of all, one really has to dig around for any information on Zegura.
After a significant amount of time searching, a short profile of Zegura's formative years begins to emerge.
He was born and raised in Hayward, California, which is located near the San Francisco Bay area.
After graduating high school, Zegura traveled to the opposite side of the country for college.
While attending Emory College in Atlanta, he met his future wife, Elissa.
Zegura and his Elissa both earned bachelor's degrees in political science while at Emory.
Zegura also obtained a master's degree in political science.
Soon after graduating, Zegura took a job as a consultant with McKinsey Company LLP in Atlanta.
In a nutshell, McKinsey is a consulting firm that provides business strategies to organizations to help them improve their performance and organizational goals.
However, it didn't take Zegura long to realize business consulting was not something he aspired to do with the rest of his life.
He had other passions that he wanted to spend time cultivating and pursuing.
So, with an assist from Elissa, Zegura steered toward making a living with his biggest passion, fantasy football.
Zegura Launches TFC
Zegura had been playing fantasy football for years, but the boredom and tedious nature of his McKinsey job made him search for a way to make money off his hobby.
It didn't take long for him to realize that his ability to read and analyze business data could be used in the sports world.
Slowly but surely, Zegura's passion for numbers, love of football, and ability to communicate with others turned into a new gig: Fantasy Football consultant.
"Don't get me wrong, I work on this probably every hour that I'm awake during the season," Zegura said during a 2008 interview. "But, I mean, it's football."
Zegura launched his own website, The Fantasy Consultant.com (TFC) and soon saw positive returns from subscribers.
@NathanZeguraTFC i love how @mikethemiz does his ENTIRE radio show standing up. haha. 😜 pic.twitter.com/Qxv3IZW6

— Maryse Mizanin (@MaryseMizanin) September 26, 2012
As the number of subscribers grew, Zegura's name began to circulate throughout the fantasy football universe.
He quickly became one of the go-to people for fantasy news and updates.
Zegura could effectively talk shop with anyone and his ease and recall of all things football brought him to his next platform.
Work in Radio, Television, and Online Programs
Having relocated to Ohio, Zegura began hosting a fantasy-based radio show on ESPN 850 WKNR in 2005.
The Fantasy Football Power Hour lasted until 2008 and, by 2009, Zegura was headlining in television with CBS 19 in Cleveland and Sports Time Ohio.
While working in his television spots, he was asked to be an on-sight expert for the first Fantasy Football SuperDraft in Las Vegas.
Zegura also hosted That Fantasy Show on WMMS 100.7.
As Zegura's profile grew, he caught the attention of some big-name fantasy football aficionados.
Specifically, actor Ashton Kutcher gravitated to Zegura's knowledge of the game.
Soon, the two connected and began collaborating on fantasy-related projects.
Ashton Kutcher (@aplusk) joins Nathan Zegura (@TFConsultant) to talk Fantasy Football and his beloved @ChicagoBearsCom #SXMSports

— Fantasy Sports Radio (@SiriusXMFantasy) August 8, 2011
From 2009-2010, the two paired up for Fantasy Football Live, a Streamy online program.
Not long after, Zegura sold half of his TFC stake to Kutcher.
In 2013, Zegura made his way to Cleveland Browns Daily and joined then host Vic Carucci for the Browns talk show.
When Carucci left in 2014, Zegura took over hosting duties for the show alongside former NFL linebacker Matt Wilhelm.
Zegura Continues to Live the Dream
By the time 2018 rolled around, Zegura could be found patrolling the sidelines during Browns games.
As a senior media broadcaster for the team, he provided snippets of information for listeners and viewers.
During Week 2 of the '18 season, his "reporting" got him into hot water.
After disagreeing with an official's call against the Browns, Zegura went ballistic, berating the official at full throat.
He was asked to move away from the sidelines for the remainder of the game.
At the game's conclusion, Zegura was suspended for eight games by the team for his behavior.
He eventually returned to his duties in late November that season.
Currently, Zegura continues in his capacity as Senior Broadcaster with the Browns and his position as co-host of Cleveland Browns Daily.
He has also tlied his trade with the SiriusXM Fantasy Consultant Show, as a contributing writer for CBSSports.com, and with regular appearances on the show Fantasy Football Today.
Training Camp Battles, Breakout Potential Players, special guest @NathanZegura & more on #FantasyDirt with @Michael_Fabiano & @md_1010xl starting at 8PM ET!

Plus, your chance to join a Fantasy Dirt #FantasyFootball Best Ball league! Listen in for this week's password! pic.twitter.com/HD9kt3N87J

— Fantasy Sports Radio (@SiriusXMFantasy) July 21, 2020
Zegura and his wife have two children, Arden and Bryce.
Although he has ruffled more than a few feathers with his antics and pointed comments, Zegura is living proof that dreams can come true.
Even he has had a hard time believing his good fortune, as was evidenced during a 2008 interview.
"It's awesome, it's awesome," said Zegura, shaking his head in wonder years after chucking his real job for this. "It blows me away."