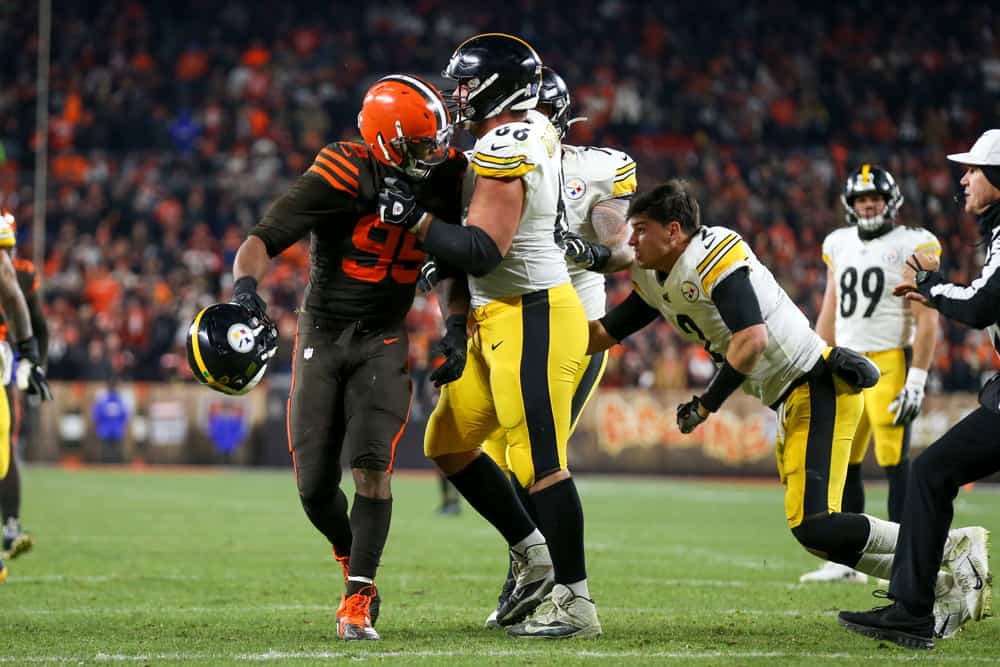 While many have questioned Myles Garrett with a claim that Mason Rudolph used a racial at him, Garrett is not backing down from it.
Garrett was also not pleased with NFL officials for leaking his appeal hearing to the media.
Here is a statement released by Garrett:
— Myles "Flash" Garrett ⚡️ (@MylesLGarrett) November 22, 2019
The NFL said it investigated Garrett's claim and that it did not find any evidence.
"We looked into it and found no such evidence," NFL spokesman Brian McCarthy said.
The NFL did not elaborate on how they conducted the investigation.
Per NFL rules, every team must have its starting and backup center or both guards wearing microphones.
However, it's uncertain how clear any of the audio that was picked up would be.
Fans were not pleased with the decision by appeals officer James Thrash and took to social media to express their displeasure.
Thrash responded:
Please stop tweeting me about the decision. This was a grueling process and the outcome is final. Player safety is what's most important !!!

-JT

— James Thrash (@jthrash80) November 21, 2019
Rudolph has also adamantly denied the claim of the racial slur.
His lawyer already issued a statement:
"This false allegation was never asserted by Garrett in the aftermath of the game, never suggested prior to the hearing, and conspicuously absent in the apology published by the Browns and adopted by Garrett."
"The malicious use of this wild and unfounded allegation is an assault on Mason's integrity which is far worse than the physical assault witnessed on Thursday."
"This is reckless and shameful."
Browns coach Freddie Kitchens told the media on Thursday that he and the organization will stand by Garrett by saying, "I stand by Myles and that's not going to waver. I'll support Myles in every way possible."
Kitchens also would not talk about what he and Garrett discussed after the incident.
Browns Gm John Dorsey also released a statement following the announcement of Garrett's suspension being upheld.
Statement from GM John Dorsey on Myles Garrett's suspension being upheldhttps://t.co/4vyt2Tf2Qy pic.twitter.com/M5XtHUr42k

— Cleveland Browns (@Browns) November 22, 2019
With the suspension being upheld, Garrett will remain sidelined for the remainder of the 2019 season and possibly beyond.