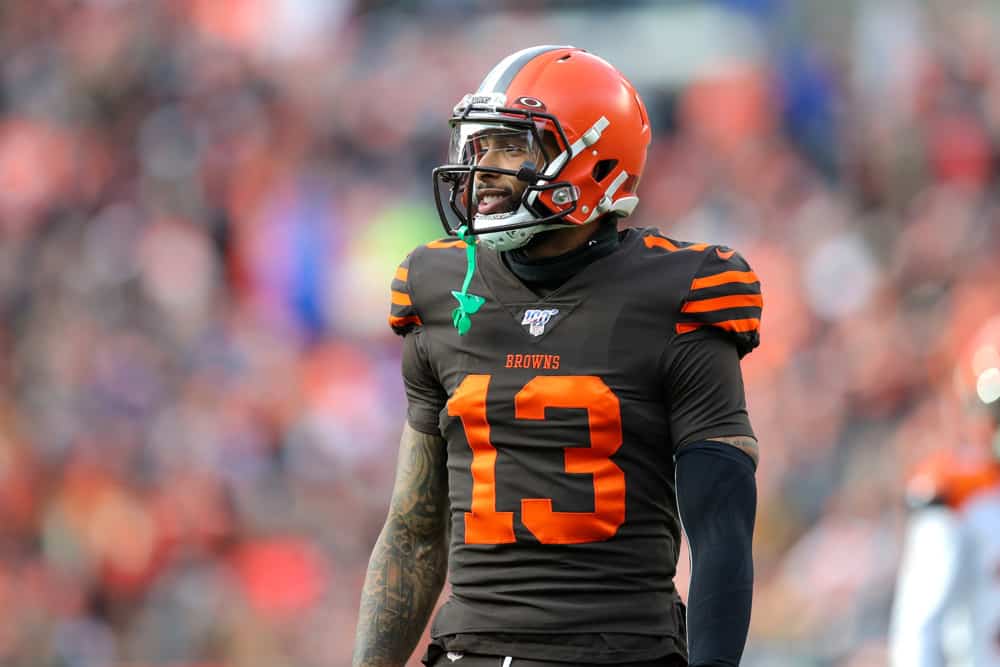 Against the Cincinnati Bengals, Odell Beckham Jr. suffered a torn ACL.
Subsequently, he will miss the remainder of the season.
But he is set to return in the offseason.
The Cleveland Browns are currently 5-3 and have a great chance of making the playoffs.
Cleveland will now be able to evaluate Baker without his best wide receiver.
According to NFL insiders, Cleveland has the easiest schedule remaining moving forward.
They will continue their playoff push without Beckham Jr.
Injury Update On Browns Star Wideout
Kimberly Jones recently provided an injury update on the Browns star wideout.
Odell Beckham Jr tells me he will have surgery to repair his ACL on November 10. He sounded optimistic & in good spirits when we spoke. Another comeback awaits. @obj #Browns

— Kim Jones (@KimJonesSports) November 6, 2020
This is the second time in his career he will need to overcome a serious injury.
Back in New York, he suffered a lower leg injury in the preseason that caused him to miss significant time.
He admitted later on, that during that recovery he contemplated retirement.
So, for Browns fans, it is a positive to hear he is in good spirits.
Kimberly Jones is an employee of NFL Network and is known for covering the New York Giants and New York Jets.
During Odell's time in New York, she got close with him.
Kim Jones shares an anecdote about Odell Beckham Jr:

When she returned to work following a medical issue, Odell texted her and said: "I'm so happy I will still get to see you" (via @KimJonesSports)pic.twitter.com/pvtD62Ky99

— SNY (@SNYtv) March 13, 2019
They seemed to develop a nice friendly relationship that remains strong to this day.
With Odell Beckham Jr. out for the remainder of the season, the Browns will now look to other guys to step up.
In the game against Cincinnati, it was Donavan People-Jones who stepped up and played hero.
Has Odell Beckham Jr. Played His Last Game In Cleveland?
Odell Beckham Jr. is currently signed through 2023.
Being that he is one of the best in the game, he has one of the higher salaries at that position.
Dependent upon the production of Baker Mayfield, if the Browns are able to close out this season strong, many believe Odell will be shipped out in the offseason.
Prior to his injury, the Browns reportedly got calls about the star wideout.
In addition, with yet another serious injury added to his resume, the Browns may feel it is in their best interest to move on.
NFL Network's @RapSheet reports "there is a very real possibility" that #Browns WR Odell Beckham Jr. does not play for Cleveland in 2021 as the result of a trade.

Beckham Jr.: 72.2 PFF Grade since joining the Browns in 2019 (T-43rd) pic.twitter.com/7EPA0z2cYS

— PFF (@PFF) November 1, 2020
Odell is no stranger to trade rumors, as he has been featured in many headlines ever since arriving in Cleveland.
It almost feels as if Odell is better off without Cleveland.
In his time with the team, he has had season lows in many of his stats.
He doesn't seem to be the best fit for their system.
Especially, the system that Coach Kevin Stefanski has instilled.
In fact, many believe Baker gets himself into trouble by trying to force the ball to Odell.
One of the Cleveland wideout's who is expected to step up is Rashard Higgins.
Browns' WR Rashard Higgins, now replacing the injured Odell Beckham Jr., told @ByKimberleyA that he feels so close to Baker Mayfield that he feels like his "mama gave birth to him."

— Adam Schefter (@AdamSchefter) November 1, 2020
With their run first offense, the Browns are certainly hoping that HB Nick Chubb, returners sooner rather than later.
If not, they still have Jarvis Landry, Austin Hooper, David Njoku, and Kareem Hunt.
Baker seems to be more comfortable with guys like Landry, People-Jones, and Higgins.
Truthfully, time will determine Odell's fate in Cleveland.