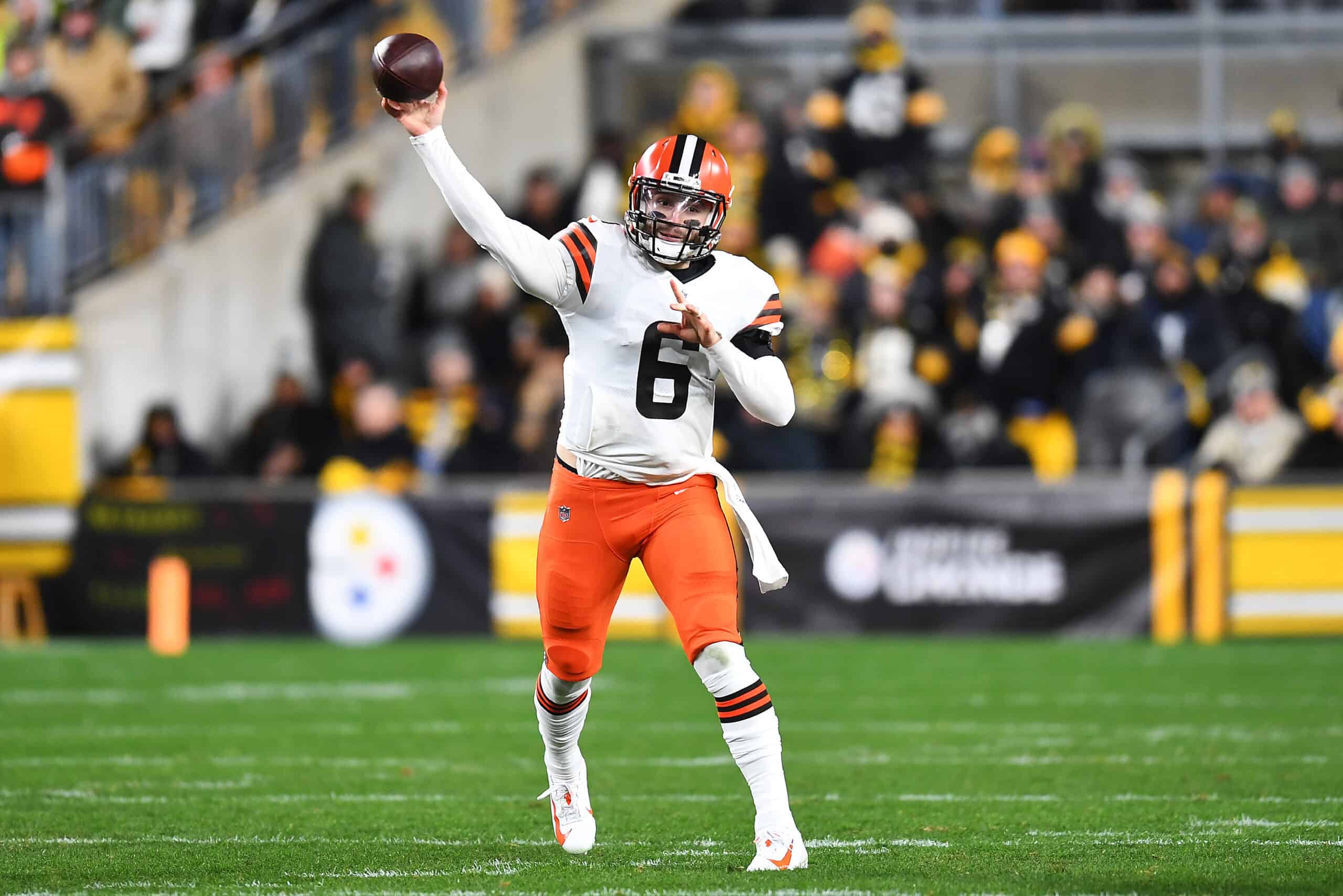 The Cleveland Browns offense struggled on Monday night in the Week 17 game against the Pittsburgh Steelers.
Quarterback Baker Mayfield had a rough outing that has unfortunately been the theme for him this season since injuring his shoulder in Week 2.
#Browns Baker Mayfield's 2021 season has officially ended:

– 3,010 yards passing
– 17 TD
– 13 INT
– 35.3 QBR (career low by far)
– 83.1 passer rating pic.twitter.com/89HBqAXU5S

— MoreForYouCleveland (@MoreForYou_CLE) January 4, 2022
The Browns announced on Tuesday that Mayfield will miss the Week 18 season finale against the Cincinnati Bengals to get a jumpstart on the necessary shoulder surgery and rehab for him to get healthy in the offseason.
#Browns QB Baker Mayfield won't play in Week 18, coach Kevin Stefanski confirms. He'll have surgery as soon as possible to get healthy as soon as possible.

— Ian Rapoport (@RapSheet) January 4, 2022
As expected, there were plenty of reactions to this news.
Here are just a few.
1. Why Now?
Some argued that he might as well finish the season.
There is only one game left.
This decision to get surgery and become healthy could have been made months ago when the Browns still had a viable path to the playoffs.
@bakermayfield should play Sunday. you went this long while playing injured might as well finish. you gave up after playoffs was out of the picture. you should have not played earlier in the year when you first got hurt. your ego and stefanski is what wasted this season.

— Joy (@joyskiski) January 4, 2022
Whoever decided how Baker Mayfield's injury was to be handled needs to be fired, even if it was Baker himself.

Absolutely remarkable. They did it in the exact opposite fashion you should. Waited until he ran their season into the ground before acting on it.

— 3️⃣9️⃣⚡️ (@39management) January 4, 2022
@bakermayfield so your press conference today should have happened 15 weeks ago when you 1st got hurt. You did nothing but ruin your chances of a big contract and hurt the cleveland browns season. Today you actually quit on your team. Please move put of Ohio

— Mat G (@mt_greene) January 4, 2022
Coach Stefanski should have stepped in much sooner regarding the Baker Mayfield situation. His decision to let the QB play basically cost the team its season.

— Brent Sobleski (@brentsobleski) January 4, 2022
With how horrible #Browns QB- #BakerMayfield was playing this decision should've been made weeks ago and he would be recovering from surgery already! https://t.co/uND0bQ3A9R

— Kenny "The Roadman" Roda🎙🎧📻🏈⚾️🏀🏒⚽️ (@TheKennyRoda) January 4, 2022
2. Well Wishes For Mayfield
Some fans had well wishes for Mayfield as he faces surgery.
He is expected to be recovered for OTAs which are usually in the late May to early June timeframe.
Per source, the expected recovery timeline from the left shoulder surgery is for Baker Mayfield to potentially be ready to go by OTAs #Browns

— Jake Trotter (@Jake_Trotter) January 4, 2022
Get well soon @bakermayfield come back better than ever we believe in you! Get healthy see you in the spring 🙏

— Chris (@oninja2011) January 4, 2022
This season didn't go as planned and had a lot of hate/negativity in the air. We forgot people are human and that being said, I wish @bakermayfield a speedy recovery and hope next year you are 110%. #Browns #bakermayfield

— Balls Back Bob (@ballsbackbobby) January 4, 2022
Hat's off to Baker, get well and look out for Baker Mayfield next season.#csm365 #ctpod #ctcscoop #nflnews #CLEvsPIT #Cleveland #Browns #BAKERMAYFIELD https://t.co/b56YSnG9NM

— Clutch Sports Media 365 (@ClutchSM365) January 4, 2022
3. Theories On Mayfield's Future Landing Spot
Some believe Monday night was Mayfield's last game as a Cleveland Brown.
"I think he'd be better off someplace else than Cleveland."

Tony thinks Baker Mayfield may benefit from a scenery change, and suggests teams like the Giants, Washington, the Panthers and Texans might want to take a look at bringing him in. pic.twitter.com/W6T9Bk1HOJ

— PTI (@PTI) January 4, 2022
Ironically, the Houston Texans frequently come up in the conversation of where Mayfield could end up if he does not return to Cleveland in 2022.
ESPN's Tony Kornheiser mentioned the Texans in the list of potential teams.
Mayfield is from Texas, and he suffered his shoulder injury playing against the Texans in Week 2.
Baker Mayfield will be starting football games for the Houston Texans next season, you heard it here first https://t.co/6lR3mPOqFP

— Spider-Mark (@MarkPiselli13) January 4, 2022
I'd love to see Baker Mayfield in Houston Texans uniform next season.#CLEvsPIT

— GhostofJammes (@GhostofJammes) January 4, 2022
Conclusion
No one knows what the Browns will do.
They might pursue trade options but opt to keep a healthy Mayfield and see what he can do during his fifth-year option.
First things first, he needs to get healthy, and the Browns need to do extensive soul searching on the entire roster, including with Mayfield, to figure out how to field a team that performs better in 2022.