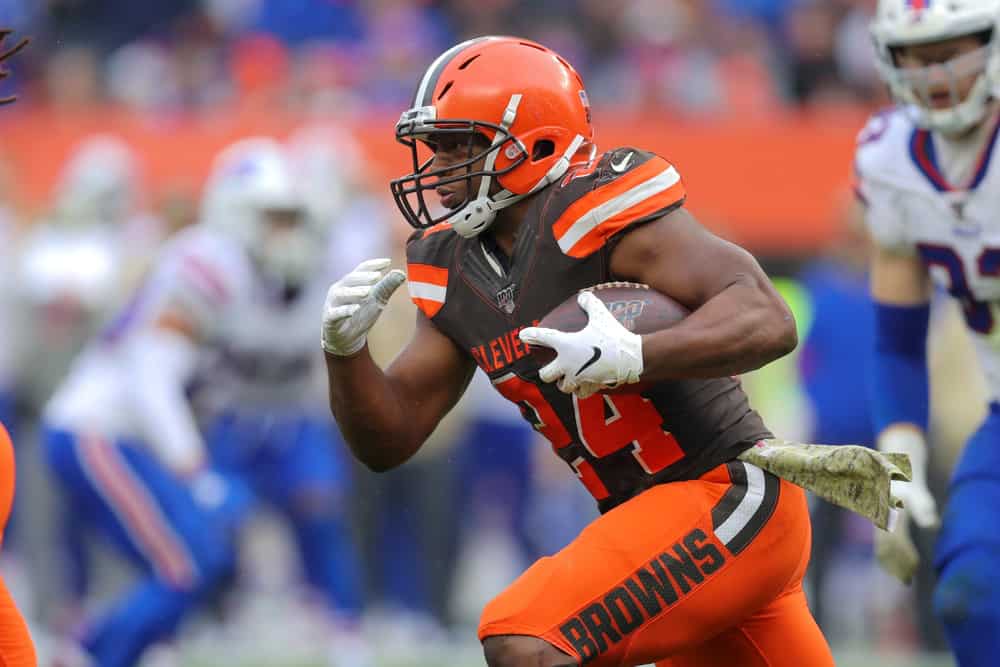 For most of the 2019 season, the Cleveland Browns offense has been a disappointment.
Inexcusable losses to backup quarterbacks like Devlin Hodges and Brandon Allen, high penalties, poor offensive line play, suspensions, and off the field drama and highlighted most of the Browns year.
But, there has been one consistent positive in the 2019 season for the Browns.
Browns running back Nick Chubb is currently leading the NFL in rushing yards.
2019 Rushing Yards Leaders through Week 13! 🏃💨

(by @Bridgestone) pic.twitter.com/aPNT6jBnDf

— NFL (@NFL) December 4, 2019
He has 1175 yards and is averaging nearly 5 yards a carry.
He has also been one of the most explosive backs in the league.
His 11 runs of 20 or more yards also lead the league.
He ranks in the top 5 in yards from scrimmage.
Top Players in Yards from Scrimmage – 2019

Christian McCaffrey – 1,811
Dalvin Cook – 1,536
Leonard Fournette – 1,433
Nick Chubb – 1,420
Derrick Henry – 1,340
Ezekiel Elliott – 1,316
Michael Thomas – 1,281
Chris Carson – 1,208
Josh Jacobs – 1,207
Chris Godwin – 1,129

— NFL Stats (@NFL_Stats) December 3, 2019
Chubb is looking to finish the year as the league's top rusher.  If he accomplishes that, he would be the first Browns running back since Leroy Kelly in 1968 to do it.
Chubb is currently on pace for 1567 rushing yards.
This pace would still put Chubb at No. 2 for the Browns single-season mark owned by Jim Brown who rushed for 1,863 yards in the 1963 season.