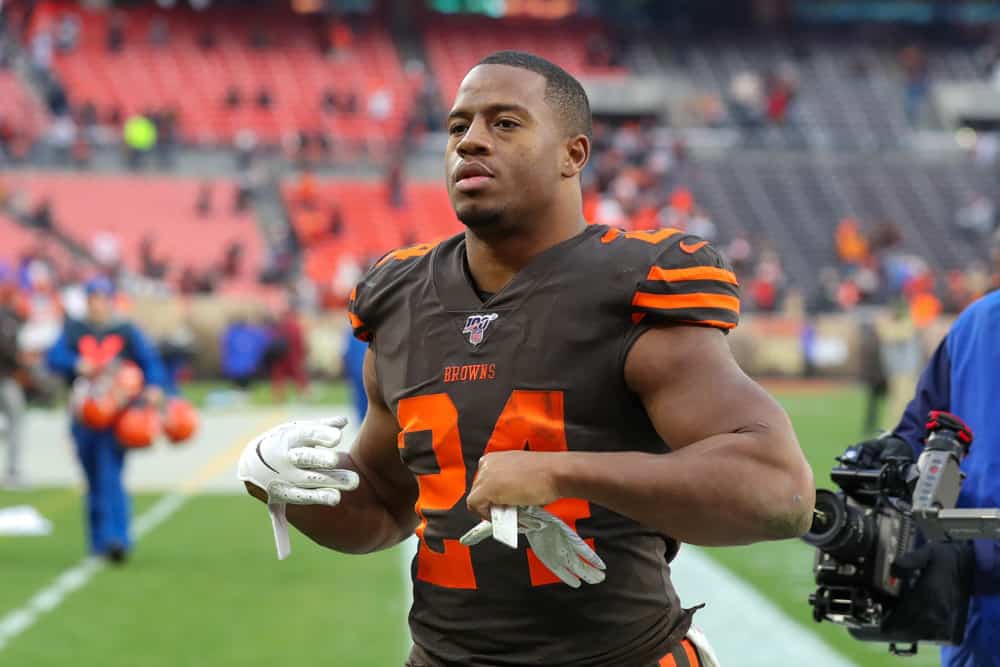 Every team should have a man like Cleveland Browns RB Nick Chubb.
And thank goodness the Browns have him.
He has a reputation for being quiet; he was the voted the quietest in training camp last season after all.
So getting him to "sound off" on issues is not easy.
It is no surprise that Chubb has earned the admiration of Coach Stefanski for his demeanor and focus.
#Browns Kevin Stefanski on Nick Chubb: "He's a man of few words, even less than me."

"I love how Nick Chubb works. He's all ball all of the time."

— Camryn Justice (@camijustice) September 3, 2020
New teammates like being around him too.
#Browns WR Donovan Peoples-Jones on Nick Chubb: "Very humble guy. Very hard worker on the field. You can just tell how much he loves the game of football by how he practices. Great to be around him."

— Keith Britton (@KeithBritton86) September 3, 2020
Given the man he is, the answers are somewhat expected.
But it always good to hear from him.
After all, we haven't heard much from him since his arrival at camp.
Our brand new team reporter @_23NeverLeft asking @NickChubb21 some hard-hitting questions 😂 pic.twitter.com/O0RAvSiChO

— Cleveland Browns (@Browns) July 28, 2020
Or the concussion.
Here are a few tidbits from Chubb.
1. RB Peers Landing Big Contracts
Chubb is aware but unconcerned how the contracts of his running back peers affect him at this moment.
He sees Christian McCaffrey (CAR), Derrick Henry (TEN), and Joe Mixon (CIN) getting big paydays.
But he cares more about the task at hand, the 2020 season.
He told Mary Kay Cabot of Cleveland.com:
"I see it, I know it's happening, I'm aware of it, but I'm just focusing on this team right now. I'm a big believer in everything happens for a reason. Whatever happens to me, it will be for the best. I'm trying to get better every day and not worry about the future.''
Chubb is entering his 3rd season; his rookie contract is set to expire at the end of the 2021 season.
2. Baker Mayfield
Chubb notices Mayfield's improvement.
#Browns RB Nick Chubb on Baker Mayfield getting back to his strengths: "I believe 100%. I see it everyday in practice. He's making the changes needing to be made. He's playing smarter. I think he's just been smarter with the ball…just protecting the ball."

— Keith Britton (@KeithBritton86) September 3, 2020
More than this, Mayfield seems to be emulating Chubb's demeanor on and off the field, less talk, and more football.
3. Kareem Hunt
Let's face it, Kareem Hunt could be a starting RB for many teams.
But he is Nick Chubb's backup on the Browns roster.
Chubb isn't threatened or bothered.
Last season he said,
"I can do whatever. I can play the role of being the main guy or sharing carries. It is all about the team for me. Whatever we can do to win, I am all for it."
Chubb likes the idea of both being on the field at the same time.
You can bet Stefanski and offensive coordinator Alex Van Pelt have plenty of plays designed for them as a duo.
4. Mack Wilson
No one expected Nick Chubb to end up in the concussion protocol early in training camp.
Mack Wilson's unfortunate and overzealous tackle put Chubb there.
But Chubb holds no hard feelings or regrets.
He knows it is just football.
Chubb said that Mack Wilson reached out to apologize to him which he said was unnecessary.
And Chubb himself who had a knee injury at University of Georgia is glad that Wilson's hyperextended knee, which he suffered the day after Chubb's concussion, is not as serious as his was.
It's hard not to be impressed with Nick Chubb.
The Cleveland Browns know he is the real deal.
He needs to go get that rushing title this year.
And then start negotiating to earn what he is worth.