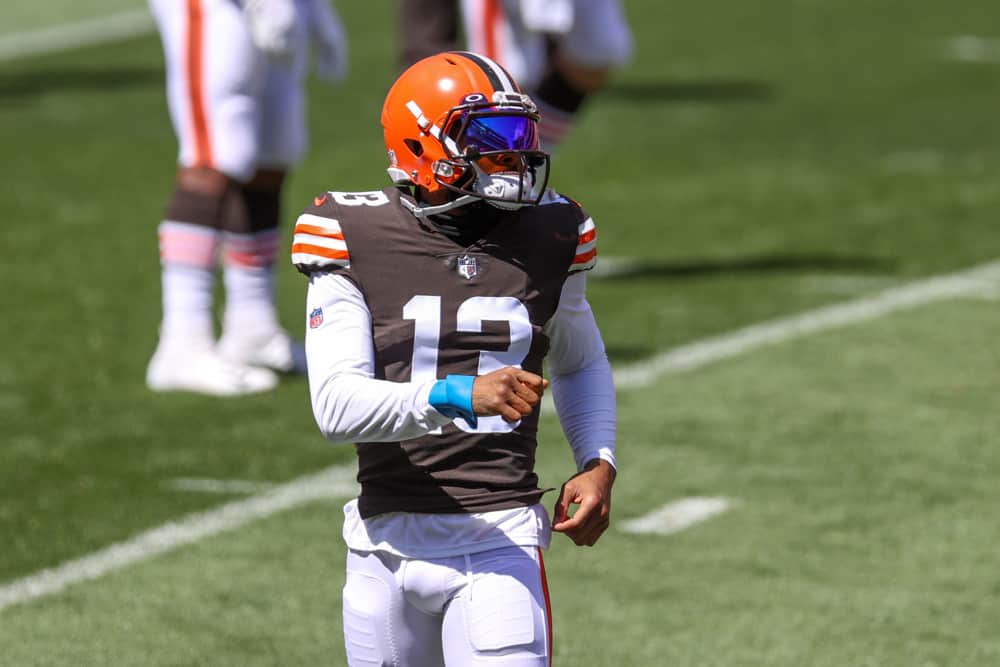 Odell Beckham Jr. took 5 snaps in 11-on-11 drills today with the Cleveland Browns' first-team offense.
And if that doesn't seem like a big deal, it was his first full-speed team practice since he tore his ACL last year.
Offensive coordinator Alex Van Pelt called running plays on all 5 snaps.
But Beckham caught a pass in 7-on-7 drills later in the day.
#Browns HC Kevin Stefanski won't say if Odell Beckham Jr. will be ready come week one. However, it's clear OBJ has consistently looked good at practice. pic.twitter.com/816dOHV45l

— Baillie Burmaster (@bayburmTV) August 26, 2021
That play earned him congratulations from defensive players who recognized its significance.
And it represented an important step in Beckham's goal to play against the Kansas City Chiefs in Week 1.
At a post-practice session with reporters, Van Pelt said,
"I'm not sure where that's going right now, but he looks really good. "(Odell's) running well and coming in and out of his breaks. He's cutting well. Hopefully, we can get him up there for the opener."
That has been Beckham's goal since he started rehabbing from ACL repair surgery.
But the team limited him to individual drills with extra days off up to this point.
Will Odell Beckham Jr. Play In Week 1?
If the choice is up to Beckham, he will be on the field opposite Jarvis Landry on September 12.
The former All-Pro is still anxious to show Cleveland Browns fans what he can do.
His 2020 results were not up to his standards, and his injury-affected 2019 performance didn't impress either.
But like the rest of the Browns, he expects big things in Stefanski's second go-round.
ICYMI: #Browns Jarvis Landry: Odell Beckham Jr. is 'better than last year' and doing things 'that will blow your mind away' (Photo by Dave Petkiewicz of clevelanddotcom) https://t.co/kWcar1mVrc pic.twitter.com/SZnxhjhkRC

— Mary Kay Cabot (@MaryKayCabot) June 13, 2021
To let fans know he was serious on coming back, Beckham posted several offseason videos of the rehab process.
Jarvis Landry was among a group of offensive players who practiced with Beckham earlier this summer.
Beckham's fellow LSU alumni and good friend previewed what fans could expect from OBJ in 2021.
At his charity softball game, Landry told reporters,
"Odell Beckham Jr. is already doing things that will "blow your mind" in his comeback from the torn ACL!"
But Cleveland's trainers limited Beckham's ability to show off such things so far in camp.
What It Means For The Browns 
Odell Beckham provided something the Browns lacked in their AFC Divisional game last year.
But it remains to be seen from his rehab running if he still has his former field speed.
Regardless, Beckham still commands respect from opposing defenses for his shiftiness and hands.
Cleveland drafted Gregory Schwartz as a pure speed demon.
But until he makes a few NFL catches, he might not draw the attention of extra defensive backs like OBJ.
🗣 LET ODELL BECKHAM JR PLAY DALLAS EVERY WEEK#CLEvsDAL #Browns #Cowboys

— The Game Day NFL (@TheGameDayNFL) October 4, 2020
Stefanski promised a more explosive offense in his second tenure.
Beckham kept defenses from cheating against the run and lets other receivers win 1-on-1 battles.
His huge end-around touchdown against Dallas, his 3rd score that day, is arguably the best play of 2020.
And he wants to maintain his 2-to-1 touchdown pass throwing edge on Landry.
But the moment he is declared "back" is when he secures his first big catch from Baker Mayfield.