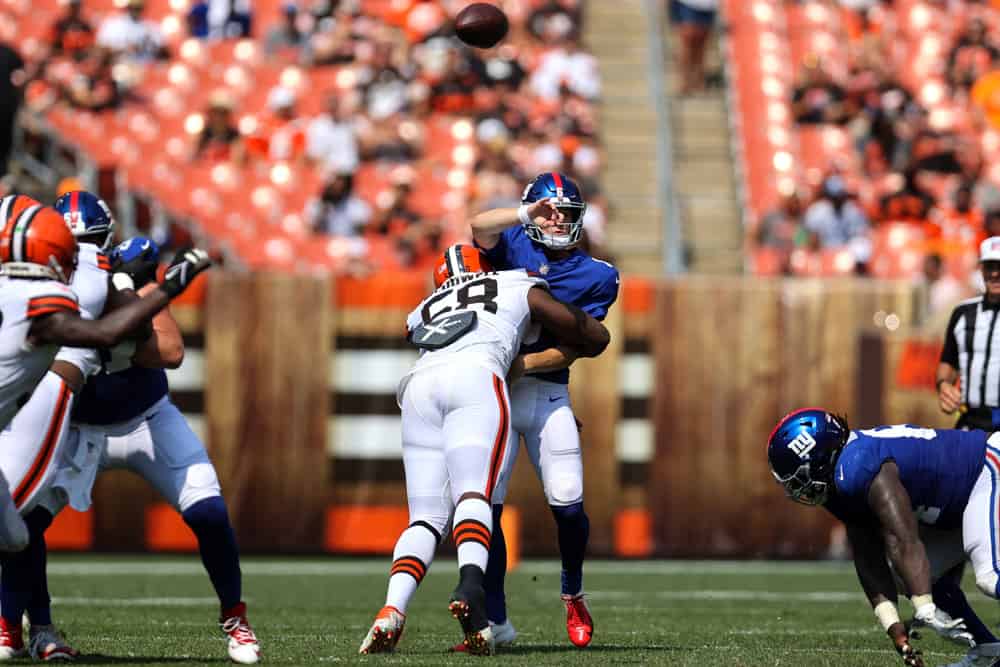 The Cleveland Browns signed defensive tackle Malik McDowell on May 3, 2021.
McDowell has taken a long and sordid road back to the NFL after being drafted by the Seattle Seahawks in the second round (35th overall) in 2017.
He was involved in an ATV accident a few weeks before the 2017 training camp.
Malik McDowell suffered concussion, facial injuries in ATV accident, per @MikeGarafolo and @JamesPalmerTV https://t.co/NYIcZDiJcV pic.twitter.com/ptvyW1dTW1

— Around The NFL (@AroundTheNFL) July 30, 2017
Medical issues and off-the-field legal issues have kept him away from the game for years.
Browns signed ex-Seahawk DT Malik McDowell. Because of an ATV accident, injuries, arrests, suspension and 11-month prison term, he has not played since drafted in the 2d round in 2017. He's 24.

— Tony Grossi (@TonyGrossi) May 3, 2021
McDowell is making the most of the chance the Browns have offered him.
Preseason Game Vs. Giants
The 25-year-old McDowell finally got on the field for an NFL snap over four years after being drafted in the Browns preseason game against the Giants.
He played 25 snaps and had five tackles, a sack, and two quarterback hits.
Malik McDowell was the Browns highest rated defender on Sunday with an elite 91.7 grade per PFF.

McDowell had the Browns only sack and was in on 4 other tackles.

Andrew Berry struck gold. pic.twitter.com/zDrNzoN2YG

— Nick Karns (@karnsies817) August 23, 2021
Malik McDowell with good back-to-back plays — a quarterback hit and a sack. He should dominate in the fourth quarter of a preseason game like that and he did. Intriguing talent trying to finally get his career going.

— Dan Labbe (@dan_labbe) August 22, 2021
Lest we forget, Malik McDowell was considered a first-round talent at one point in time. Ability has always been there. Same can't be said about his commitment. Now, he seems to have everything back on track and it comes as no surprise when he plays really well against backups.

— Brent Sobleski (@brentsobleski) August 23, 2021
Coach Stefanski On McDowell
Stefanski has high praise for McDowell's efforts this preseason.
Will it translate into a spot on the 53 man roster?
That is yet to be determined.
"He has been great. He has been great in the meeting rooms, around the building and out on the grass. He is in a really good place, works very hard and is very serious about his craft. I see him making strides every day working with Coach Kiff (defensive line coach Chris Kiffin) and working with (assistant defensive line) Coach (Jeremy) Garrett."
"To see him out there making plays, his teammates were excited for him. He continues to grind. He continues to work at this thing. He had worked really hard when we got him in the building in the spring. Obviously, had a couple of injuries that set him back but stayed into it with the walkthroughs and stayed into it in the meeting rooms. He is a guy who is really, really battling. He is working very, very hard as we get through this training camp."
Joel Bitonio On McDowell
As Coach Stefanski mentioned, his teammates are happy to see McDowell making this comeback.
Joel Bitonio talked about how McDowell is doing in camp and through the preseason.
Joel Bitonio on Malik McDowell: "You can tell why he was a second round pick. He's big, he's powerful… He's been disruptive during the pre season. Jack Conklin who played with him in college said he's becoming his old self again."

— Nick Karns (@karnsies817) August 25, 2021
McDowell is expected to get more playing time in the preseason finale against the Falcons on Sunday night.