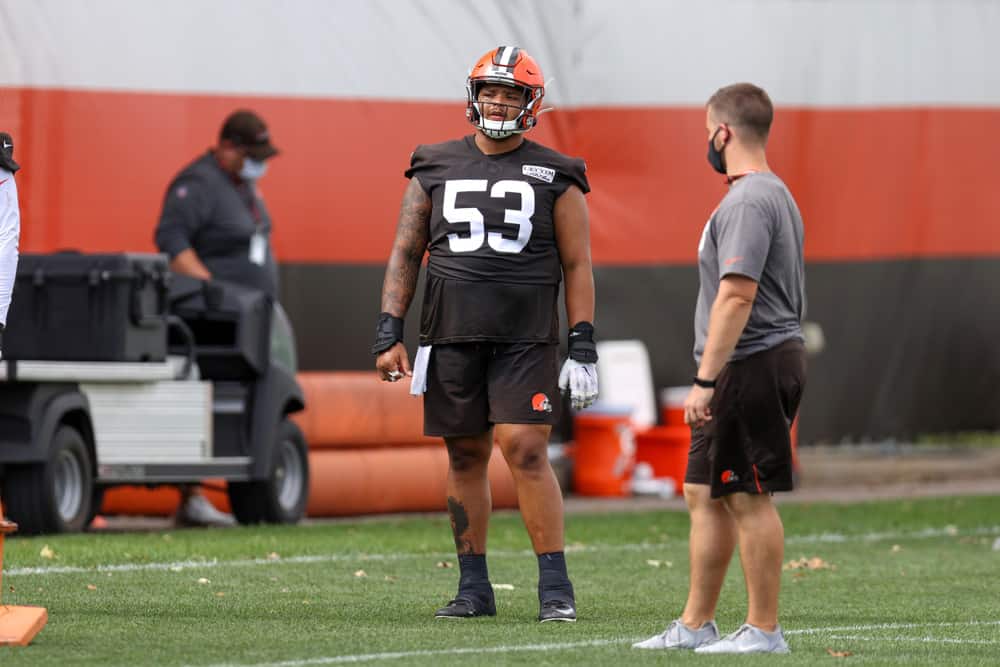 Wednesday began with another positive COVID-19 test result for the Cleveland Browns.
This time, it is offensive lineman Nick Harris who has tested positive and has been placed on the Reserve/COVID-19 list.
#Browns Kevin Stefanski said there were no other positive tests today after Nick Harris was placed on the Reserve/COVID-19 list.

— Camryn Justice (@camijustice) November 10, 2021
Harris is the fifth member of the Cleveland Browns to test positive this week.
Running backs Nick Chubb, Demetric Felton, and John Kelly tested positive along with another member of the practice squad.
At this point, it is not known if Harris is vaccinated so a timetable for his potential return cannot be estimated.
It is also not known who would be considered Harris's close contacts.
Harris In 2021
This is Nick Harris's second season in the NFL and with the Browns.
In 2021, his role has been solely on special teams.
Last season, he filled in on offense as necessary because of injuries.
He is also the team's backup center behind J.C. Tretter.
Enhanced Protocols Are In Place
The Browns have initiated enhanced protocols this week in the wake of these positive test results.
Those protocols consist of more testing, virtual meetings, virtual press conferences, and mask-wearing while indoors at Berea.
No One Wants A Replay Of 2020 Jets Game
Browns' Twitter has already alluded to this horrible game on December 27, 2020 when the Browns had no starting wide receivers because of COVID-19.
Browns officially placed four WRs on the Reserve/COVID list: Jarvis Landry, Rashard Higgins, Donovan Peoples-Jones and KhaDarel Hodge. Browns LB Jacob Phillip also added to COVID list. Those five players are out Sunday vs. Jets.

— Adam Schefter (@AdamSchefter) December 26, 2020
Ja'Marcus Bradley and Marvin Hall were the wide receivers.
The Browns lost to the Jets by the score of 23-16.
Up Against Bill Belichick
It is never pleasant to have a COVID-19 outbreak as it impacts the health and well-being of the entire organization and its players while curtailing game preparation.
Arguably, there are not many worse weeks for it to happen to the Browns after picking up much needed momentum with the Week 9 victory over the Cincinnati Bengals and going into Foxboro to meet the Patriots in Week 10.
With the G.O.A.T. Coach Bill Belichick on the opposing sideline and rookie quarterback Mac Jones, this Patriots team are a 5-4 team that is a force to be reckoned with.