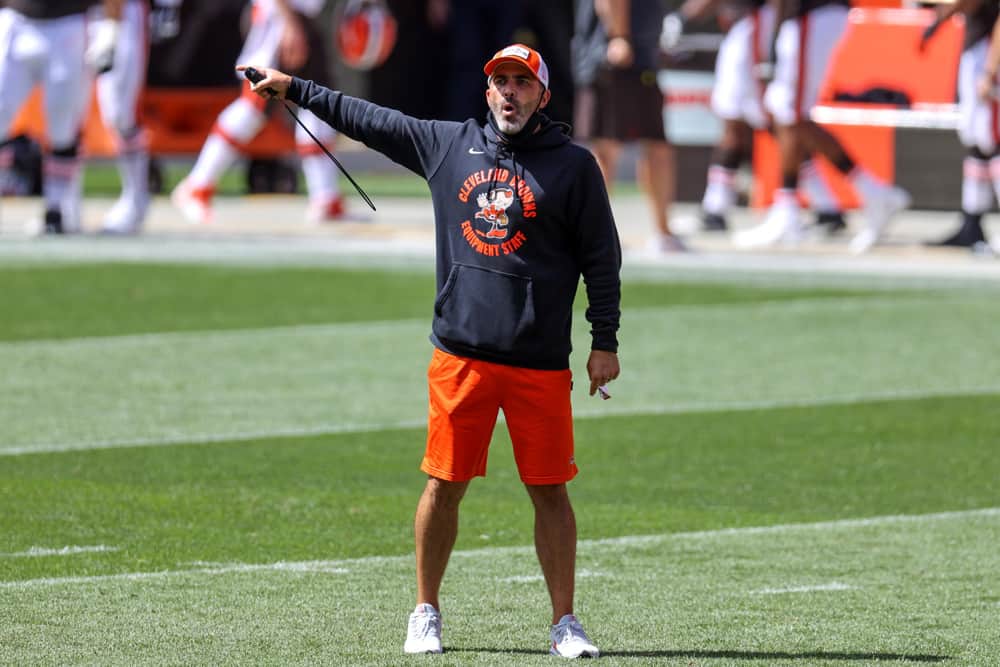 Six games into his first season as the Browns head coach, Kevin Stefanski is 4-2, and still in the thick of things in the NFC North.
Playing football at Penn, and beginning his coaching career there, Stefanski moved on to the Vikings in 2006.
He held multiple spots on the offensive staff before taking over the offense in 2018.
His rise to head coach has been a quick one.
While six games into a tenure is a bit early to pass judgement, there are some things to take away.
Let's get into it.
1. He's flexible
By flexibility, I don't mean his ability conduct dynamic stretching.
What I mean is his Gumby-like tendencies in implementing his systems.
If you're a fan of football, you know that coaches are hired because an owner falls in love with a system, seeing it implemented, and watching their struggling team start winning games.
It doesn't always work like that.
Stefanski ran a system in Minnesota that stressed play-action, running the ball, and taking some deep strikes downfield for huge plays.
Dalvin Cook made the offense move, Adam Theilein and Stefon Diggs had crushed teams with their receiving, and Stefanski got a career year out of Case Keenum.
He can coach.
Andrew Berry and the front office have done a great job in restocking the franchise with talented players.
This might be the most talented Browns squad since the Bernie teams of the late 80's.
While the talent is there, Stefanski knows that his offensive line is the weakness of the offense.
There have been major upgrades, but it is still a unit that mauls defenders in the run game, but is average at best pass blocking.
Stefanski knew this, and committed to the run.
Knowing full well he's got two of the most dynamic running backs, he's leaned into running the ball more often to establish the pass.
On top of that, he's doing whatever he can to get the ball into the hands of his playmakers.
The man is thinking outside of the box to ensure his team is successful week to week.

2. He takes responsibility for what his team does, and fails to do
Stefanski, in a win or a loss, will step up and accept responsibility.
Camryn Justice, from WEWS in Cleveland, Tweeted this on Oct. 19th:
#Browns Kevin Stefanski said there were decisions and plays he called yesterday that he won't make or call again.

Previously stressed the importance of learning from losses and correcting mistakes.

— Camryn Justice (@camijustice) October 19, 2020

It takes a big man to take it on the chin like this, and at every point of the season, Stefanski has done so.
He's shown that he will be accountable, and it has trickled down to his players.
That kind of example is setting a new tone in Berea, helping in erasing the stigma that had grown up over the previous four head coaches: the stigma of being a loser and also being undisciplined.
Stefanski is laying a new foundation, and it looks like it is working.

3. He backs up his players
This last point is probably his most important.
Under Stefanski, players aren't being tossed under the bus (ala Hue Jackson) or being alluded to, as Freddie Kitchens did.
Stefanski will back his team up, as long as they go out there and leave everything on the field.
Daryl Ruiter of 92.3 The FAN had this to say:
"Baker will start as long as he is healthy and I think he will be" – Kevin Stefanski #Browns

— Daryl Ruiter (@RuiterWrongFAN) October 18, 2020
He is loyal to his players, and that goes a LONG way with them.
Players will want to play hurt (as Baker did on Sunday) and do whatever they can for a coach who will go to the mats for them.
This is a good Browns team.
Really good.
They may not be equipped to handle the elite teams, allow me to add a caveat to finish that sentence: yet.
Stefanski is having to tear down and rebuild this team from disastrous head coaching hires and front office gaffes that owner Jimmy Haslem has allowed to happen.
But for the first time in what seems forever, the Browns are in the conversation.
Give Stefanski and Andrew Berry some time, and that conversation could include talks of deep playoff runs and Super Bowls.
Enjoy this, Browns fans.
I think the best is yet to come.