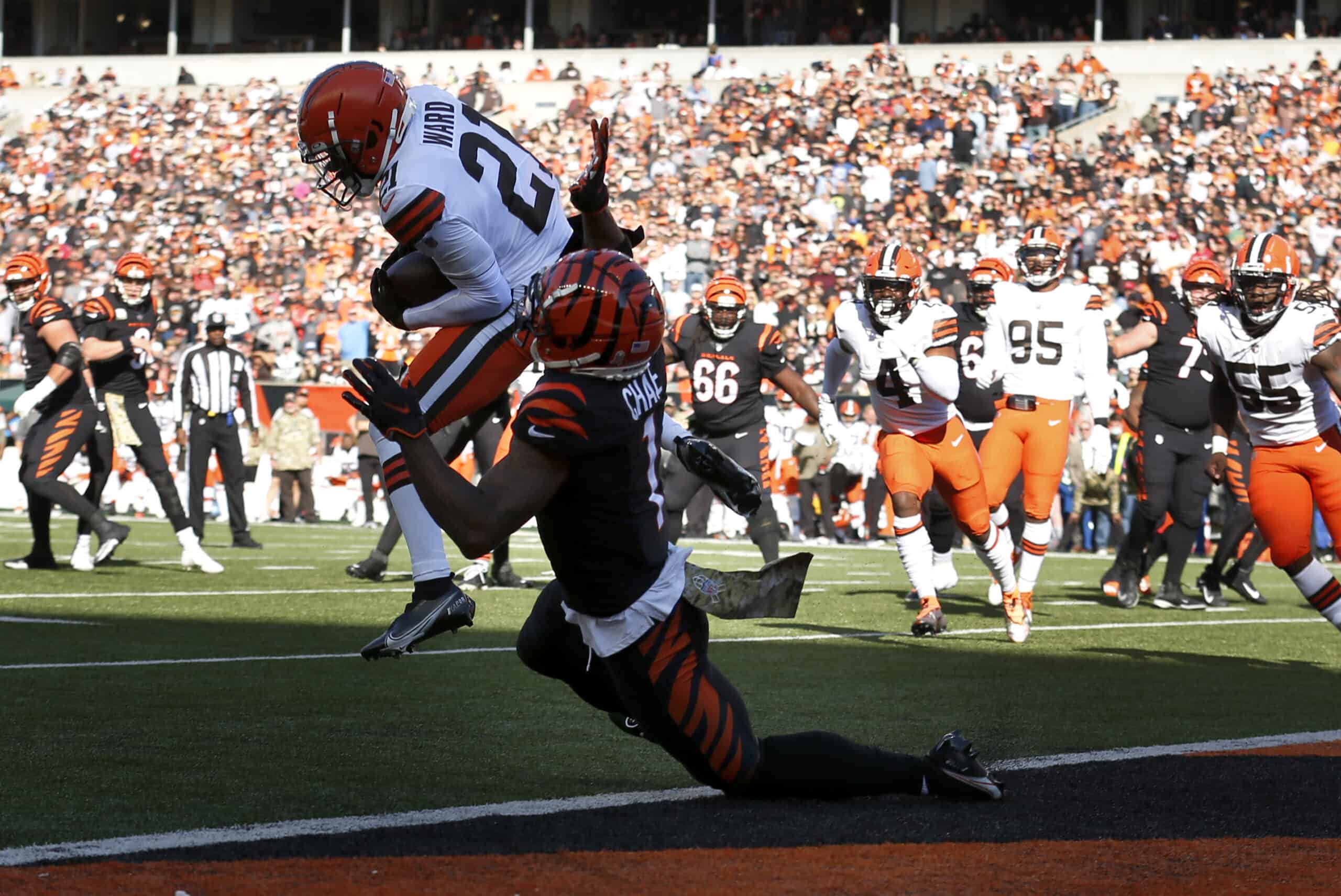 Denzel Ward got off to a bit of a slow start on the Cleveland Browns' 2021 season.
He found himself on highlight reels for the wrong reasons.
And his reputation for being injury-prone resurfaced when he pulled a hamstring in Week 7.
But he bounced back in the biggest of ways in the Browns' big Week 9 victory over the Cincinnati Bengals.
DENZEL WARD TOOK IT 100 YARDS FOR THE PICK-SIX

(via @NFL)pic.twitter.com/lz5UIww2tt

— SportsCenter (@SportsCenter) November 7, 2021
Ward ran an interception back 99 yards for a touchdown, thwarting the Bengals' opening drive.
And after a spell on the sideline for oxygen, he came back to help shut down Cincinnati's vaunted air attack.
Ward allowed only 1 reception for 11 yards on the day.
Denzel Ward coverage stats vs. Bengals:

🔸41 snaps
🔸1 Catch Allowed (11 Yards)
🔸1 Pick Six
🔸0.0 Passer Rating When Targeted

🔒⬇️ pic.twitter.com/DZzdE0gFja

— PFF CLE Browns (@PFF_Browns) November 7, 2021
His 2 tackles and 3 passes defended don't do justice to the overall effort of the Browns cornerback.
But Pro Football Focus took notice, ranking Denzel Ward as the PFF Defensive Player of the Week.
Ward joins the Offensive Player of the Week, teammate Wyatt Teller, atop PFF's Week 9 ranking tiers.
Ward Makes PFF's Play of the Week 
PFF also named Ward's big Pick-6 as their Play of the Week.
Lots of pundits say the play set the tone for Cleveland's big defensive performance.
But the truth is Ward changed the tone for the Browns defense.
This angle of Denzel Ward's 99 yard pick 6 is insane 🤩#Browns pic.twitter.com/hii9db22wE

— 𝘾𝙡𝙚𝙫𝙚𝙡𝙖𝙣𝙙𝙎𝙕𝙉🌟(5-4) (@GoatedBaker) November 8, 2021
Cincinnati took the opening kickoff and marched down the field into goal-to-go territory.
When a big sack was wiped out by an offsides penalty, another opening drive touchdown appeared inevitable.
Predictably, Joe Burrow looked for rookie sensation Ja'Marr Chase on the next play.
Ward jumped the route and a 0-7 deficit became a 7-0 lead just like that.
Denzel Ward's last 6 games in coverage:

Week 3:
2 RECs
29 yards

Week 4:
2 RECs
32 yards

Week 5:
1 REC
8 yards

Week 6:
3 RECs
17 yards

Week 7:
3 RECs
17 yards
1 TD

Week 9:
1 REC
11 yards
1 pick six pic.twitter.com/PbzRZbIMvx

— PFF (@PFF) November 8, 2021
With Ward on the sideline for most of the next drive, Cincinnati was able to tie the game.
But after the Browns' offense took the lead right back, Ward and the rest of the secondary picked things up.
With some help from Greg Newsome, Ward limited Chase to 6 catches and 49 yards on 13 targets.
What It Means To Ward and The Browns
Few will argue that Denzel Ward is one of the best cornerbacks in the NFL when he is healthy.
But therein lies the rub: he can't seem to get through a season without injury.
Although he doesn't miss the majority of games, nagging injuries taint his efforts.
The 99-yard interception return by @denzelward is the second longest in @Browns history, trailing only Brodney Pool's 100-yard INT return on Nov. 18, 2007.

— Dan Murphy (@DMurph_BrownsPR) November 7, 2021
Cleveland has Ward locked up for the 2022 season on a guaranteed 5th-year option.
But the one-time Pro Bowler wants to cash in on a contract extension at some point.
And he certainly noticed the Wyatt Teller signing this week.
The Cleveland native has said he wants to be a career one-team Browns player.
Denzel Ward in single coverage W2: 86.5 coverage gradepic.twitter.com/PpLyT2CFH0

— PFF (@PFF) September 19, 2020
But if he wants to earn a big extension like his co-Player of the Week, Ward needs to stay healthy.
Putting a couple of more highlight-reel plays on his agenda wouldn't hurt.
But earning good PFF rankings should be enough to keep Ward in Cleveland as long as he wants.