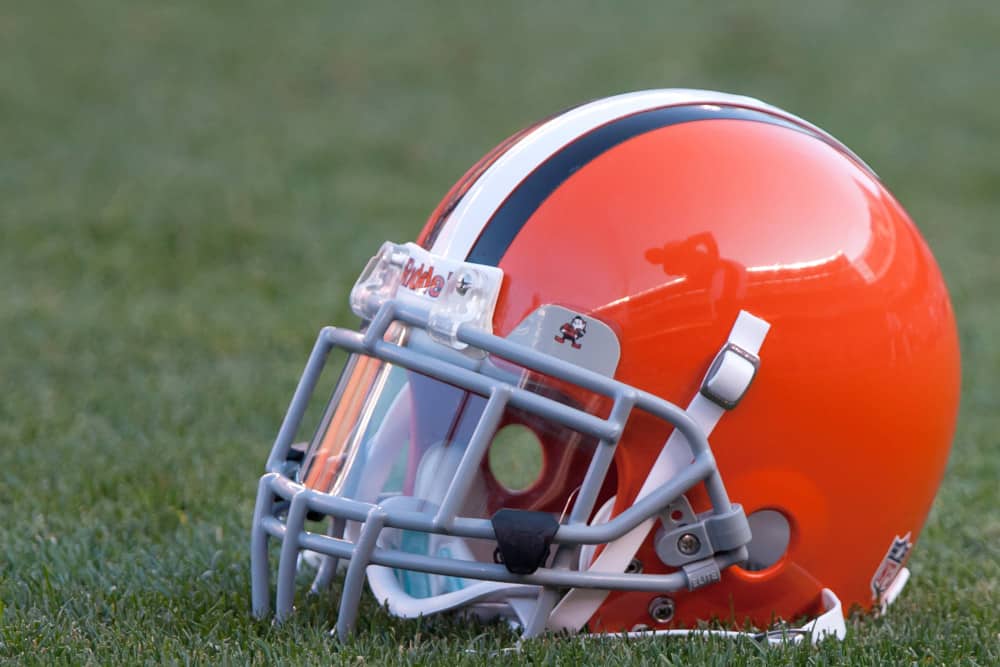 Pro Football focus released it's "Top 25 Cornerbacks Ahead Of The 2020 NFL Season," and one Browns cornerback made the list.
PFF ranked CB Denzel Ward the 16th best in the NFL.
Here's what PFF had to say about Ward:
"Denzel Ward's NFL career is still a work in progress, but he is already on the brink of being one of the very top corners in the game. For his career, he has allowed under 50% of passes thrown his way to be caught, and that dropped to 44.9% in Year 2. He surrendered just one touchdown and was beaten for a mere 58.0 passer rating on the season. With the Browns likely pivoting to more zone coverage in 2020, Ward could have a chance to improve as a playmaker, converting some of the nine pass breakups he had last season into interceptions."
Denzel Ward's Browns Career
In his 3rd NFL season, Denzel Ward is playing for his 3rd NFL coach.
And he is impressing the new coaching staff at training camp.
#Browns DBs coach Jeff Howard on Denzel Ward: He has skill set and God-given abilities you're looking for in an elite CB, looked at all of his targets from last season, seeking ways to improve and he has that growth mindset

— Nate Ulrich (@ByNateUlrich) August 28, 2020
Rookie Highlights – 2018
Hue Jackson coached him in his rookie season.
Jackson named him a starter, and Ward's career took off in the 2018 season opener against the Steelers.
Ward had 2 INTs and broke up 3 passes in the 21-21 tie.
His first NFL INT was a Ben Roethlisberger pass that was intended for Antonio Brown.
Ward finished 2018 with 3 INTs and 53 total tackles.
2019
Under Freddie Kitchens in 2019, Ward finished with 2 INTs and 44 combined tackles.
Ward recorded his first Pick 6 off of Andy Dalton.
Denzel Ward's Background
He is 23 years old.
Ward was picked in the 1st round (4th overall) in 2018.
Denzel Ward is a native of Ohio.
He attended Nordonia High School in Macedonia, Ohio and Ohio State University.
At Nordonia, he played CB and WR on the football team and was a member of the track team.
During his senior year of high school, he recorded personal bests in the 100 meters (10.49 seconds) and 200 meters (21.38 seconds).
At Ohio State, he played 38 games in 3 years.
He played as a true freshman; he did not red shirt.
After an impressive NFL Combine, he was projected as the top cornerback in the 2018 NFL Draft.
In addition to the Browns, Tampa Bay, San Francisco, Miami, Chicago, and Buffalo had pre-draft interest in him.
Ward has spent his college and NFL career honoring his late father, Paul, who died of a sudden cardiac arrest at a spin class at the age of 46.
There was an AED (Automated External Defibrillator) on site, but no one used it so Denzel has made it is his mission to create awareness around heart health and AEDs.
Denzel established the Make Them Know Your Name Foundation to promote cardiac health awareness and provide AED equipment and training to youth and other organizations in his home state of Ohio.
Notes About The Top 25 List
As mentioned, Denzel is ranked 16th, but here are some interesting facts about the players and teams comprising the rest of the list.
The Los Angeles Chargers and Pittsburgh Steelers each have 3 CBs on the list.
San Francisco, Baltimore, Philadelphia, and New England each have 2 CBs on the list.
The top-ranked CB is Stephen Gilmore (NE).
Coming in second is Richard Sherman (SF).
11 teams have 1 player on the list including:  Cleveland, Seattle, Cincinnati, Chicago, Green Bay, New Orleans, Arizona, Los Angeles (Rams), Tennessee, Buffalo, and Miami.
PFF states that the list is not merely a statistical ranking; "tougher" environments are factored in and can boost a ranking.