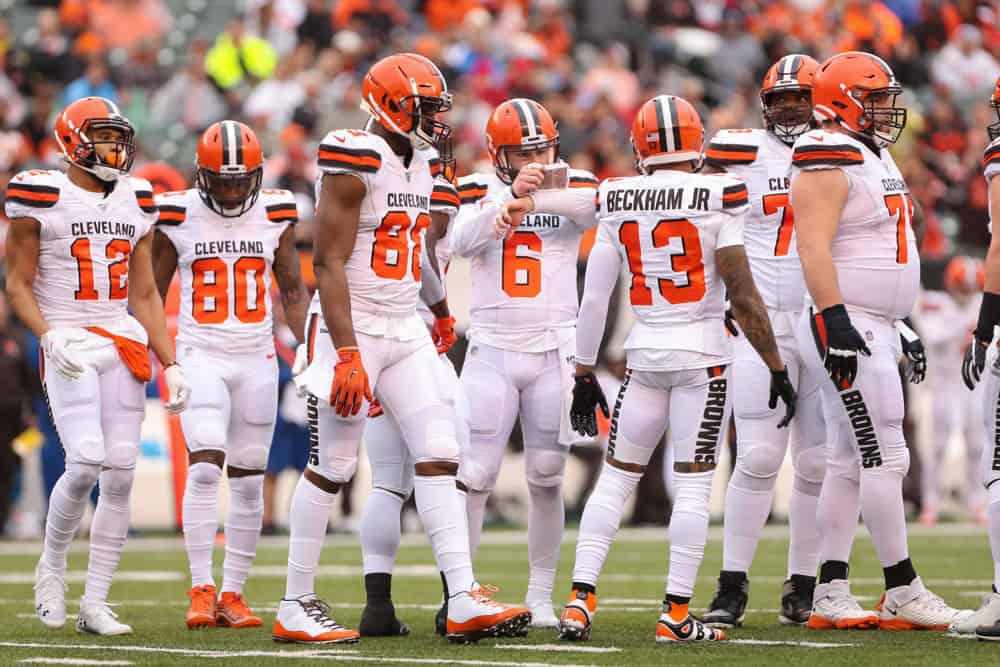 What if the Cleveland Browns' 2019 season never happened?
You might remember how the team captured imaginations during the preseason.
Or how they charged into Week 1 as the most-hyped team in recent history, not to mention 5.5-point favorites?
Well, the Tennessee Titans handed Cleveland fans a dose of reality in a hurry.
After the Titans beat the Browns 43-13, Delanie Walker channeled his inner-Dennis Green.

(via @TDavenport_NFL) pic.twitter.com/igTJdKohQz

— ESPN (@espn) September 8, 2019
The 43-13 drubbing indicated how the Browns' season would go more than the preseason predictions of grandeur.
Maybe that is why, despite winning the 2020 preseason, Cleveland enters Week 1 as a decisive underdog.
According to FanDuel Sportsbook, the Browns are 7.5-point underdogs against their AFC North foe.
Granted, the Baltimore Ravens are a more formidable opponent than the Titans.
But the Baker Mayfield-tailored offense, Austin Hooper, a revamped offensive line… and an 8-point spread?
Fans are bound to have questions.
That's it?

If the Cleveland Browns beat the Baltimore Ravens Week 1 I will get a Browns tattoo on my ass. Vice-versa for you.

You willing to accept this bet? https://t.co/jeMwbMiKSj

— Dan (@DanClarkSports) August 30, 2020
Well, it turns out the Ravens made some improvements, too.
Calais Campbell, Derek Wolfe, and Patrick Queen solidify the Baltimore defense.
They added JK Dobbins to an offensive stable already full of studs.
And, as if the Titans didn't do enough to the Browns last season, they provided some fire to the Ravens' cause by unceremoniously ending Baltimore's season with a first-round playoff upset.
But despite all that, the Week 1 point spread is an improvement from the initial 9-point line released in May.
But… Cleveland Beat Baltimore Last Year
Cleveland and Baltimore met in Week 4 last season.
Both teams were struggling to meet expectations, with Freddie Kitchens facing questions about his play-calling.
But for one week, it all came together for the Browns.
Cleveland Browns Bounce Back With a Massive Win Over the Baltimore Ravens, 40-25 https://t.co/SIe8W2Uq2n #youwager #betting #guaranteedpick pic.twitter.com/qbLMT3kgmG

— WagerBop (@WagerBop) September 29, 2019
Their 40-25 victory renewed hope for a playoff run, while Baltimore faced more questions.
Unfortunately, the teams went in opposite directions starting in Week 5.
Cleveland limped to a controversy-filled 6-10 record while Baltimore ran the table to finish the regular season.
The Ravens found their formula, even if it didn't work out in the playoffs.
Cleveland looked for a new formula and may have found their man in Kevin Stefanski.
When fans remember the problems with Kitchens' style and game planning, they can see the opposite in their new coach.
The Browns return a potent 1-2 punch at running back and wide receiver.
And they added another 1-2 punch at tight end with Austin Hooper and Harrison Bryant.
GM Andrew Berry overhauled the offensive line, which needs to gel in a shortened preseason.
But if they get it together before opening day, Cleveland's 2019 hype might play out… just a year later than expected.
Why the Point Spread Doesn't Matter 
Cleveland was a 6-point underdog in the first Baltimore game last year.
Tennessee was the underdog to the Browns in Week 1.
Teams can use these point spreads as motivation even though they are simply the best guess of the betting experts.
Closer and closer to Week 1.

📸's » https://t.co/xF5ChCGWpA pic.twitter.com/JWn2tH23fG

— Cleveland Browns (@Browns) August 28, 2020
As good as those experts might be, they get things wrong at about a 45-percent clip.
But there is reason to hope they do better this year.
Published point spreads find the Browns favored in 9 of 15 games with a Week 17 pick 'em versus Pittsburgh.
In fact, Cleveland is an even bigger favorite in the following two weeks than Baltimore is in Week 1.
Early lines give the Browns 9-point advantages over the Bengals and Washington in Weeks 2 and 3.
Baltimore is the runaway favorite to take the AFC North.
But Cleveland is getting some respect as a contender for a wild card playoff entry.
And as Baltimore learned last season, anything is possible once the playoffs start.