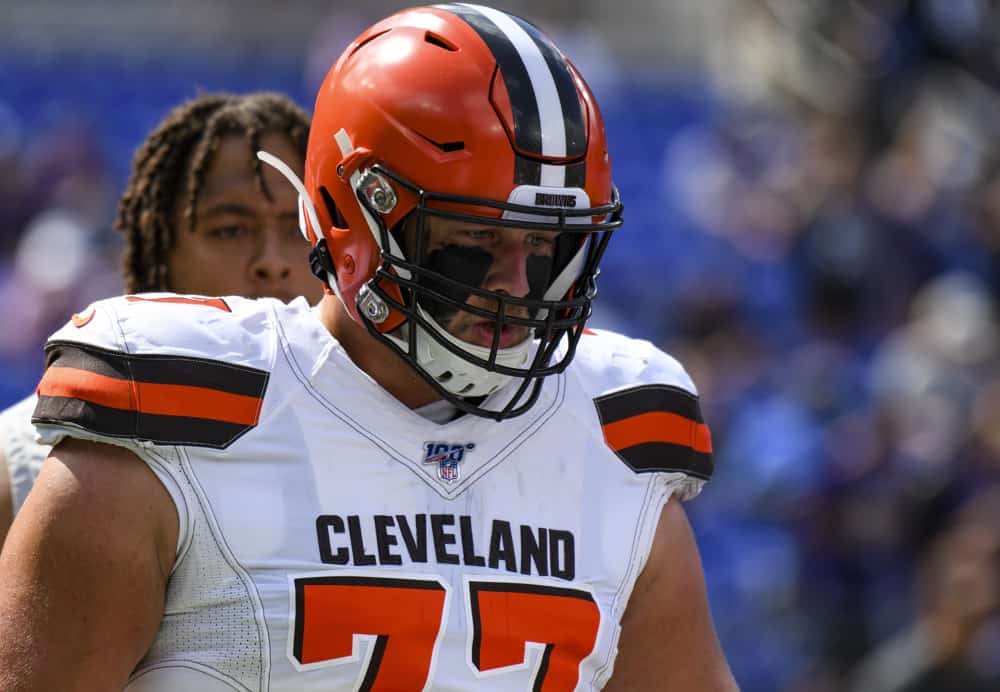 Wyatt Teller picked an excellent time to pick up his game.
Right guard was a big question mark heading into the Cleveland Browns' 2020 season.
We weren't sure the starter was on the roster yet in the weeks leading up to training camp.
Wyatt Teller: PFF's highest-graded OL (93.8)#ProBowl | #ProBowlSnub pic.twitter.com/ngrPXluBK0

— PFF (@PFF) December 22, 2020
Teller was coming off a season in which he looked like a workable depth piece with some potential.
But that potential jumped out front and center, propelling Teller to a second-team All-Pro selection.
It's not often a right guard is highlighted in post-game show highlights.
But when you block 3 guys on the same play or pancake a safety 20 yards downfield, it happens.
This play alone, should get Teller an extension! I need more Wyatt Teller In My Life! 😂 #Browns pic.twitter.com/xnt3BEIBxd

— BrownsTherapy (@BrownsTherapy) January 20, 2021
PFF awarded Teller their highest guard ranking, and now it is time for Teller to cash in.
Well, he can play out the final year of his rookie contract before cashing in if he wants to.
But if Andrew Berry doesn't want Teller to enter free agency, he is already talking about an extension.
Cashing In: What is a Premier Guard Worth? 
Spotrac and other contract monitoring entities project players' worth, expressed by free-agent value.
After Teller's big season, Spotrac guesses his market value at $12 million per season over a 4-year deal.
But if Teller is the best guard in the league, why wouldn't he want the biggest contract?
Brandon Scherff recently signed a 3-year, $39.5 million deal.
Wyatt Teller going 2-for-1 at the POA on this power scheme. He's quite good. #Browns pic.twitter.com/L3TWqeT0hm

— OBR Film Breakdown (@TheOBRFilmBDN) January 11, 2021
And Andrew Norwell, the 5th-highest-paid guard, will earn $13.3 million this season.
Among right guards, Dallas' Zach Martin and Philadelphia's Brandon Brooks average $14 million per year.
That stands to be the starting point for Wyatt Teller, even without an extended track record.
The question is whether negotiations bring that number up or down.
Risks Versus Reward: What Should Cleveland Pay? 
Timing matters when it comes to contracts.
Berry might want to see if Teller can repeat his 2020 performance more than once.
But Teller's agent will cite the "potential" label Teller carried in 2018-19 as validation his improvement is for real.
Waiting to see how 2021 goes could cost the Browns a perennial All-Pro if he tests the free agency waters.
Browns PFF run-blocking grade:
🔸 Games w/ Wyatt Teller – 86.1 (1st)
🔸 Games w/o Teller – 56.1 (29th) pic.twitter.com/nHqtByL73I

— PFF (@PFF) December 19, 2020
On the other hand, Teller knows Berry risks paying too big too early if he offers an extension now.
Also to be considered is the 5-plus games Teller lost to injury in 2020.
Cleveland's offense did not look as sharp when Teller was on the sideline.
But if Berry's top-paid guard can't play more than 11 games per year, how much of a discount will he ask for?
Projecting Wyatt Teller's Contract Extension 
Berry wants to be sure Teller didn't simply benefit from a great scheme or the pair of All-Pros playing next to him.
But anybody who watched him play last year will be hard-pressed to believe that.
Money, or specifically the salary cap, need not constrain Berry as he has team-friendly contracts across the line.
The other starters account for $35 million next year but carry virtually no dead cap hits.
Wyatt Teller really blocked three dudes on this play 😱 @Browns

(h/t @brentsobleski) pic.twitter.com/grfKt754qf

— The Checkdown (@thecheckdown) November 23, 2020
Berry also has to consider plans for his other 3 starting offensive linemen hitting free agency in 2023.
All parties know a premier guard can land a big deal for 4-5 years at Teller's age.
But by the time those deals end, the salaries are not as impressive as they sound at signing.
That's why Teller takes fewer years, more guaranteed cash, and gambles on landing another big contract in 2026.
The projection is 3 years, $40.5 million, with $24 million guaranteed in a deal signed before the season.