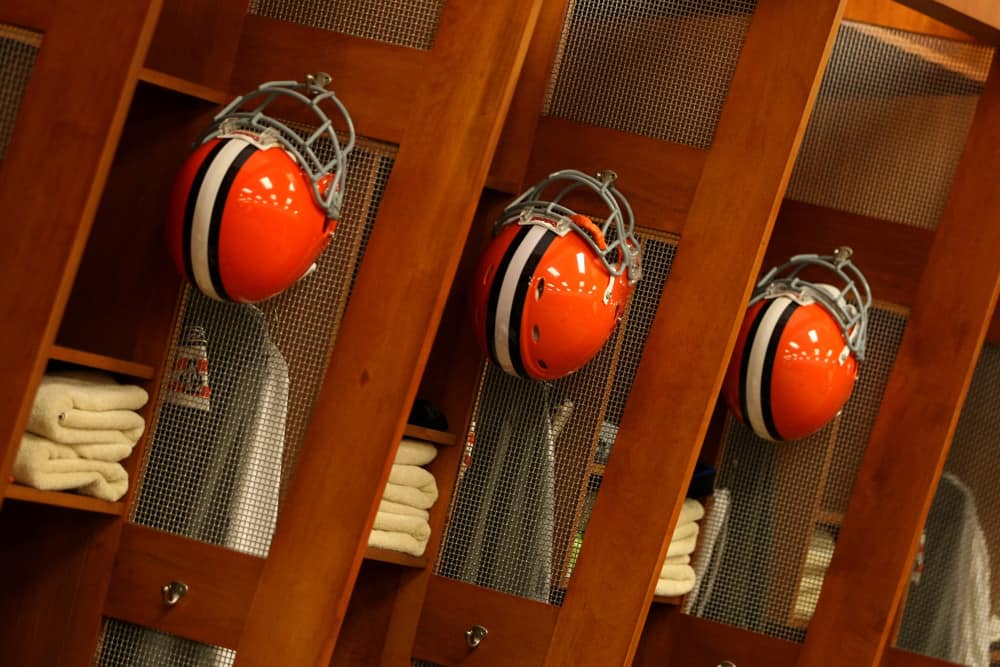 Every NFL roster has a few fringe players on their team heading into each season.
A player that has potential or shown upside in the past, but needs to prove themselves again.
The Cleveland Browns are not outliers and have a few of their own fringe players heading into the 2021 season.
This roster is fairly stacked, which is great to see, but it also puts pressure on players to produce.
There are a handful of Browns players that could be in different uniforms soon, assuming they don't perform well during the 2021 campaign.
1. Odell Beckham Jr.
Let's get the most obvious player out of the way right away.
Since joining the Browns roster in 2019, star receiver Odell Beckham Jr. has underperformed.
His first year in Cleveland, Beckham finished with 74 receptions, 1,035 receiving yards, and four touchdowns.
Those aren't bad numbers, but those are average stats for a player of his caliber.
It's worth noting that OBJ and quarterback Baker Mayfield have never been on the same page.
There is an obvious disconnection between the two, but it appears Beckham has attempted to repair the broken on-field relationship between the two.
Browns insiders say Odell Beckham Jr. played a big part in trying to fix 2019 dysfunction, even setting up a meeting to repair the broken relationship between former OC Jeff Monken and QB Baker Mayfield.

"Odell called everything out." https://t.co/jcezljdldz pic.twitter.com/Rrghv5SO5G

— B/R Gridiron (@brgridiron) January 8, 2021
Last season, Beckham unfortunately suffered a season-ending ACL tear, which cut his season short.
However, he has done plenty of work over the offseason to get his mind and body in the right place.
This organization and offense need Beckham to be the three-time Pro Bowl receiver that he was during his time in New York.
The 28-year-old might not be the same physically, but something needs to change if OBJ wants to stay in Cleveland.
This offense needs a No. 1 receiver and if Beckham cannot produce those numbers then they need to find someone else who can do it.
2. Jadeveon Clowney
This offseason, Cleveland did an overhaul on their defensive unit.
Mostly the secondary, but they also brought in three-time Pro Bowl pass rusher Jadeveon Clowney.
The former No. 1 overall pick has produced well at the professional level when healthy.
Sadly, Clowney has been sidelined during parts of each of the last two seasons.
Despite that, Cleveland gave Clowney a one-year "prove it" deal this offseason.
They needed a legitimate pass rusher alongside Myles Garrett and Clowney was the best player available at the time.
The hope is that Clowney and Garrett together can form one of the better pass-rushing duos in the league.
Jadeveon Clowney gave a ringing endorsement of new teammate Myles Garrett at Browns minicamp last week.

How good can Cleveland's pass rush duo be? 🤔 pic.twitter.com/b5TQeCkaMy

— theScore (@theScore) June 24, 2021
However, Browns general manager Andrew Berry has shown he's ready to win.
He won't be afraid to find a replacement for Clowney, assuming he doesn't live up to his deal.
Clowney is coming off a rough 2020 campaign, but was only able to play in eight games due to injury.
We'll see what he has left in the tank, but the 2021 season will be an important one for Clowney.
3. Greedy Williams
In 2019, the Browns used their second-round pick to select LSU defensive back Greedy Williams.
Obviously, no one can predict the future, but that pick has seemingly backfired on Cleveland.
The 2019 season was rough for Williams, but he was playing in a horrendous system run by then-coach Freddie Kitchens.
A season later, Williams goes down in training camp and misses the entire 2020 season due to a nerve issue in his shoulder.
The good news is, Williams appears to be fully healthy and ready to prove his worth in 2021.
Greedy Williams says he's 'fully prepared' for comeback after missing 2020 season

📰 » https://t.co/Y6GtBtWe5c pic.twitter.com/uRUXxKvBL9

— Cleveland Browns (@Browns) June 9, 2021
Although, the Browns aren't going to wait around and hope Williams is as good as he was in college.
In fact, they drafted a possible replacement for Williams with the selection of Northwestern defensive back Greg Newsome II.
The two of them are expected to compete for the starting No. 2 defensive back spot in training camp.
Assuming Williams loses that battle, he could still provide value as a depth or rotational player.
However, it wouldn't be shocking to see Cleveland use him as trade bait in order to fill another void on their roster at some point.