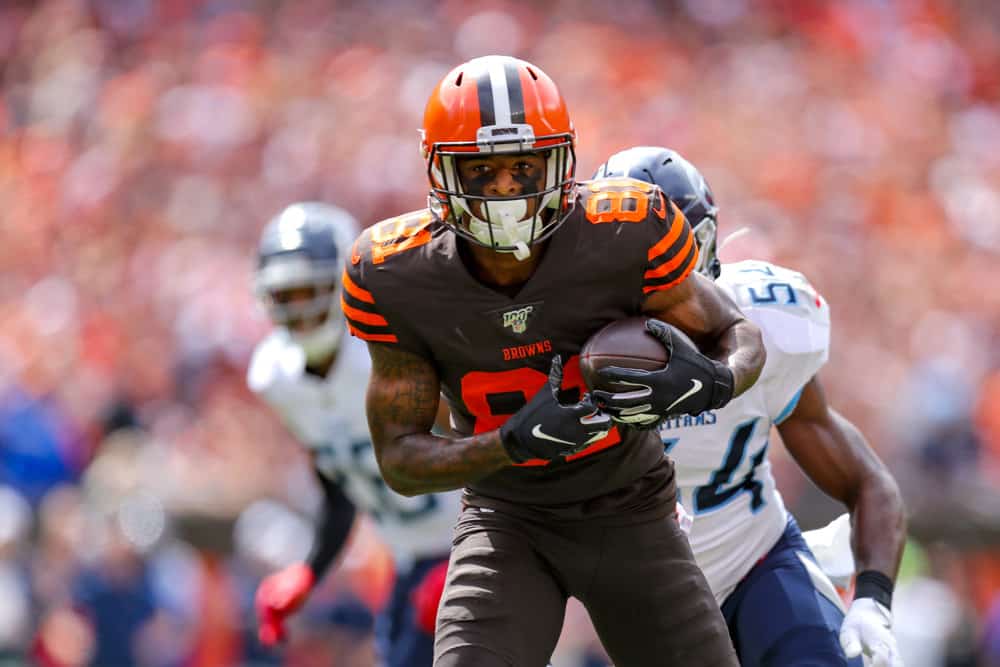 There was little doubt Rashard Higgins wanted to play for the Cleveland Browns again in 2021.
But there was considerable concern over whether the team and their loyal receiver would get a deal done.
Fortunately, Higgins proved to be true to his word about signing whatever papers Berry put together.
Back in Brown and Orange.@CALLME_WOOD pic.twitter.com/j4GDuTYFGO

— Cleveland Browns (@Browns) March 20, 2021
One of Baker Mayfield's favorite targets, Higgins could have signed for more years and more millions elsewhere.
But he took a one-year, $2.38 million offer from the Browns.
And you won't find a single Cleveland Browns player who isn't happy for him.
Higgins told reporters on a conference call this week the decision was "a no-brainer", even after fielding offers from other teams.
Lets run it back !!! https://t.co/J20AGRG97O

— Wood (@CALLME_WOOD) March 18, 2021
And he offered a bunch of reasons.
After surviving the Hue Jackson and Freddie Kitchens eras with the Browns, leaving now made no sense to Higgins.
"We just made a historic run, something that hasn't been done in 20 years, something like that. It's just like going to another team, how is that really benefiting me? Obviously for the money, you can say that, but the cap is down. To go somewhere for another million or $2 million, then you start over with a whole nother quarterback, then you start over with a whole new playbook. We've got everything that I need here as a Cleveland Brown. So it's just like why not?"
Higgins might want to finish the job he almost kept alive during the loss to the Kansas City Chiefs.
Suffice it to say, he is not a fan of the fumble-out-of-the-end-zone rule after doing just that after a helmet-to-helmet hit late in the game.
"It was a huge turning point in the game," he said. "I was trying to spark something for the team. Helmet-to-helmet hit, it's something you think would be looked at."
It Was a No-Brainer For Other Reasons, too
Higgins was quick to mention his connection to Baker Mayfield in his decision-making process.
He called his favorite quarterback for advice.
"I was telling him, 'What you think about this?' And honestly, he was telling me to weigh my options," Higgins said. "Honestly, he wants me to be a Brown, but if I've got to do something on standpoint of taking care of my family, then make the best decision for me. But when I did weigh my options, it only made sense. So here I am. I'm a Cleveland Brown, and I'm looking to run this thing back."
Higgins moved up from the third wide receiver option to the starting outside receiver after Odell Beckham's injury.
Mayfield found his backup deep threat for several memorable plays during the playoff run.
Those plays made Higgins a fan-favorite as much as his diehard love of Cleveland does.
I MEAN THAT ‼️ https://t.co/x07rYEapSr

— Wood (@CALLME_WOOD) March 26, 2021
And Higgins didn't fail to consider those fans when it came to his new contract, too.
He told reporters the overwhelming support from the "unbelievable" Browns fans played a role in his decision.
Higgins also called Browns fans the "best in the country."
Was It A No-Brainer For The Browns? 
Cleveland comes off one of its most memorable seasons ever, and probably the most for many current fans.
Keeping the team's main cogs together can be a challenge in the era of free agency and salary caps.
There was no doubt the interest was mutual between Higgins and the front office.
#Browns GM Andrew Berry says WR Rashard Higgins is definitely someone they would like to have back and they will maintain consistent contact with him and his reps. pic.twitter.com/08SriZhtN7

— MoreForYouCleveland (@MoreForYou_CLE) March 3, 2021
But despite cap space and room for additional manipulation, there was still a budget.
At least two free agent evaluators, including Spotrac, said Higgins was worth signing for 4 years at $6 million per.
He was never going to get that from Cleveland this season.
With $51 million tied up in their top 2 wide receivers and 2 tight ends, there was no room for another $6 million man.
But Higgins made it clear he would give Cleveland a discount, and the wide receiver market was tight all around.
Andrew Berry had a firm number in mind, and when he signed Khadarel Hodge for $2.1 million, it was cemented.
Higgins did a fine job in 2020 in relief of Backham.
Rashard Higgins with a spectacular catch from Baker Mayfield pic.twitter.com/nWNjT24UMM

— TUFF TALK (@TUFFPOD) November 22, 2020
And his statistics were not that much better than his 2018 numbers, indicating this season was not a fluke.
But with Beckham's return, Higgins will be no better than the 4th receiving option for Mayfield.
And David Njoku, Harrison Bryant, and Kareem Hunt could push him further down the pecking order.
On the other hand, Kevin Stefanski says the Browns offense will be more explosive than last season.
And bringing back a reliable deep target on a short, inexpensive deal seems like a no-brainer for Berry, too.