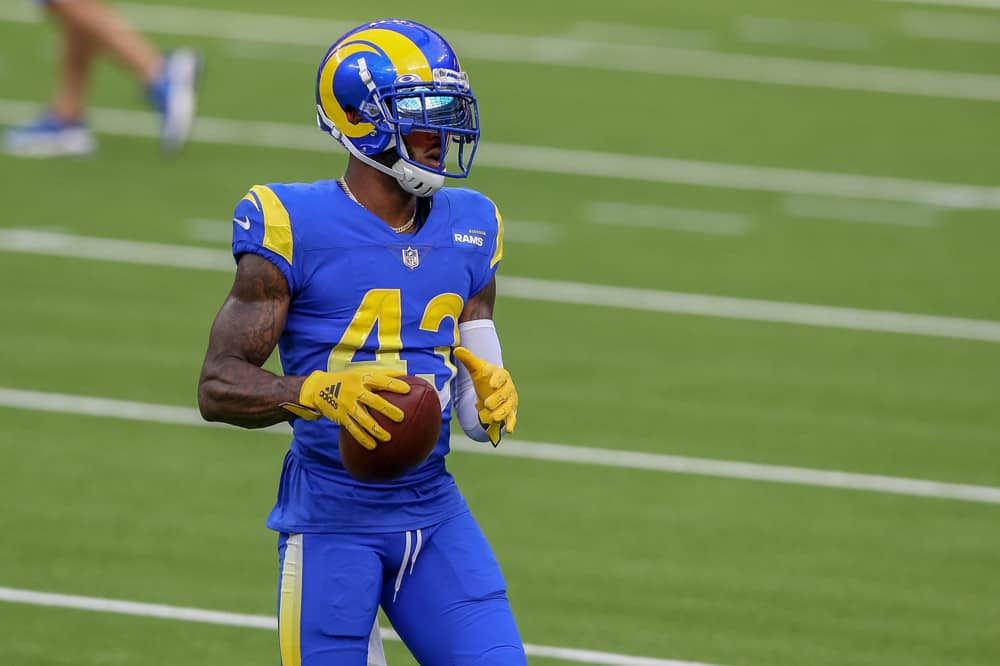 There aren't many teams that are going to find a bigger steal in free agency than the Cleveland Browns.
They made one of the best defensive additions with safety John Johnson III.
A four-year safety who has quietly become an elite player at his position.
Browns general manager Andrew Berry knew Johnson was a special talent and that is why the team aggressively pursued him in free agency.
They locked up Johnson to a three-year deal worth $33 million, which is looking like an absolute steal right now.
Jump On The Hype Train
The Browns desperately needed to find help in the secondary this offseason.
Cleveland ranked 28th at covering deep passes last season, which is obviously a huge concern.
The loss of second-round pick Grant Delpit hurt the Browns secondary, but the front office knew they needed more reinforcements.
They added one of the best and most underrated center-field type safeties in the league.
Berry even went as far as to say Johnson is the type of player who "doesn't usually make it to the free-agent market."
Browns GM Andrew Berry: John Johnson a player who "doesn't usually make it to the free-agent market"https://t.co/3q4F1HWqFd pic.twitter.com/L2QtTb37rB

— Around The NFL (@AroundTheNFL) March 26, 2021
In other words, Berry is saying that Johnson is such a talented player that he is shocked the Rams didn't sign him to an extension.
Often times, organizations that are competing usually don't let their best players head into free agency.
Although, the Rams are in some financial trouble, so possibly the team felt they couldn't make a fair offer to Johnson.
Berry is certainly excited to have a player with Johnson's versatility at the top of the defense.
"He can play free safety, strong safety and he can play in the box in the nickel or dime," Berry said. "His breadth of skills that he brings to the table, that he can play man coverage, he can play center field, he can support the run and really do everything at a pretty high level. It's perfect for what we want to be as a defense. On top of that, you have his intelligence and his natural leadership. That's something we'll always look to add to the mix, and we feel like we're fortunate that he was available."
Last season, Johnson recorded over 250 snaps at three different positions.
Browns defensive coordinator Joe Woods is going to have a fun time with his defensive schemes in 2021.
A Win For Cleveland
Until last offseason, the Browns weren't normally a place where top tier free agents wanted to play.
However, Berry and the front office have done an incredible job of building a winning roster.
Finally, Cleveland has a winning culture and is a place that actually attracts players such as Johnson.
There is obviously still work to be done, but the Browns have made some under-the-radar moves during free agency.
They still have cap space left and have added a handful of talent on the defensive side of the ball.
Obviously, there are still a few areas that need to be addressed before the season begins.
Although, at least the Browns shouldn't have to worry about the safety position going forward.