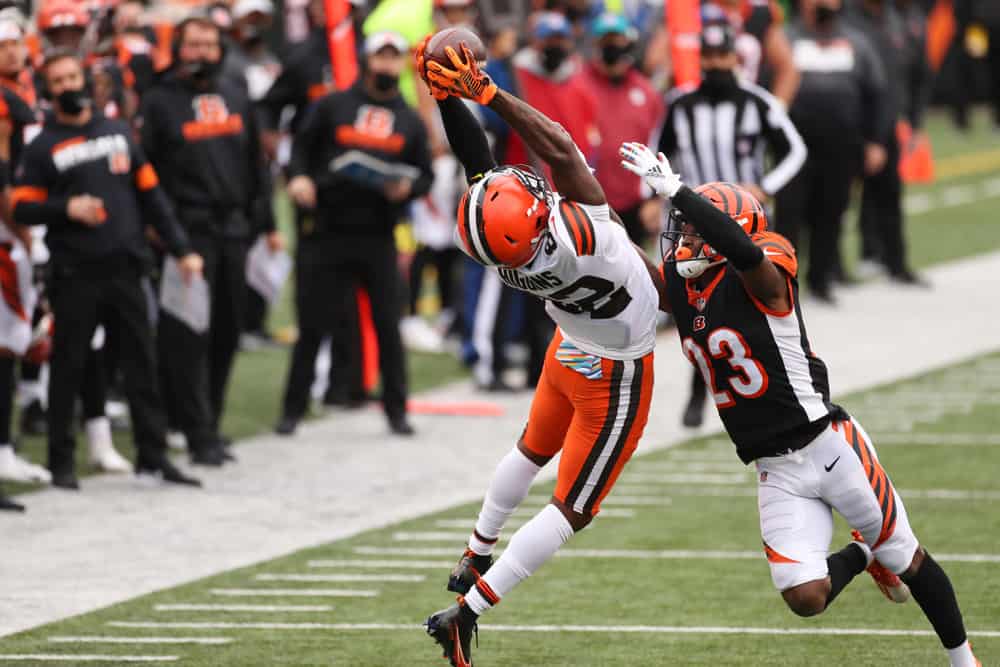 Last offseason, wide receiver Rashard Higgins decided to take a one year "prove it" deal with the Cleveland Browns.
He reportedly had better offers elsewhere, but wanted to stay faithful to the organization that drafted him back in 2016.
The #Browns announced that they've re-signed WR Rashard Higgins, their fifth-round pick in 2016. After a tough 2019 season, Higgins get a 1-year deal to prove himself.

— Ian Rapoport (@RapSheet) May 8, 2020
The 26-year-old receiver was coming off a horrendous 2019 campaign, but it wasn't all his fault.
Then-coach Freddie Kitchens quickly lost the locker room and everything spiraled downhill from there.
Higgins showed flashes of what he could do prior to 2019, so the team decided to give him another shot and it certainly paid off for the Browns.
Higgin's Rebound Year
To begin the season, Higgins was kind of the forgotten man in the Browns offense.
A team loaded with offensive talent, so often times Higgins was lost in the shuffle.
However, he was asked to step up once Odell Beckham Jr. went down mid-season.
The star receiver suffered a torn ACL and was forced to sit out the rest of the 2020 campaign.
Browns' WR Odell Beckham Jr told NFL reporter @JosinaAnderson that he tore his ACL and his season is over. pic.twitter.com/x23IiVN7uc

— SportsCenter (@SportsCenter) October 26, 2020
Higgins was able to capitalize on the extra snaps and increased role in the offense.
Through 13 games, Higgins finished with 37 receptions, 599 yards, and four touchdowns last season.
He was able to produce similar numbers to his breakout campaign from 2018.
Those are not exactly jaw-dropping numbers, but Higgins did his job when he was called upon.
It's tough to make an impact when he's fighting for touches with Jarvis Landry, Austin Hooper, Nick Chubb, and Kareem Hunt.
No one is asking Higgins to be a superstar No. 1 receiver, so his performance was well worth his $910,000 contract from last offseason.
Bringing Back Higgins
It's unknown at the moment if the Browns actually plan on bringing back Higgins next season.
The assumption is that Cleveland would at least make an offer since Higgins was able to bounce back in 2020.
The fifth-year receiver has always shown tremendous chemistry with quarterback Baker Mayfield.
#Browns Top 10 Plays of 2020‼️#9️⃣: An insane grab by Rashard Higgins to set up the game-winning TD in a Week 7 win vs the #Bengals. 🥵#NFL @CALLME_WOOD 📸🎬 pic.twitter.com/bEZxN05fh1

— The Hottest Take Sports Podcast (@Hottest_TakePod) February 22, 2021
Obviously, Higgins enjoys playing with Mayfield and in Cleveland otherwise, he would've left last offseason.
Which means, the Browns might be able to get a team-friendly deal done with Higgins.
He would certainly have suitors on the open market, but the Browns might not let it get that far.
A possible deal could look something in the range of three years for $14 million total.
Higgins has shown he can be a reliable option, but it's unlikely that any organization would pay him to be their No. 2 receiver in their offense.
His best decision might be sticking in the Browns system where he is able to produce consistently.
The front office should reward Higgins for being faithful, but don't overpay out of kindness.