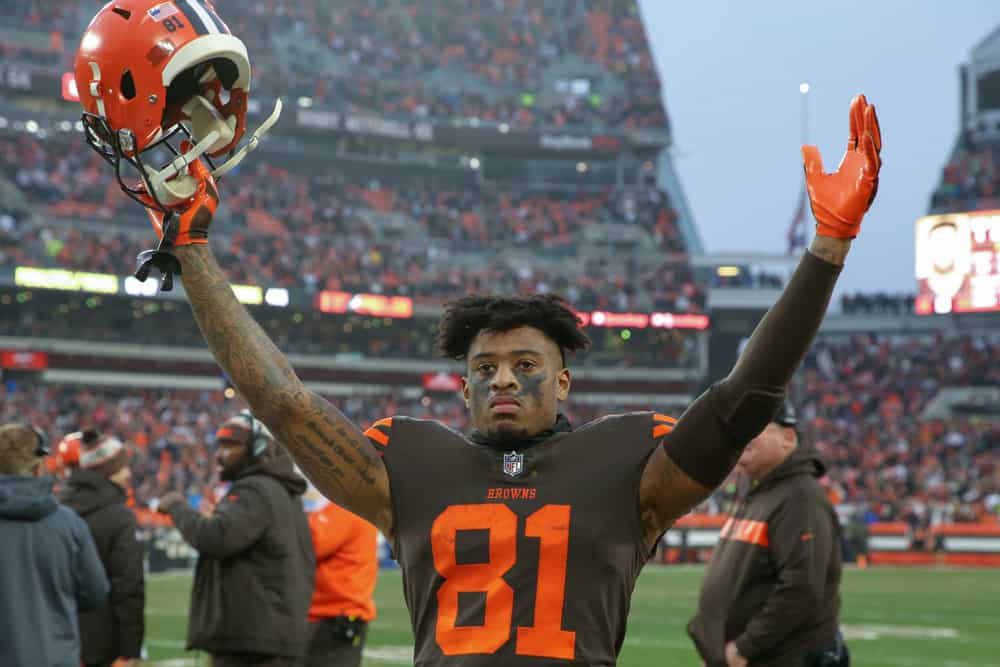 The Cleveland Browns were able to pick up the win and improve their record to 5-2 on the year.
Sadly, they also lost wide receiver Odell Beckham Jr. for the rest of the season.
However, the Browns were able to rally together and get the win over the Cincinnati Bengals.
One of the biggest reasons why the Browns won was the fantastic play by wide receiver Rashard Higgins.
The 26-year-old will move into the starting lineup for Sunday's Week 8 matchup against the Las Vegas Raiders.
Higgins Gets His Chance
The Browns drafted Higgins in the fifth round of the 2016 NFL Draft.
Sadly, he hasn't really been given a chance to shine in Cleveland.
Higgins has made a total of seven starts since joining the Browns.
However, he continues to work hard and it's not going unnoticed.
#Browns Kevin Stefanski said Rashard Higgins, despite not getting a lot of playing time earlier this season, went about his businesses, working hard until his number was called. Said he gives him credit for that and said you can't discount the connection he has with Baker.

— Camryn Justice (@camijustice) October 25, 2020
Last week, Higgins hauled in all six of his targets for 110 yards in the victory.
Entering that game, Higgins had five total receptions on the season, but with limited playing time.
He clearly has a connection with quarterback Baker Mayfield, so hopefully, that continues.
Hearing Kevin Stefanski reference how hard Rashard Higgins works just makes it all the more fun to root for him. Easily one of the best moves of the off season to bring him back.

In this house we roll out the red carpet for HOLLYWOOD. pic.twitter.com/30d3H4Xfhz

— Nick Karns (@karnsies817) October 29, 2020

This will be Higgins chance to prove he belongs and can be a significant part of an offense.
Can Higgins Help The Browns?
It's going to be nearly impossible to replace a player like Beckham who is a three-time Pro Bowl receiver.
However, Higgins looked good with the Browns during the 2018 campaign.
He finished with 39 receptions, 572 yards, and four touchdowns through 16 games.
Sadly, Higgins didn't see much time on the field last season.
Higgins and then-coach Freddie Kitchens didn't exactly mesh well together.
Luckily, Higgins will get another shot to prove his worth to the Browns.
The former Colorado State receiver knows he needs to step up with OBJ unavailable.
#Browns WR Rashard Higgins on how much he expects his role to expand with OBJ out: I'm in the starting lineup as of now

— Nate Ulrich (@ByNateUlrich) October 29, 2020
It's unclear whether or not the Browns plan to trade for another receiver at the deadline.
Higgins looked good against the Bengals, so maybe he's shown enough for the team to give him a fair chance.
Clearly, Mayfield and Higgins have solid chemistry together.
It'll be interesting to see if Higgins can continue playing at level he did on Sunday.
The Browns desperately need someone to step up on offense with OBJ and running back Nick Chubb sidelined for Week 8.
It appears Higgins is going to get his chance to redeem himself and show everyone what he can do as a starter in the NFL.