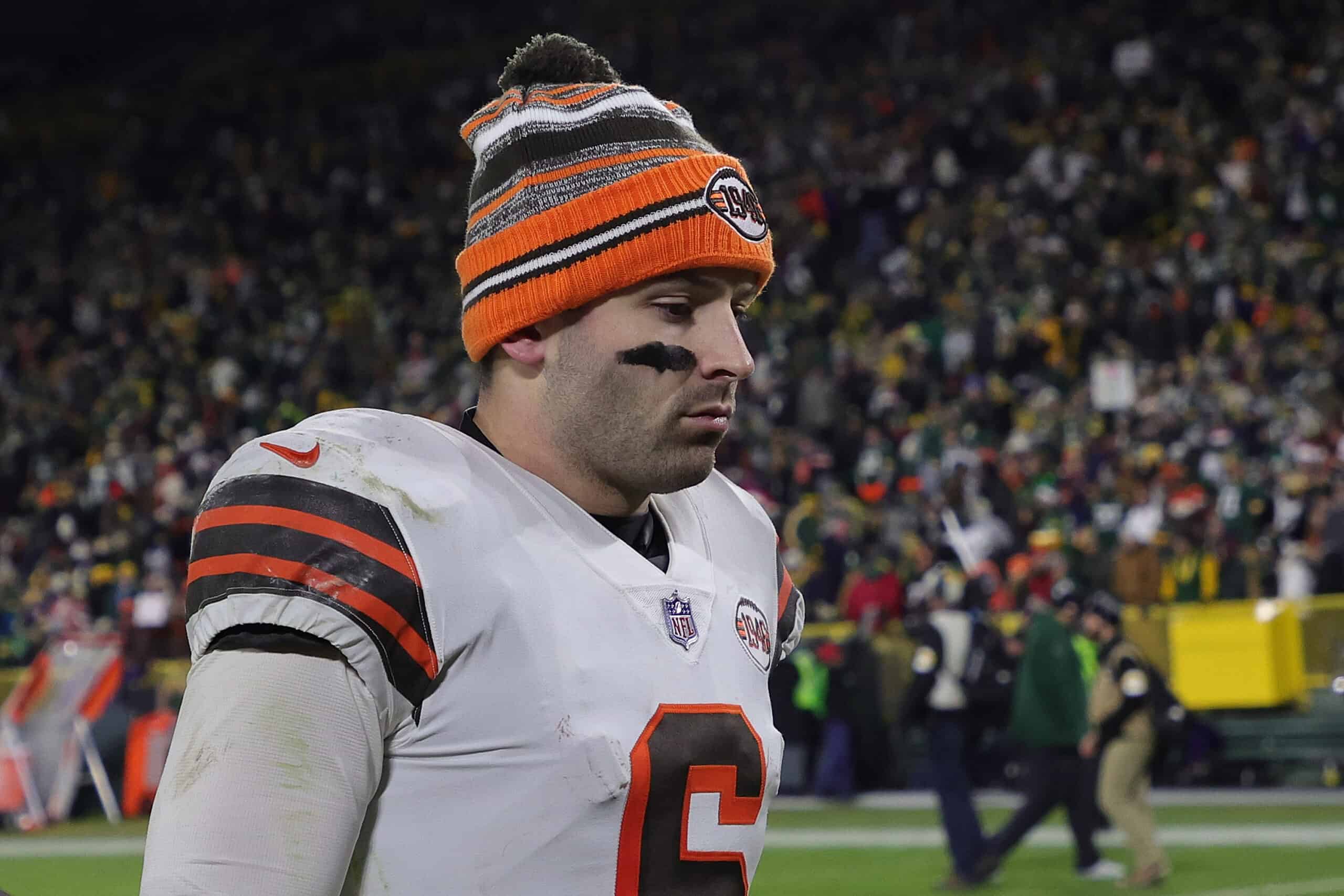 Mary Kay Cabot of Cleveland.com is reporting what has transpired behind the scenes in the Cleveland Browns locker room this season.
She cites unnamed sources who describe tensions between Baker Mayfield and Kevin Stefanski as "a low-key vibe emanating from Mayfield and permeating the offense."
Mayfield's Issues
#Browns Baker Mayfield must resolve his differences with Kevin Stefanski soon in case they need to co-exist next season; Also, some names that will be on the radar if they don't https://t.co/waNKPGtnJV

— Mary Kay Cabot (@MaryKayCabot) January 6, 2022
Mayfield was frustrated with the play calling at different points in the season.
This is not surprising given he spoke out about it publicly in two instances.
The first was after the win over the Baltimore Ravens where he indicated the Browns were "too conservative".
On Monday night after the loss to the Steelers when he was sacked nine times, Mayfield talked about the Browns not adjusting during the game to give help to rookie James Hudson who covered T.J. Watt.
Mayfield reportedly wanted offensive coordinator Alex Van Pelt to take over the playcalling responsibilities.
He felt that Stefanski's offense did not work to his strengths like the play-action rollout plays that Mayfield excelled with in 2020.
Stefanski's Response
Coach Stefanski was asked about his relationship with Mayfield today.
"In terms of relationship with any of the players, it's something we always as coaches work on and try to challenge our guys and support our guys, so I feel no different with Baker. I know it's easy to look at the frustration that we've had offensively and you want to pin it all on one player, and that's just totally unfair."
The Offense Regressed
The Browns' offense had a bad season.
Mayfield was beaten up along with the offensive line, running backs, and wide receivers at different points this season.
Playcalling was far from perfect, but it probably had to be altered because of these extenuating circumstances.
The execution was bad whether it was due to dropped passes, high throws, or missed targets.
What Does It Mean?
Cabot's reporting makes the offseason evaluation on Mayfield even more interesting.
Will the Browns give him another season presuming that some of the issues were health-related?
Or will they begin shopping around for a veteran quarterback to replace Mayfield and attempt to trade him?
Jimmy Garoppolo, Kirk Cousins, Derek Carr, Aaron Rodgers, Russell Wilson, and Deshaun Watson are among the big named quarterbacks who may be searching for a new team in the offseason.
Names to watch via trade per MKC if #Browns QB Baker Mayfield & HC Kevin Stefanski can't fix relationship: Derek Carr, Kirk Cousins, Jimmy Garoppolo, Aaron Rodgers, Russell Wilson, and Deshaun Watson…

— Believeland Insider (@Believeland24x7) January 6, 2022
Mayfield could also request a trade.
If Mayfield Goes
All of this is water under the bridge if Mayfield leaves Cleveland.
Both Stefanski and Mayfield will get a fresh start.
Some thought Emily Mayfield was tipping her hand about Mayfield's future in Cleveland with a recent social media post.
The post showed a picture of her gym and she mentioned that she will miss it.
Woww.. 🤔RT @Michigan42OSU27: Emily Mayfield Instagram. "Going to miss this place" 👀 pic.twitter.com/uqayEIswc3

— grn_eye_bandit (@ezduzzit_cle) January 5, 2022
There are a lot of ways to read this especially since Mayfield's imminent surgery will be in Los Angeles.
Baker Mayfield, who's at the #Browns facility today, will have his torn labrum repaired by his specialist Dr. Orr Limpisvasti at the Cedars-Sinai Kerlan-Jobe Institute in L.A. as soon as they can get it scheduled, source says

— Mary Kay Cabot (@MaryKayCabot) January 5, 2022
Also, the Mayfields live in Texas in the offseason.
Either way, the Mayfields would not be living in Cleveland through the winter and spring months.
If Mayfield Stays
If Mayfield stays, Stefanski and he will need to work out their differences and figure out a successful plan for 2022.
These issues are not unique to Mayfield, Stefanski, and the Cleveland Browns.
Quarterbacks and coaches have clashed in the past.
These are not insurmountable differences for a healthy Mayfield and Stefanski to work out especially since they worked well together in 2020.