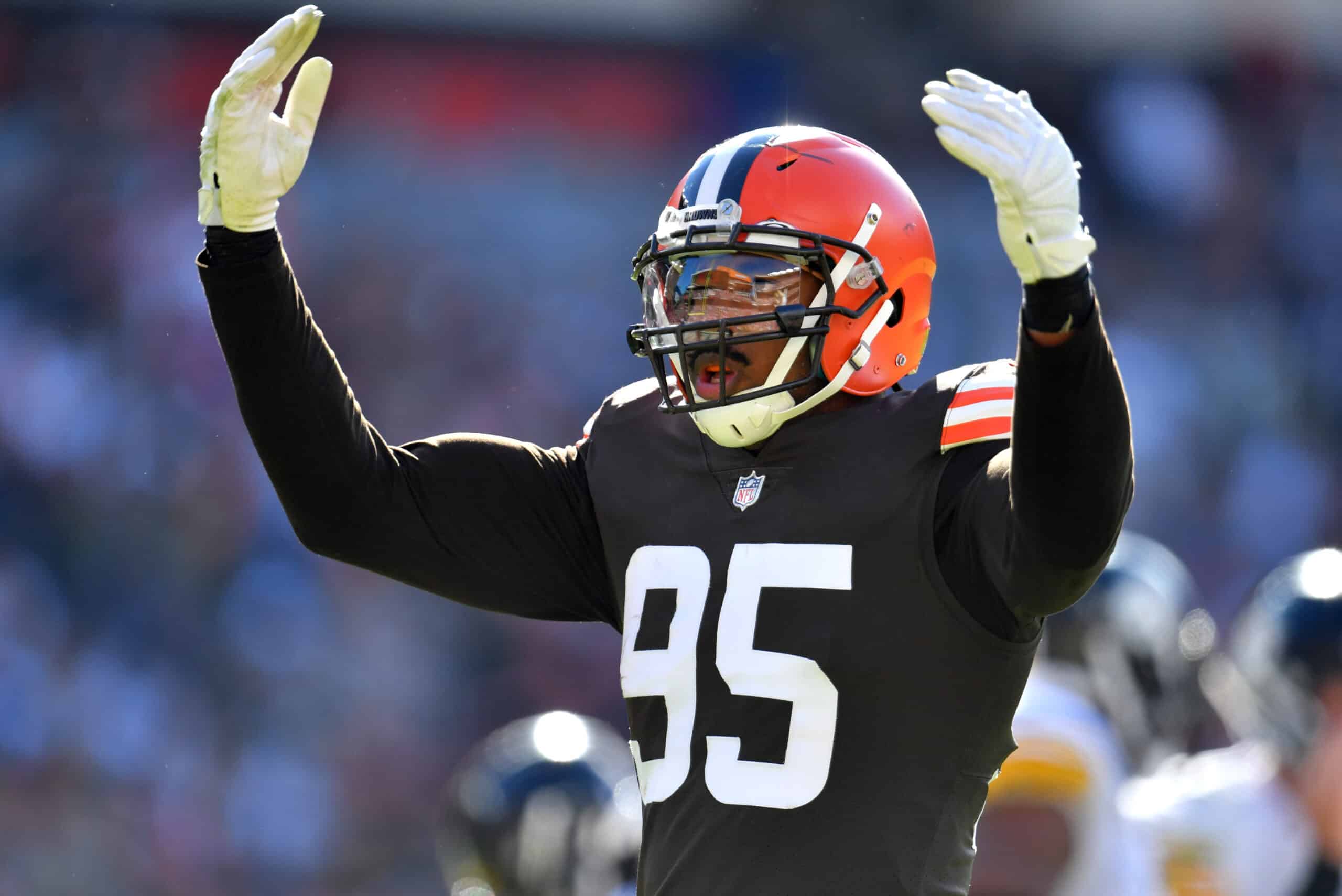 The Cleveland Browns writers in the local chapter of the Pro Football Writers of America (PFWA) have cast their votes for the annual end-of-season awards.
Among the coveted awards is the Browns MVP player which is called the Joe Thomas Player of the Year.
For the second straight season, that award goes to defensive end Myles Garrett.
Garrett is the first to earn this award in two consecutive seasons.
Recent winners include:
2016 – Joe Thomas, offensive tackle
2017-  Duke Johnson, running back
2018 – Baker Mayfield, quarterback
2019 – Nick Chubb, running back
2020, 2021 – Myles Garrett, defensive tackle
Myles Garrett has won the PFWA Joe Thomas Award for the second consecutive season.

He and Joel Bitonio are also co-winners for the PFWA Dino Lucarelli "Good Guy Award."

Congrats, @Flash_Garrett and @JoelBitonio!

— Cleveland Browns (@Browns) January 5, 2022
Garrett Was The Obvious MVP Choice
Garrett became the Browns single-season sack record holder when he recorded his 15th sack against the Baltimore Ravens in mid-December.
He broke the record on an amazing play with a strip-sack, fumble recovery, and touchdown run.
Touchdown 3️⃣ today… 🔥

MYLES GARRETT ‼️
STRIP SCOOP SCORE 🦖#BALvsCLE x #Browns 
pic.twitter.com/g2PY6f1w5U

— BROWNS OR DIE 💀 (@BrownsorDie) December 12, 2021
Through 16 games, Garrett has recorded 32 solo tackles.
"Good Guy Award" Given To Two Players
#Browns Myles Garrett and Joel Bitonio both earned the PFWA's Dino Lucarelli "Good Guy Award," given each year to a player for their cooperation with media and for the way they carry themselves in the community and on the team.

— Camryn Justice (@camijustice) January 5, 2022
Garrett was one of the two Browns players who was named a recipient of the Dino Lucarelli "Good Guy Award."
This award is also decided by the local chapter of the PFWA.
For 2021, Garrett and Joel Bitonio are co-winners of the award.
Bitonio has won the award a record three times, but this is Garrett's first time earning the award.
Bitonio, the longest-tenured Brown drafted by the team in 2014, recently signed a contract extension that will keep him with the team through the 2025 season.
He is consistently great both on and off the field.
The criteria for selection include being cooperative with the media, being an upstanding member of the community, and being a good teammate in the locker room.
Other players who earned votes for this year's award are cornerbacks Denzel Ward and Greg Newsome II, safety John Johnson III and defensive tackle Malik Jackson.
Since 2016, the award winners are: