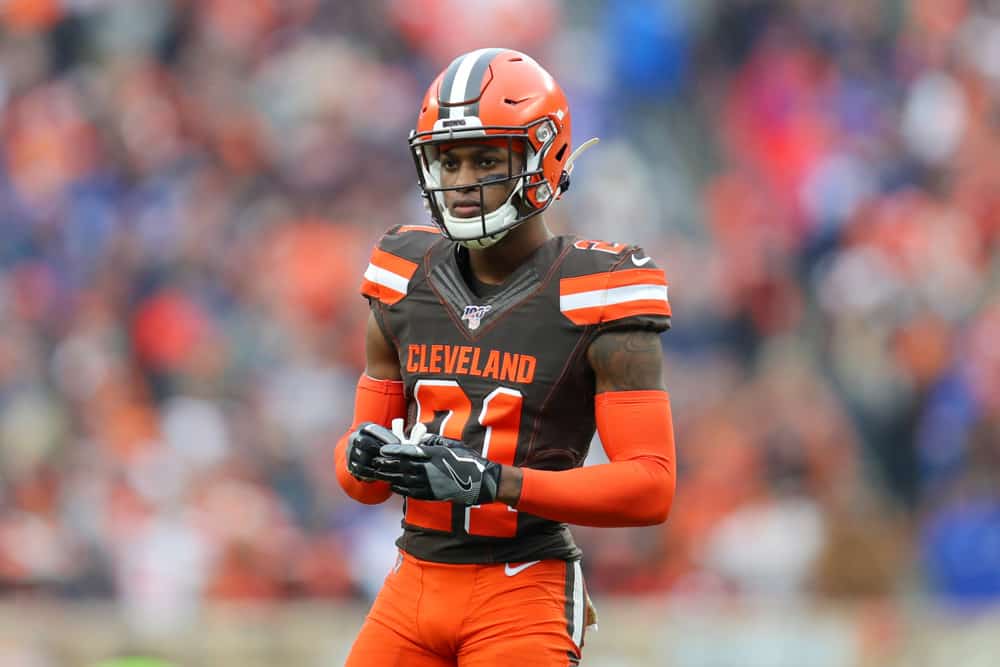 One of the storylines of the 2021 offseason has been about the rookie contracts set to expire for Cleveland Browns stars and starting players.
The Browns ended the month of July with a bang by negotiating a three year extension with Nick Chubb who could have been a free agent at the end of the 2021 season.
Next up on the list is reportedly cornerback Denzel Ward who is in talks with the Browns about his contract extension.
According to NFL ESPN reporter Jeremy Fowler, the Browns have begun contract negotiations with Ward.
After extending Nick Chubb, the #Browns have begun discussing a potential deal with cornerback Denzel Ward, per sources. This could be difficult to do with two years left on Ward's deal, but sides will see where it goes. Talks with QB Baker Mayfield have not heated up yet

— Jeremy Fowler (@JFowlerESPN) August 8, 2021
Ward, the 2018 fourth overall pick, had his fifth year option exercised this spring which keeps him with the Browns until the end of the 2022 season.
In 37 career games, Ward has 7 interceptions and 117 solo tackles.
Berry Is Methodical
GM Andrew Berry clearly has a plan.
With about a month until the season kicks off, it is unclear if the Browns will have time to get a deal done with Denzel Ward.
Ward's rookie deal is a four-year $29.1 million contract; the fifth-year option is valued at $13.2 million.
Cornerback Market
The Miami Dolphins just restructured Xavien Howard's contract loading it with guaranteed money and adding incentives.
This is the most recent benchmark.
The @MiamiDolphins have fully guaranteed cornerback Xavien Howard's base salary of $12.785 million and added a maximum of $3.5 million in incentives.#NFL | #FinsUp | #3ptcnvrsn pic.twitter.com/rGyfuhQKl0

— The 3 Point Conversion (@3ptCnvrsn) August 8, 2021
Top cornerbacks in the league make anywhere between $10 and $20 million.
Denzel Ward: 31% completion % when in single coverage the last 3 seasons

The only CB below 40% 🔒 pic.twitter.com/XuCwD3sr1K

— PFF (@PFF) January 13, 2021
Ward is a great young player.
The Browns have done a good job under Berry managing costs and big contracts.
We expect Ward will be competitively paid but won't break the Browns bank.
Ward has expressed a willingness to stay at home in Cleveland.
Denzel Ward: a Clevelander through and through and he wants to stay in Cleveland with the Browns for the rest of his career. https://t.co/dXjlBSwVWe Photo: Joshua Gunter, https://t.co/a4YA4W2Cro pic.twitter.com/1cFSKnIWUh

— clevelanddotcom (@clevelanddotcom) June 15, 2021
What About Teller And Mayfield?
It sounds like the #Browns are prioritizing Nick Chubb and Denzel Ward before Baker Mayfield this off-season (could wait until next offseason) there's some rumblings that Wyatt Teller could be on the back burner #OrangeAndBrown #ThisIsCle https://t.co/v1UyFTfKdU

— BrownsTown USA Podcast 🎧 (@BrownstownUSA) July 21, 2021
Wyatt Teller will be a free agent at the end of the 2021 season.
Mayfield is in the same situation as Ward; his fifth-year option was exercised at the same time the Browns exercised Ward's option this spring
Once again, there is a method to Berry's maneuvering so we just have to wait and see how all of this plays out.