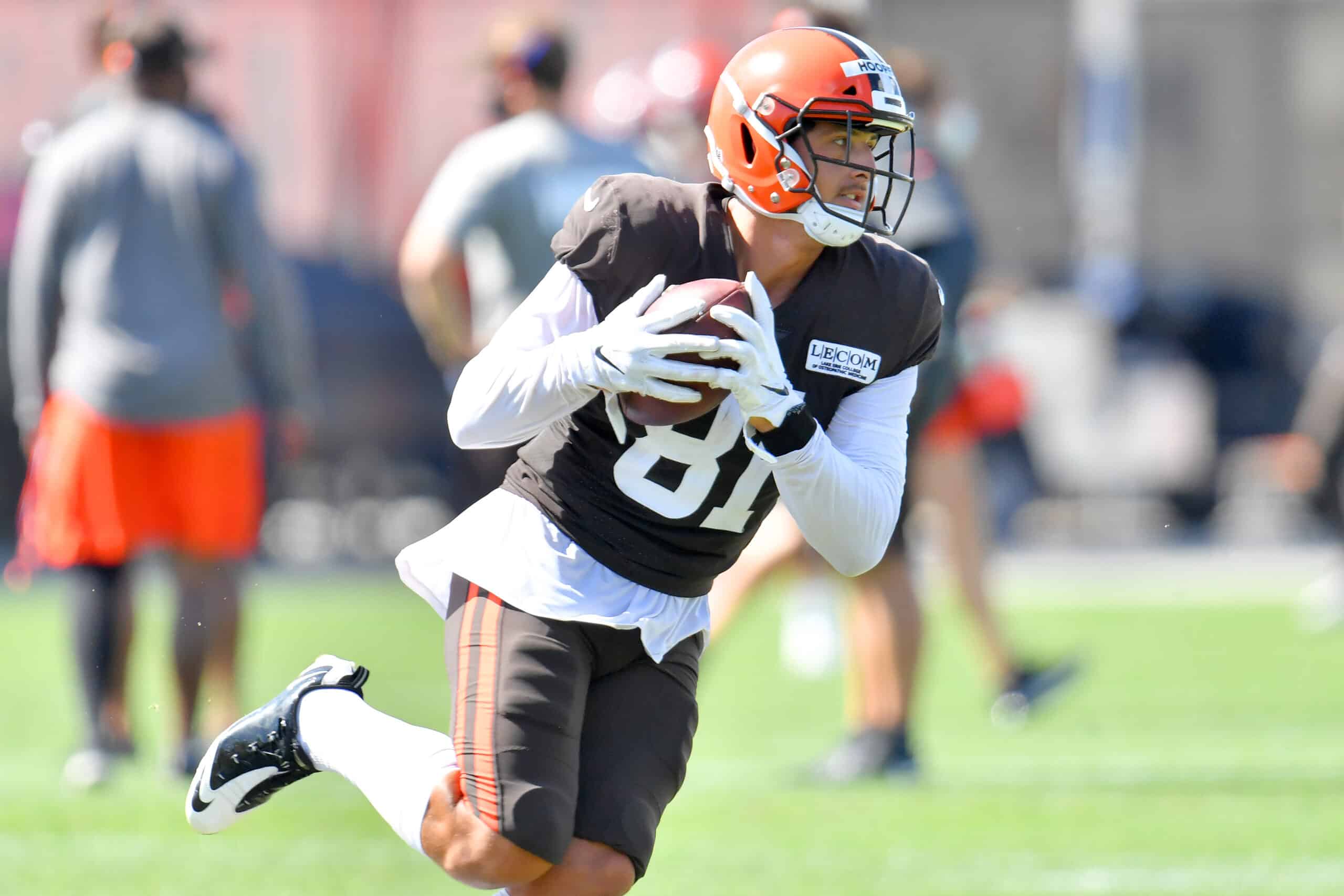 Yes, it sounds ridiculous that the Cleveland Browns would consider trading tight end Austin Hooper.
The 2020 season was his first season in Cleveland, but it was fairly disappointing.
Hooper didn't click in the Browns offense as originally hoped and he could now be on the move.
Sounding like Cleveland TE Austin Hooper might be available in a trade. Didn't really pop with Baker last year following his 2019 breakout with the Falcons.

— Johnny Venerable (@JohnnyVenerable) August 5, 2021
Prior to the 2020 season, Hooper signed a four-year $42 million deal with the Browns.
A deal that made him one of the highest-paid tight ends in the entire league.
It might be a tough task to move that contract, but it sounds like the Browns could be open to the idea.
One & Done
Could we really see Hooper on the move after one below average season in Cleveland?
It certainly cannot be ruled out considering the Browns do have depth at tight end.
The Browns have David Njoku under contract for one more season and second-year tight end Harrison Bryant appears to be impressing the organization.
Bryant made some big strides last year and could be a future starting tight end in the NFL.
Only 88 more days until #Browns football! Throwback to TE Harrison Bryant's first NFL touchdown🐶 pic.twitter.com/rAXBTP4mqj

— Nick Talks Browns (@nicktalksbrowns) June 16, 2021
On paper, the Browns have two capable tight ends, assuming they want to move on from Hooper.
They'd open up plenty of cap space by trading Hooper who clearly had chemistry issues with quarterback Baker Mayfield.
Last season, Hooper finished with a career-low 65.7 catch percentage with 46 receptions, 435 yards, and four touchdowns.
The two-time Pro Bowl tight end did not look like himself and his salary is only going to increase as time goes on.
There weren't many positives to take away from Hooper's 2020 campaign, but it was only one season and his first in Cleveland.
Too Early To Tell
The Browns shouldn't jump the gun and move on from Hooper after one bad season.
Despite his lack of offensive production, Hooper is a dangerous red zone threat and a reliable blocker.
The Browns had a fantastic run game in 2020 and part of it was because of Hooper.
BAKER! @browns @bakermayfield pic.twitter.com/V2Wuh1X3zt

— NFL (@NFL) January 3, 2021
The hope is obviously that Hooper gets better during his second year in Cleveland.
It takes time to learn a new system, but it's too early to write him off.
The Browns have other options at tight end, assuming Hooper continues to struggle.
Cleveland doesn't have an obvious hole to fill on the team where trading Hooper would make sense.
It'll only give them less depth at tight end and possibly reinforce another area that might not truly need it right now.
Hey, it's training camp and rumors fly all over the place, but this is one that doesn't seem to make sense for this current team and direction of the organization.